The Wealth Gap: Facts
The work to close the racial and ethnic wealth gap will not happen overnight, but in partnership with donors, nonprofits, community members, business leaders, and local government, it can be done. We hope you will join us on this journey.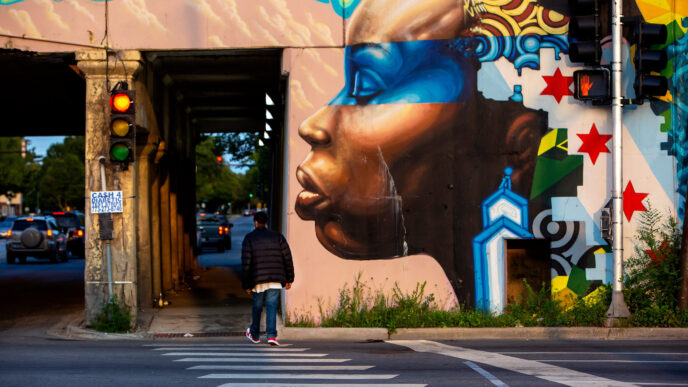 What is the racial and ethnic wealth gap?
There is significant wealth inequality in the United States, and it is particularly unequal when we disaggregate measures of wealth by race. This difference in wealth between White households and Black and Latinx households is known as the racial and ethnic wealth gap.
Household wealth in Cook County's wealthiest communities, which are largely white, is more than 200 times greater than household wealth in the poorest communities, which are often comprised of people of color.
This difference in wealth between white households and Black and Latinx households is known as the racial and ethnic wealth gap.
What is wealth, and how is it built?
Wealth is a measure of assets that an individual or family owns, such as a home, retirement accounts and money in the bank, minus the amount of debt the individual or family owes at a given time. Having a job that pays a livable wage coupled with the ability to set aside savings for emergencies, educational costs and retirement are key ways most households build wealth. Additional ways include owning a home in a neighborhood with appreciating value, building a profitable business and investing.
Households can also build wealth when it is passed down from one generation to the next through inheritance, or when receiving assistance for things like paying for education, purchasing or providing a down payment on a home or providing a financial cushion that prevents adult children from going into debt.
What is the history of the racial and ethnic wealth gap, and how did it come to be?
Even before the United States' founding, the laws and customs of the land ensured White individuals and families could build more wealth than people of color. The legal practice of slavery prohibited millions of Black people in bondage from earning wages for their labor for 246 years. After slavery's end, the consequences of racism as well as racial and economic segregation continued to impact households and communities across the country.
For example, White veterans returning home from World War II found government-supported paths to education and homeownership—key avenues for building wealth—through the G.I. Bill. Black veterans, however, were statutorily and systematically excluded from receiving these same government-funded benefits.
Further, through a federally created practice known as "redlining," Black Americans were barred from the low-cost Federal Housing Administration insurance-backed mortgages that their White counterparts received. This resulted in unfair lending and predatory home sale practices such as contract buying and "blockbusting" that depressed housing markets, fueled fear and flight by White homeowners and severely limited Black homeowners from building home equity.
Contract buying, which was particularly prevalent in Chicago, required Black homebuyers—who could not obtain insurance-backed financing due to redlining—to pay exorbitant down payments for homes and to make monthly payments with high interest rates, while the contract seller owned the property deed until the entire contract amount was paid. Contract sellers also had the power to evict the buyer before they finished paying the full amount, which meant that despite having paid for a significant portion of the home, the buyer lost all right to the home and the equity they had built in it. This practice stripped between $3.2 and $4 billion of wealth (1.8MB) from Black communities in Chicago from 1950 to 1970.
While homeownership put many White households on the path to building wealth and rising to the rapidly expanding middle class, this was not the case for many people of color. Racially biased policies and practices served to keep more households of color in poverty, thus significantly contributing to the racial and ethnic wealth gap and laying the foundation for the racial and economic segregation that exists today.
Are current policies and practices still contributing to the racial and ethnic wealth gap today?
Yes, the racial and ethnic wealth gap is perpetuated through laws and policies that disadvantage Black and Latinx communities. Lending practices, tax codes and even public benefits programs all play a role in preventing communities of color from building wealth.
As an example, for families living under the poverty line receiving means-tested or asset-tested public benefits, there are a series of limits to these public benefits known as "benefits cliffs." These cliffs create sharp cut-offs to essential supports, such as childcare, when a family experiences even a small increase in wages or has savings or assets above a certain limit. These limits serve to stifle income growth and the kind of savings required to attain economic stability and build wealth.
Additionally, homeowners of color and communities of color continue to disproportionately struggle from the devastating impacts of predatory home lending and the Great Recession of 2008. Residential foreclosures still linger and affect communities of color in Chicago, with significant overlap between historically redlined communities and those most impacted now by foreclosure and vacancy.
Do a person's personal choices play a role in the wealth they have accumulated?
The idea that every person has an equal chance to succeed, as long as they work hard, runs deep in the national ethos. It is often believed that the rich get rich through their merits alone, while the poor fall into poverty because of personal choices or a lack of ambition.
However, when examining the facts and circumstances contributing to the racial and ethnic wealth gap, a much more complicated story emerges—one in which a person's wealth is often the result of laws, policies and systems that affect which choices they can make. Wealth, in essence, results from compounding growth over time, but the reality is not everyone begins on the same starting line: some individuals get a head start through opportunities like inheritance, while others are held back due to challenges like generational poverty. Unfortunately, negative attitudes toward poverty and the belief that an individual's own choices or work ethic determines their fate have stymied effective policy from addressing wealth disparities in the United States.
What happens if the racial and ethnic wealth gap continues on its current path without intervention?
Failure to act will lead to serious consequences that affect everyone. One study estimates that if not reversed, the racial and ethnic wealth gap could cost the United States up to $1.5 trillion over the next decade.
If no action is taken to address the racial and ethnic wealth gap, communities of color are on a pathway to hit zero wealth in the coming decades. According to one study, the median Black household is projected to hit zero wealth by 2053, while the median Latinx household will hit zero wealth by 2073. Incidentally, the country's population is predicted to become majority non-white in 2043—a change that will further hamper the country's economy if the racial and ethnic wealth gap is not addressed.
What is the path forward to address the racial and ethnic wealth gap, and what could an equitable future look like?
Closing the racial and ethnic wealth gap requires advancing policies and practices that will increase economic prosperity for Black and Latinx households. It will depend on capital investments in the form of small business lending, government-funded economic development and private investment made and sustained in under-invested Black and Latinx communities. It will require regulating practices that deplete wealth, such as predatory debt and regressive taxation. It will take connecting and further empowering individuals, networks and coalitions leading grassroots change to advance community priorities and shared agendas in the communities that need further investments.
If the proper interventions are put in place to address the racial and ethnic wealth gap, the U.S. will have a stronger, more inclusive economy where the majority of the population can see increases in income, access opportunities to own small businesses, save for retirement, own a home, contribute to the consumer economy and provide for the next generation.
Questions & Answers
Looking for more information on the wealth gap?
Check out our reading resources page. We've also compiled a list of ways you can take action to address the racial and ethnic wealth gap in your community, workplace, and business.
Committed to DEI
Diversity, Equity, and Inclusion is at the core of who we are, the decisions we make, and the actions we take in our work to strengthen the communities we serve and advance our strategic focus to close the racial and ethnic wealth gap.
Diversity, Equity, Inclusion
Our Strategic Plan
The Trust brings together generous donors, committed organizations, and caring residents to effect lasting change that makes our region better for all. We've made a 10-year commitment to closing Chicago's racial and ethnic wealth gap.
Our Work