What We Fund
Our grants are not just checks, not just points on a map. Our grants are lifelines, connecting individual donors with individual men, women, children, families striving for a better life. These connections stretch across history, so that a visionary donor of yesterday is providing food, shelter, or health care for a Chicagoan today.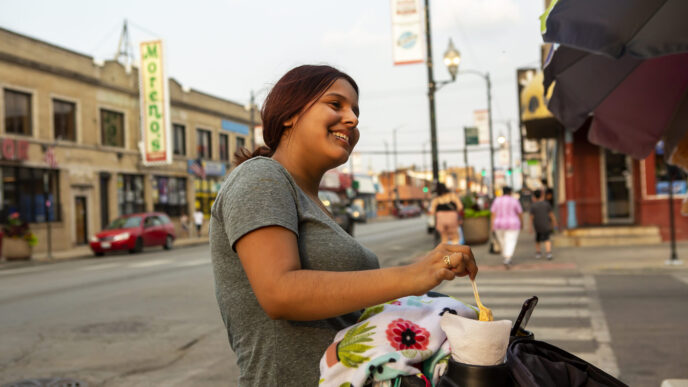 Overview
The Trust awards discretionary grants to nonprofit organizations whose work is consistent with our strategic priorities to close the racial and ethnic wealth gap.
In addition, the Trust remains committed to being responsive to community needs and opportunities. Through our Addressing Critical Needs strategy, we make grants to local nonprofits that are meeting the urgent needs of families throughout the Chicago region. As these grant opportunities arise, we share them on our funding opportunities page.
Every grant the Trust makes—from capacity building for small neighborhood organizations, to larger-scale project-based opportunities—will be measured by its impact toward the goal of a thriving, equitable, and connected Chicago region where people of all races, places, and identities have the opportunity to reach their potential.
Working in Partnership
The Trust strives to provide outstanding service to grant recipients, working in collaboration throughout the duration of their funding and beyond.
We have a limited budget dedicated to sponsoring nonprofit conferences and similar programs produced by 501(c)(3) nonprofit organizations located in the Chicago region. Find complete details of our sponsorship opportunities and how to apply here.
Trust staff are available to help throughout the grant process, from the application to the final report. Please email learning@cct.org for support.
Grant recipients are required to complete final reports that document their progress toward the anticipated outcomes of the grant. These reports help us gather valuable feedback and knowledge that can inform our future work. Progress and lessons learned from grant reports will be shared in aggregate over time. However, we will never share information that is specific to your organization without getting your approval first.
If you'd like to publicize your grant from the Trust, please contact us for the language to use. If you'd like to include the Trust's logo, we can provide that too. Once you've drafted a communication about the grant, it must be reviewed and approved by the Trust at least five business days before distribution.
Grant Opportunities
The Trust offers funding to support our strategic priorities. Explore our open funding opportunities.
Learn More
Our Strategic Plan
We've made a 10-year commitment to closing Chicago's racial and ethnic wealth gap.
Our Work