Sponsorships
The Chicago Community Trust provides sponsorships for programming events, such as meetings, panels, forums and conferences.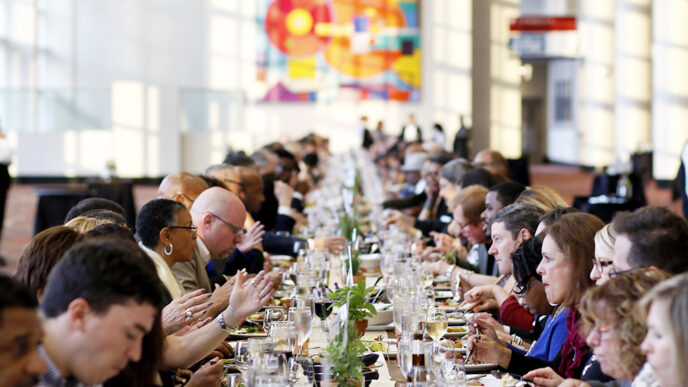 Sponsorships
Sponsorships are available for programming events, such as meetings, panels, forums and conferences. We also provide sponsorships for fundraising events, such as galas and walk-a-thons, on a limited basis. To be considered for funding, an event must be produced by a 501(c)(3) nonprofit organization located in the Chicago region.
Preference for sponsorships will be given, but not limited to:
Organizations that achieve alignment with our mission or work. Click here to learn about our strategic direction.
Organizations that have $1,000,000 or less in annual revenue.
Organizations that have not received a discretionary grant from The Chicago Community Trust during the last 12 months.
Sponsorships are not available for:
Sports teams
Political campaigns
Religious activities
Events already sponsored with an existing Trust grant
Sponsorships are limited to one award per organization in any 12-month period. All requests are subject to the availability of resources.
Amounts & Deadlines
Requests up to $10,000 will be considered. The average sponsorship award is $5,000.
Sponsorship requests will be reviewed on a bi-monthly basis. The submission deadline for each bi-monthly review and decision will be:
| | | |
| --- | --- | --- |
| Submission Deadline | Approximate Announcement Date | Expected Receipt of Grant Date |
| October 31 | December 1 | December 20 |
| January 8 | February 1 | February 20 |
| February 29  | April 1    | April 20 |
| April 30  | June 3 | June 20 |
| July 1  | August 1    | August 20 |
| August 28  | September 25 | October 20 |
How to Apply
To apply for a sponsorship, please visit GrantCentral, The Chicago Community Trust's online grants management system.
We recommend submitting a sponsorship application 30-60 days in advance of your organization's event.
How to Apply
The Trust awards grants to organizations whose work is consistent with our mission and our current priorities. Learn about the application process and eligibility.
How to Apply
What We Fund
Our grants are not just checks, not just points on a map. Our grants are lifelines, connecting individual donors with people and families striving for a better life.
What We Fund