Our History
For more than 100 years, the Trust has united generous donors, committed nonprofits, and caring residents to effect lasting change.
Overview
As one of the nation's oldest and largest community foundations, The Chicago Community Trust has a long, rich history of cultivating philanthropic support to address our region's most pressing needs. Explore our beginnings, and learn how we've stayed true to our roots while evolving to meet today's needs in pursuit of a brighter future for all.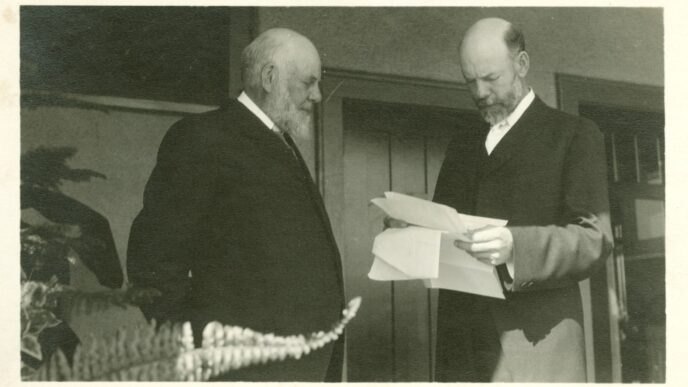 1915
The Chicago Community Trust is Founded
American banker Norman Wait Harris provided, along with his eldest son Albert W. Harris, the inspiration and financial backing that established The Chicago Community Trust. Harris founded the Chicago-based N.W. Harris & Co, predecessor of Harris Bank, as well as its affiliates Harris, Forbes & Co. and the Harris Trust and Savings Bank. In 1914, Harris urged his son Albert to bring a copy of the Cleveland Foundation's Resolution and Declaration of Trust – which outlined the first kind of community trust in the United States – to officers of the Harris Trust and Savings Bank. Thanks to his urgings and Albert's enthusiasm, the bank's Board of Directors adopted the Resolution and Declaration of Trust that created The Chicago Community Trust on May 12, 1915. The Harris family provided $200,000 to establish the Trust and initiate its administrative operations in the first two years of its existence, and another $400,000 as a memorial fund when Harris passed away in 1916.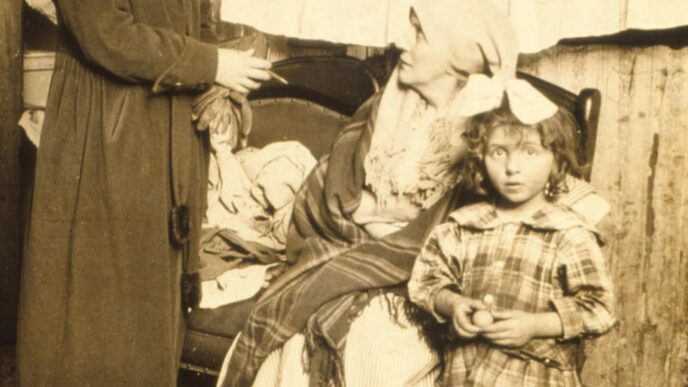 1916
First Grant Made to United Charities of Chicago
The Trust's first grant of $5000 was made in 1916 to United Charities of Chicago, one of the city's most visible charitable organizations at the time and a direct descendant of Chicago's first citywide charity association. During the Great Depression, United Charities of Chicago became an important partner with many levels of government and other service agencies, providing direction and expertise to the social service effort throughout the city.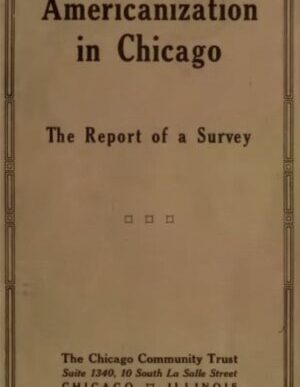 1920
Seven Social Surveys Published
When the Trust was still in its early days, it didn't have a lot of money for grant making. So it commissioned seven surveys to understand how Chicago's people were changing and what the emerging needs were. Among those populations surveyed were prisoners, ex-service men, immigrants, and single women.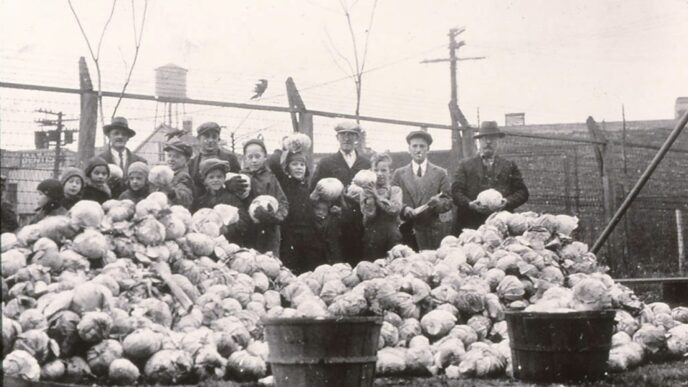 1932
Joint Emergency Relief Fund of Cook County is Created
During the Great Depression, neither the city nor private charities were fully equipped to meet Chicagoan's need for financial aid and human services. Frank Loomis, the Trust's executive director at the time, and Executive Committee member Edward Ryerson spearheaded relief campaigns that raised millions for Chicagoans devastated by the Depression. One such campaign was the Joint Emergency Relief Fund of Cook County. The Fund raised $10 million during its first drive, which was distributed to private agencies serving communities in need.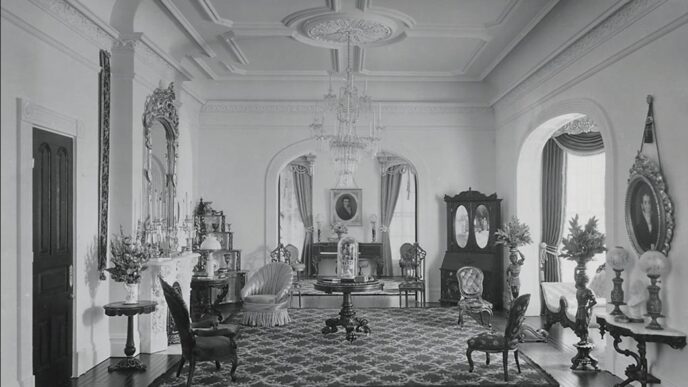 1941
Thorne Miniature Rooms Gifted to the Art Institute of Chicago
The world-famous Thorne Miniature Rooms housed at the Art Institute present a transporting visual history of 18th, 19th, and 20th century interior design. Gifted to the Museum in 1941, they remain one of the most popular permanent collections. Under her will, Narcissa Niblack Thorne, who created the miniatures, made a large bequest to the Trust stipulating that the first draw on the income should be devoted to maintaining the rooms. The Trust continues to provide financial support for the Thorne Rooms' upkeep so that new generations can enjoy their meticulous and lavish portrayal of indoor worlds.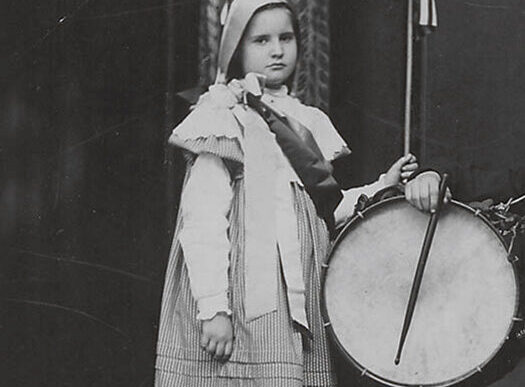 1961
The Elizabeth McCormick Memorial Fund Comes to the Trust
The Elizabeth McCormick Memorial Fund was a foundation dedicated to improving the quality of life for infants and children in Chicago. The Fund was established in 1914 by Chicago industrialist Cyrus H. McCormick to preserve the memory of his only daughter, who tragically passed away in 1905. In 1961, the majority of the Fund's assets were transferred to the Trust to create a fund restricted for child welfare. It was the largest transfer of an organization to the Trust at the time. Since then, the Trust has continued Elizabeth's legacy by awarding grants from the fund to countless organizations, projects, and studies promoting child welfare.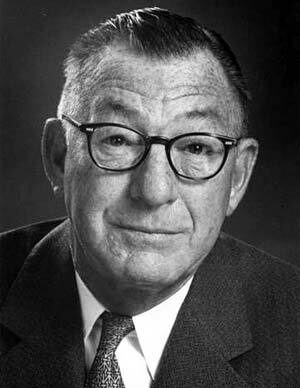 1964
John G. Searle Establishes His First Fund at the Trust
The single largest gift in the Trust's history was from John Gideon Searle, who headed G.D. Searle & Company, a major pharmaceutical enterprise. The company pioneered the motion sickness medicine Dramamine and exclusively marketed the world's first oral contraceptive. The Searle Funds reflected Searle's dedication to medicine, biological science, health, and education. Today, there are five Searle Funds housed at the Trust. One such fund, the Searle Scholars Fund, has supported exceptional young professionals in the biomedical sciences and chemistry since 1980.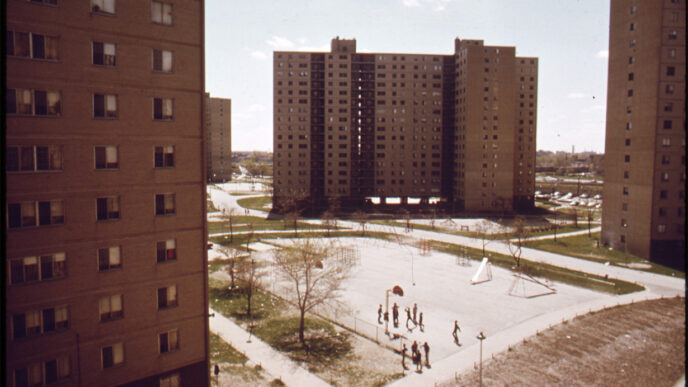 1976
Gautreaux Assisted Housing Program is Created
In the 1960s, the Chicago Housing Authority was the subject of a series of class-action lawsuits for racial discrimination and segregation. One part of the settlement in 1976 created the Gautreaux Assisted Housing Program, the nation's first "housing mobility program" which helped place families from poor, segregated neighborhoods into racially and economically diverse communities. The Trust made a series of grants that totalled $3 million to oversee the program. The program ended in 1988 after placing more than 7,000 families.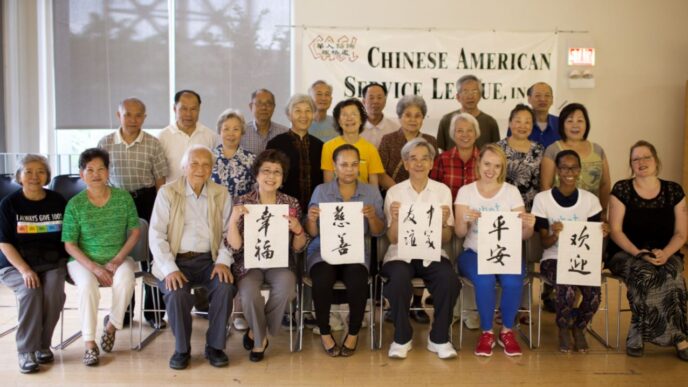 1978
Chinese American Service League is Established
In 1978, the Trust made a grant of $16,000 to establish the Chinese American Service League (CASL), the largest social service agency in the Midwest serving Asian Americans. The organization began as a project by founder and president the late Bernie Wong to start an immigration service. Today, CASL provides thousands of people with essential services and opportunities to connect with their communities.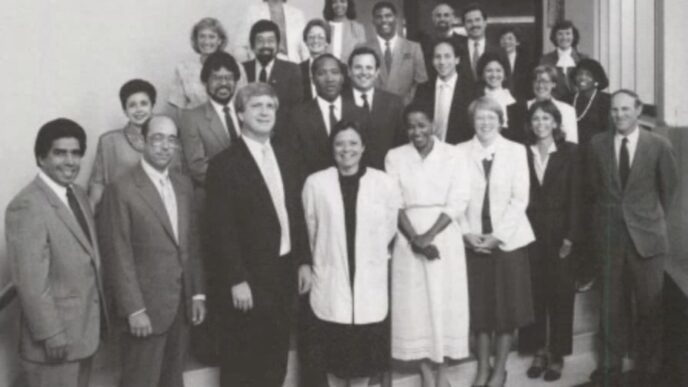 1983
Leadership Greater Chicago is Established
Leadership Greater Chicago was founded in 1983 to identify emerging community leaders and equip them with a broader understanding of the Chicago community. Since its inception, over 900 fellows have entered the fray, working to assume leadership throughout Chicago and its leading institutions, and the national and international stages.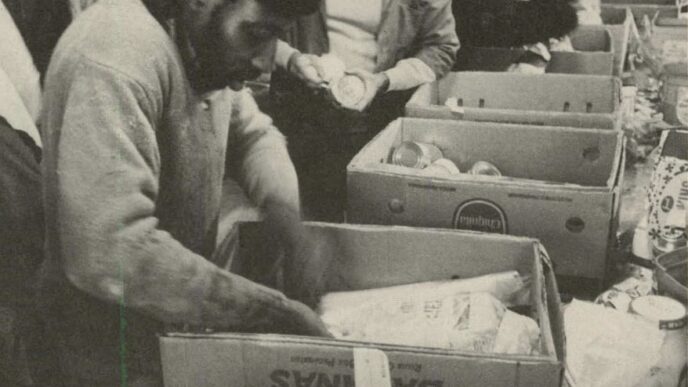 1984
Basic Human Needs Program is Established
The Trust's Basic Human Needs Program augments the overall capacity of Chicago's voluntary service agencies to respond to the needs of homeless, hungry, and low-income Chicagoans. It was created as a field of interest fund when former Trust executive director Bruce Newman suggested to Kathleen Busse, a suburban mother and teacher, that she honor her late husband by using $50,000 to fund basic human needs.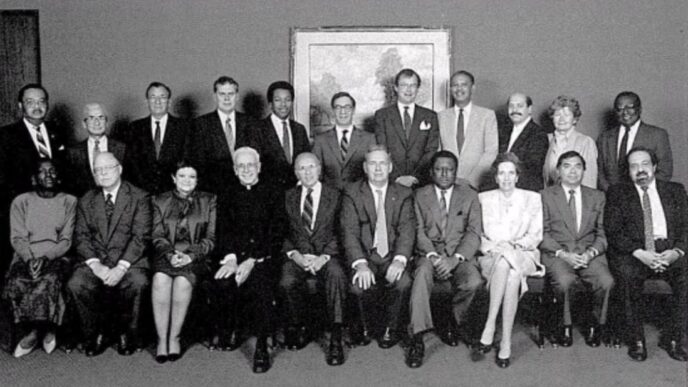 1988
Human Relations Task Force Established to Examine Tensions in Chicago
The Trust established a Human Relations Task Force in 1989 to examine racial, religious, and ethnic tensions in Chicago and to identify opportunities for diffusing these tensions. The Task Force was co-chaired by former Executive Committee Members Rev. Dr. Kenneth B. Smith and Franklin A. Cole. Vice chairmen of the Task Force were former Executive Committee Members Arthur R. Velasquez and James Brice.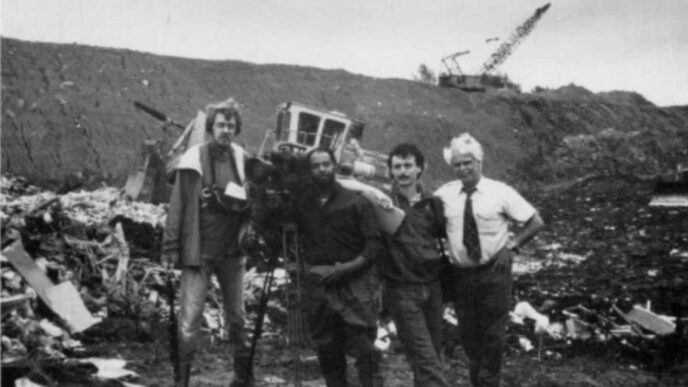 1990
"Chicago Matters" Series is Created
Chicago Matters was a public affairs series created by the Trust that covered a variety of topics, such as racism, violence, immigration, labor and employment, education, children, environment, housing, and health. It ran annually, except for 2003, from 1990 to 2009. WTTW/Channel 11 produced television documentaries and town meetings around topics of public interest. WBEZ public radio, the Chicago Public Library, and The Chicago Reporter joined across the years.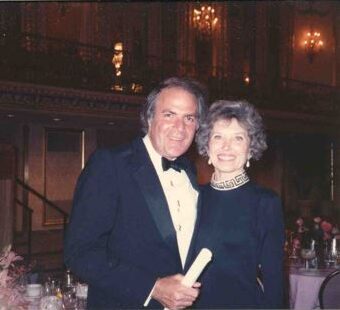 1990
The Trust Celebrates its 75th Anniversary
The Trust celebrated its 75th anniversary in spring 1990. As part of its anniversary, the Trust made a commitment to concentrate on funding children's issues.
2008
Unity Fund is Created
In 2008, the Trust created the Unity Fund in response to the worst recession in Chicago since the Great Depression. The Unity Fund pools contributions from donors and distributes funds to area nonprofit organizations providing human services to vulnerable and under-resourced families. One year later, the Unity Challenge was established as a matching fund to raise money for the Unity Fund. Since its creation, donors have helped the Unity Fund award over $16 million to benefit over 200 nonprofits providing critical services across Chicago.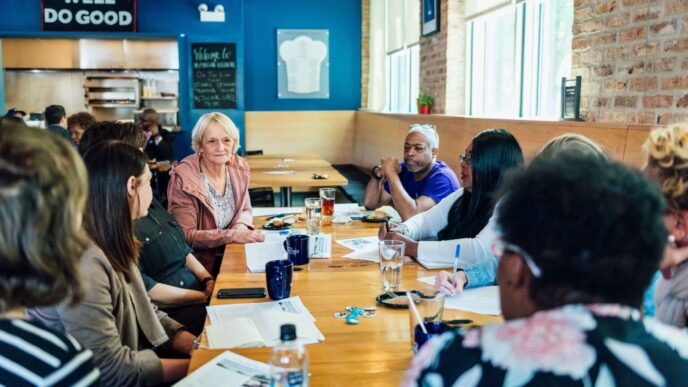 2014
On the Table is Established
In 2014, the Trust launched On The Table, an event that brought together thousands of Chicago residents to break bread and discuss innovative ideas that will make the region prosperous and safe while fueling a greater spirit of philanthropy. Since its inception, tens of thousands of people across metropolitan Chicago have participated annually in On The Table and more than 30 communities across the country have held their own On The Table events.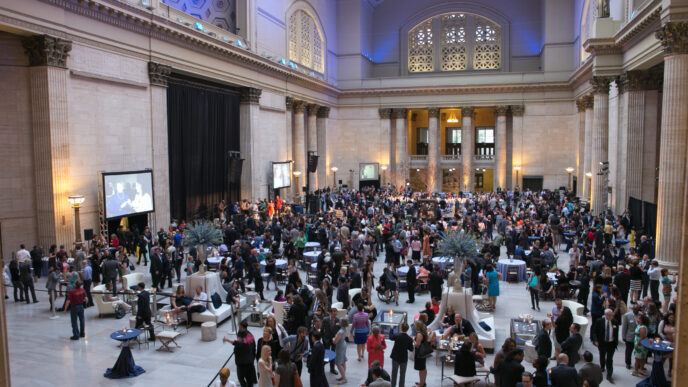 2015
The Trust Celebrates Its Centennial
The Trust celebrated a century of impact in 2015. Over the course of its 100 years, the organization awarded over $2 billion in grant funding to more than 11,000 local nonprofit organizations from 1915-2015.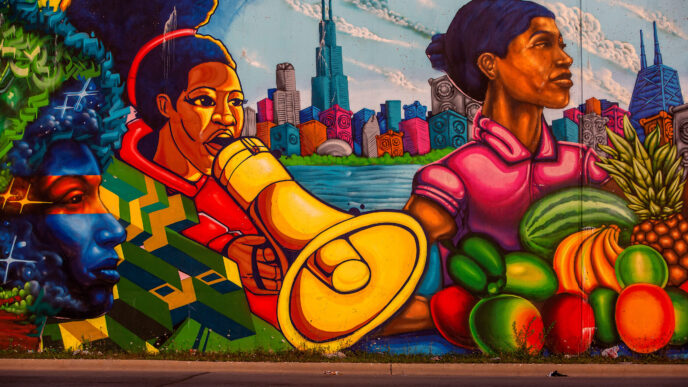 2019
New Strategic Plan Launches
The Trust formally adopts its strategic plan focused on closing the racial and ethnic wealth gap as a long-term organizational priority. It is the most significant obstacle to realizing the organization's overall vision of a thriving, equitable and connected Chicago region where people of all races, places, and identities have the opportunity to reach their potential.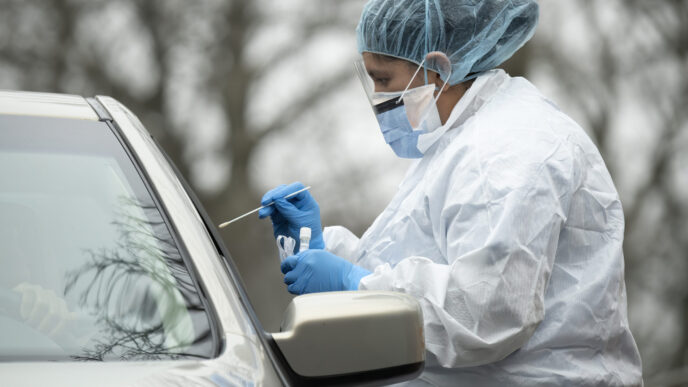 2020
The Chicago Community COVID-19 Response Fund Launches
In March 2020, the Trust and United Way of Metropolitan Chicago established the Chicago Community COVID-19 Response Fund in March 2020 in partnership with the City of Chicago and Chicago philanthropists, business leaders, and donors. The fund rapidly deployed resources to local nonprofit organizations across metropolitan Chicago that supply essential resources to individuals and households most impacted by the pandemic.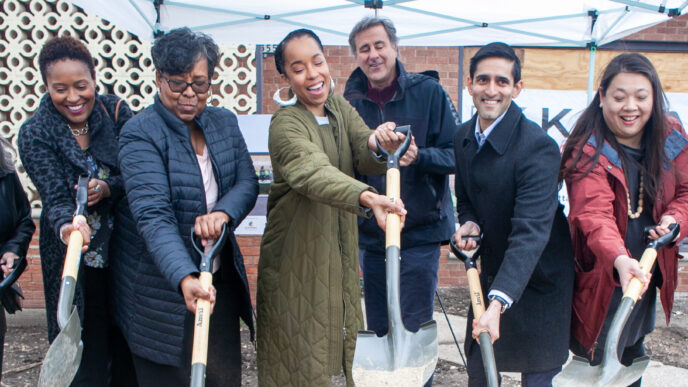 2021
We Rise Together: For an Equitable & Just Recovery Launches
We Rise Together launches as an accelerator uniting partners from philanthropy, business, government, nonprofits, and communities in the economic recovery to help ensure Black and Latinx communities hit hardest by the COVID-19 crisis are not left behind, supporting a stronger region for all.
Where We Are Now
In 2019, we launched a ten-year strategic plan focused on addressing the region's racial and ethnic wealth gap. The three-part strategy to close this gap centers around growing household wealth, catalyzing neighborhood investment and building collective power. In addition to this work, the Trust will continue to address the critical needs of the region and maximize the impact of philanthropic giving.
Through the Years:
Our Presidents & CEOs
Albert Harris

Founder, 1915

Reverend Arthur J. Francis

1916-1917

Donald M. Stewart

2000-2004

Andrea Sáenz

2022-Present
Current Executive Committee Members
James Reynolds, Jr.

2016-Present

Luis P. Nieto, Jr.

2016-Present

Martin Cabrera, Jr.

2017-Present

Renetta E. McCann

2019-Present

Bryan Traubert

2019-Present

Margie Stineman

2020-Present

Sandra Cordova Micek

2022-Present

Terry Peterson

2021-Present

Heather A. Steans

2021-Present

Connie L. Lindsey

2022-Present

Jesse Ruiz

2009-2016, 2023-Present

Gretchen Crosby Sims

2023-Present
Past Executive Committee Members
Charles Henry Markham

1916-1919

Clifford W. Barnes

1916-1944

Bernard A. Eckhart

1916-1930

Charles S. Cutting

1916-1936

Eugene J. Buffington

1919-1937

Edward L. Ryerson, Jr.

1931-1958

Robert Douglas Stuart

1936-1950

Harold Higgins Swift

1936-1955

George Baldwin McKibbin

1939-1941

Hermon Dunlap Smith

1939-1972

Edward K. Welles

1941-1970

Frank L. Sulzberger

1944-1953

James H. Douglas, Jr.

1950-1953

Henry Favill Tenney

1953-1962

William R. Odell

1953-1969

Mortimer B. Harris

1953-1971

Edward D. McDougal, Jr.

1955-1968

Florence Lowden Miller

1959-1970

Philip D. Block, Jr.

1962-1978

Gaylord Donnelley

1968-1979

Robert W. Reneker

1969-1981

Donald S. Perkins

1970-1977

Barbara Austin Foote

1970-1985

Emory Williams, Sr.

1971-1983

Thomas G. Ayers

1973-1983

George E. Johnson, Sr.

1976-1979

Nora Ryerson Ranney

1978-1983

Brooks McCormick

1978-1988

Charles E. Lomax

1979-1986

Blaine Yarrington

1981-1989

Reverend Kenneth B. Smith

1983-1997

Eunice Hale Smith

1983-1994

Margaret MacKimm

1985-1995

Arthur R. Velasquez, Jr.

1986-1990

Judith Stofer Block

1988-1998

Shirley Welsh Ryan

1988-1998

Margaret Dunne Hartigan

1989-1999

William M. Daley

1990-1995

Virginia F. Ojeda

1993-2002

Homer Livingston, Jr.

1996-2003

James J. Glasser

1996-2007

Prudence Beidler

1998-2008

Heather Morgan Bilandic Black

1998-2008

Marshall Field V

1999-2009

Martin Castro

1999-2001, 2011-2016

Cynthia Mitchell

2000-2002

Quintin E. Primo III

2001-2011

John Canning, Jr.

2003-2013

Paula Hannaway Crown

2006-2011

Michael Ferro, Jr.

2008-2018

Christopher Kennedy

2010-2015

Shawn Donnelley

2011-2020

Michael Reinsdorf

2015-2017

Carol Lavin Bernick

2017-2020

Gloria Castillo

2019-2020

Mary B. Richardson-Lowry

2013-2023
The Wealth Gap
The work to close the racial and ethnic wealth gap will not happen overnight, but in partnership with donors, nonprofits, community members, business leaders, and local government, it can be done. We hope you will join us on this journey.
Learn More
Our Strategic Plan
The Trust brings together generous donors, committed organizations, and caring residents to effect lasting change that makes our region better for all. We've made a 10-year commitment to closing Chicago's racial and ethnic wealth gap.
Our Work