Inclusive Business Practices – Fund for Equitable Business Growth
The Fund for Equitable Business Growth invests in a coordinated network of business service organizations (BSOs) advancing proven and promising strategies that support entrepreneurs of color to accomplish this work.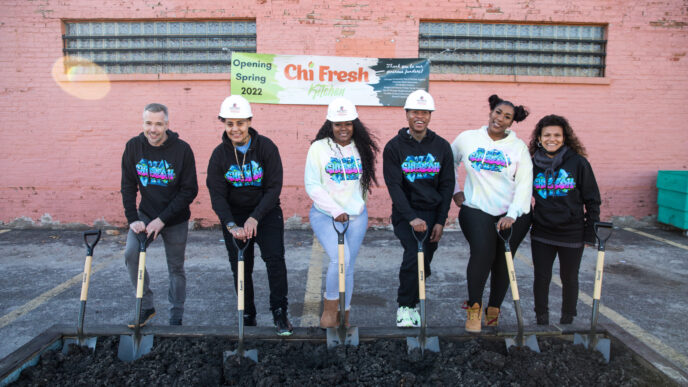 RFP Release: January 9, 2023
Info Sessions: January 2023 – 23rd @ 4pm | 25th @ 4pm | 27th @ 10am
Attend an info session using this Zoom link.
Full Application Deadline: February 1, 2023
Funding Decision: February 20, 2023 – March 3, 2023
Announcement: April 28, 2023
Background
The Fund for Equitable Business Growth ("the Fund") is a multi-funder collaborative housed at the Chicago Community Trust ("the Trust") designed to support the entrepreneurial ecosystem throughout the Chicago region, providing coordinated, accessible, and responsive business development services for entrepreneurs of color. Among the Fund's partners are community-based organizations, banking institutions, CDFIs, academic institutions, corporations, and chambers of commerce, each committed to backing minority-owned businesses. The Fund invests in a coordinated network of business service organizations (BSOs) advancing proven and promising strategies that support entrepreneurs of color to accomplish this work. With the Fund's support, BSOs have helped strengthen the small business ecosystem by assessing the internal and external capacity, strengths, and gaps of direct service organizations through partnerships.
The Fund awards grants to finance four types of transformative support for small business owners of color:
Expanding business education with local partners
Developing hyper-local businesses
Cultivating growth in new markets
Innovating new business models
Since 2019, the Fund has contributed more than $7 million to more than 51 organizations, reaching 2,000 entrepreneurs throughout the Chicago region. The Fund's partnerships have increased knowledge capital for small businesses, leading to more fundamental business finance skills and tools for growth. Likewise, there has been an increase in financial and social capital access. Improved capacity to acquire loans, grants, and other financial products and develop peer networks, mentor relationships, individualized coaching, and exposure to power brokers has significantly boosted outcomes.
Need/Opportunity Statement
As the recognition of the racial wealth gap has grown, cooperative business models, which provide workers with the opportunity to build wealth for themselves and their communities, have emerged as a promising strategy to close the gap. Inclusive ownership models allow for a more fair and resilient economy that can place workers at the center of decision-making and business practices. Workers participate in the profits, oversight, and often management of the business using democratic practices. The model has proven to be an effective strategy for creating and retaining quality jobs and generating wealth. It also addresses inequality and promotes community and local economic development, particularly for people who lack access to business ownership opportunities. Projects and businesses created by the community can provide the meaning workers are looking for while ensuring jobs and capital stay within the community. To ensure the economic security of working people, it is imperative we accelerate the underutilized strategy of cooperative business ownership.
Goals & Outcomes
Increase number of worker-owned businesses with ability to sustain operations
Increase capacity of organization to sustain and grow the business
Improve overall financial health of worker cooperatives
Increase access to financial solutions that increase assets
Increase fundamental business finance knowledge and application
Increase investment opportunities
Strengthen the organizational infrastructure
Priority Strategies & Activities
The Fund for Equitable Business Growth aims to support inclusive business strategies with this funding opportunity. It will provide worker cooperatives in their beginning stages (either at start-up or in their first three years of operation with less than $150,000 in annual revenues) with grants that can be used to support initial overhead costs, equipment purchase, and business consulting services, etc.
Grant Type
Capacity Building
Grant Amounts Available & Grant Term
The total amount of funding available for this request for proposals is $300,000. Grants will range from $10,000 – $25,000. The term of the grant is one year.
Contact
For technical questions about your GrantCentral application, please contact our grants management staff at grants@cct.org.
For questions about this funding opportunity, please contact Adam Engle, Director of the Fund for Equitable Business Growth, at aengle@cct.org.
How to Apply
The Trust awards grants to organizations whose work is consistent with our mission and our current priorities. Learn about the application process and eligibility.
How to Apply
What We Fund
Our grants are not just checks, not just points on a map. Our grants are lifelines, connecting individual donors with people and families striving for a better life.
What We Fund