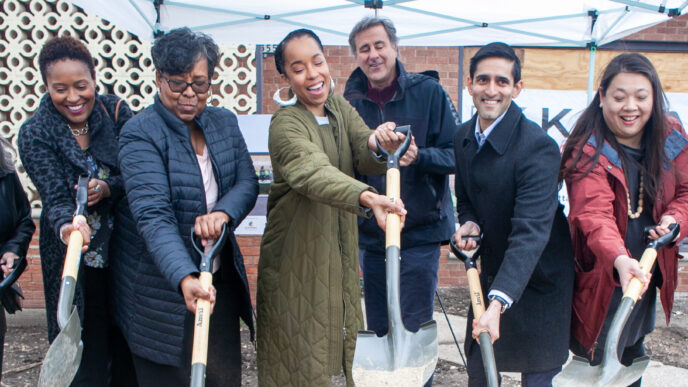 Partnerships & Initiatives
Through the years, the Trust has created many types of initiatives to help our region—and its foundations, businesses, civic leaders, and individuals—most effectively engage with the issues they care about. Through special task forces like these, we tackle issues of concern from innovative angles, or harness the power of civic collaboration for greater impact.
Signature Initiatives
As we invest the resources of generations of donors into serving our community, we engineer creative approaches to amplify the impact of our grant making.
| | |
| --- | --- |
| Affinity Funds | Affinity funds are groups of donors united by a shared heritage, identity, or common interest. They offer an efficient way to support a specific group of people and the nonprofits that aid them by leveraging contributions through collective giving. |
| On the Table | The Chicago Community Trust's "On the Table" was an annual forum designed to bring people together to make good things happen. |
| Unity Fund | By donating to Unity Fund, your support restores stability for people in crisis by helping them access services instrumental to their self-sufficiency. |
Project Partnerships
In a rich ecosystem of nonprofits, businesses and civic institutions, the Trust builds partnerships that can kickstart creative solutions or accelerate progress toward addressing the most complex challenges.
| | |
| --- | --- |
| 5/25 Move to Action | Seeks to galvanize private sector actions that will have real impact on an equitable economic recovery from COVID-19 in Chicago. |
| Arts Works Fund | A funder collaborative created to help strengthen the management and operations of small arts and cultural organizations in Chicago and Cook County. |
| Benefit Chicago | A powerful collaboration that aims to mobilize $100 million in impact investments for nonprofits and social enterprises working throughout the Chicago region. |
| Bridges to Brighter Futures | Aims to create equitable, affordable access to good jobs and continued career development. |
| Catchafire | Founded in 2010 to help nonprofit organizations connect with experienced professionals looking to give back. |
| Chicago200 | An annual leadership program that convenes young diverse leaders from across the Chicago region to address the question, "What will we make our city known for by its 200th birthday?" |
| Chicago and Cook County Flexible Housing Pool (FHP) | An innovative housing approach that focuses on reducing costs in the health care sector and improves individual health care outcomes. This multi-sector investment partnership connects people experiencing homelessness to stable housing, tenancy support, and healthcare that leads to a decrease in the use of emergency services, hospitalizations, and incarceration. |
| Chicago Fund for Safe and Peaceful Communities | Exists to create the conditions for violence prevention and reduction during the summer months, and supports activities by nonprofit organizations that build community cohesion and promote safety and peace. |
| Chicagoland Workforce Funder Alliance | Collaborates with employers and other workforce stakeholders to increase employment, earnings and racial equity for underprepared workers in the Chicago region. |
| Community Desk Chicago | Promotes direct catalytic capital to Black and Latinx communities in historically underserved Chicago neighborhoods. |
| Connecting Capital and Community (3C) | A multi-sector collaborative to build Black and Latinx wealth through homeownership. |
| Elevated Chicago | A partnership of organizations committed to transforming the half-mile radius around transit stations into hubs of opportunity and connection across our region's vast transit system. |
| Financial Services Pipeline Initiative | A collaborative of financial services firms developing a collective long-term human capital business strategy for the Chicago region. |
| Food:Land:Opportunity | A multi-year initiative that aims to create a resilient local food economy that protects and conserves land and other natural resources while promoting market innovation and building wealth and assets in the Chicago region's communities. |
| Fresh Taste | An initiative by thirteen Chicago-region foundations working together to relocalize the Chicago foodshed and improve equity of access to good food. |
| Fund for Equitable Business Growth | Creating a marketplace of services for entrepreneurs of color in the Chicago region to close the racial and ethnic wealth gap and build a more just, equitable, and resilient society. |
| Hope Abelson Fund | The Fund's Hopie Award recognizes and supports performing arts organizations, located in Chicago, that embody the spirit of innovation and creativity that Hope Abelson promoted for decades. |
| Illinois Immigration Funders Collaborative | Works to prioritize individual legal assistance; community defense and strengthening; and capacity-building to help organizations serve clients and work together in coalitions to mobilize for change. |
| Illinois Justice Project | Engages in criminal justice reform efforts to make our communities safer and reduce recidivism among youths and adults. |
| Michael & Mona Heath Fund | Michael and Mona Heath are ardent advocates for social justice and are devoted fans of Chicago theatre. The Fund is their way of transforming these two passions into actions that have tangible philanthropic impact and share the common threads of equity, inclusion, and changing lives. |
| Pillars Fund | Pillars Fund amplifies the leadership, narratives, and talents of Muslims in the United States to advance opportunity and justice for all. |
| Press Forward Chicago | Raising unprecedented resources to revitalize local news, supercharge proven solutions to the local news crises, and close longstanding inequities in journalism coverage and practice. |
| Truth, Racial Healing & Transformation (TRHT) Greater Chicago | A community organization focused on planning for and bringing about transformational and sustainable change, and to address the historic and contemporary effects of racism. |
| We Rise Together: For an Equitable & Just Recovery | An accelerator in the economic recovery to help ensure Black and Latinx communities hit hardest by the COVID-19 crisis are not left behind, supporting a stronger region for all. |
Geographic Affiliates
Our connection with the region's diverse communities beyond Chicago has inspired the creation of partner foundations—deeply rooted, authentically informed forces of strategic leadership for addressing local challenges.
| | |
| --- | --- |
| The Community Foundation of Will County | Community leaders launched The Community Foundation of Will County to provide support to nonprofit organizations and promote philanthropy as a way to create lasting change. |