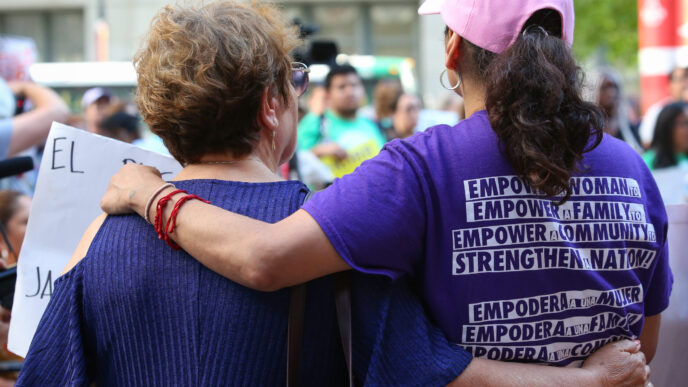 Press Release Aug 25 2022
Latinx Nonprofit Organizations Receive $750,000 in Grants to Improve Access to Early Childhood Education and Immigration Services
Nuestro Futuro steps up to meet community needs with a four-fold increase in support.
(CHICAGO, August 25, 2022) – Thirty nonprofit organizations serving the Chicago region's Latinx community were awarded a total of $750,000 in grant support from Nuestro Futuro, an initiative of The Chicago Community Trust. Grant support will allow nonprofit organizations to improve access to early childhood education and immigration rights and services.
This year funding for Latinx-serving and Latinx-led organizations increased more than four-fold from last year. The increase was made possible by a $250,000 matching grant from the Hispanic Federation, a leading social service and advocacy organization, and contributions to Nuestro Futuro's "Todo O Nada" Fundraising Campaign. The additional funding allowed Nuestro Futuro to expand its grantmaking portfolio to enable grant seekers to add capacity building support for mental health and wellness services and leadership development, identified as unmet needs by the community.
"Small and grassroots nonprofit organizations are the backbone of Latinx communities as they are on the frontlines serving the needs of our community," said Doris Salomón, co-chair of Nuestro Futuro. "The Latinx community is the second-largest racial and ethnic group in the Chicago region. We are committed to providing access to the necessary resources to help our community achieve the dreams that brought their families to Chicago."
Early Childhood Education
Before children enter kindergarten, a six-month education gap exists between Latinx students and their peers. It continues to grow as only one-third of Latinx students enroll in preschool programs. In fall 2021, Chicago Public Schools reported that elementary school enrollment dropped at higher rates in predominately Latinx neighborhoods. Grant support will cover aspects of early childhood development and resources for bilingual staff and parent engagement programs.
Immigration Rights and Services
The Migration Policy Institute reports approximately 345,770 undocumented Latinx immigrants in Illinois, with half living in or under the poverty line. In 2017, a UIC study showed that all Latinx neighborhoods disproportionately experienced hardship, which was only exacerbated by the COVID-19 pandemic and lack of federal support. Grant funding will support legal and financial services programs, pathways to citizenship and naturalization, and community engagement and advocacy.
Mental Health & Wellness Services
In Chicago, Latinx youth experience trauma and stress rooted in marginalization, poverty, racism, and violence. If left untreated, it can worsen in adulthood. In 2018, Saint Anthony Hospital held a survey to examine the state of mental health and found that out of 3,000 Latinx adults, 80 percent wanted professional help. Grant support will break down the barriers that prevent access, such as language barriers and financial and immigration status.
Capacity Building for Leadership Development
NCRP's analysis of Foundation Center data from 2003-2012 shows that funding for leadership development makes up less than 1 percent of the total dollars given by the 1,000 largest foundations. In addition, research under the Race to Lead an initiative of the Building Movement Project found that Black and Latinx individuals comprise 30 percent of the United States population, but only 10 percent of nonprofit organizations' executive leadership and 6 percent of foundations' executive leadership. Grant support will build the leadership capacity of Latinx staff to improve competencies and skills that will make them more effective and expand their expertise.
Nuestro Futuro ("Our Future") is the largest affinity fund in the nation dedicated to Latinx philanthropy. Since its founding in 2003, more than $3.1 million has been granted to more than 70 nonprofit organizations. Below is a complete list of organizations and projects that received grant support. For more information about Nuestro Futuro, visit cct.org/nuestro-futuro.
About Nuestro Futuro
As the largest affinity fund in the nation dedicated to Latinx philanthropy, Nuestro Futuro ("Our Future") has been making a tangible impact for nearly 20 years by supporting Chicago-area organizations and programs aimed at improving the quality of life for the Latinx community. To learn more, visit cct.org/nuestro-futuro.
About The Chicago Community Trust
The Chicago Community Trust is a community foundation dedicated to strengthening the Chicago region by creating equity, opportunity, and prosperity for all people who call it home. For more than 100 years, the Trust has united generous donors, committed nonprofits, and caring residents to effect lasting change. Following creating a new strategic plan in 2019, the Trust stands committed to addressing Chicago's legacy of systemic inequity and closing the racial and ethnic wealth gap while responding to our most vulnerable residents' critical needs. Thanks to our generous donors, in the fiscal year 2021, more than 7,000 organizations received more than $1.4 billion in funding from the Trust, and affiliated donor advised fund programs. To learn more, visit www.cct.org.

2022 Nuestro Future Grant Award Projects
Children's Center of Cicero-Berwyn
To hire a part-time bilingual staff person to provide additional support in the classroom for children between the ages of 3–5. Additional staff will add the capacity to provide social, emotional, cognitive, physical, and linguistic developmental support and help address behavior issues that have increased due to the impact of COVID-19.
Expanded Mental Health Services of Chicago, NFP
The expansion of their group mental health programs for immigrants. Funding will also provide staff training for the Lil' Explorers program, a parent-child psychotherapy program for parents of children ages 0–5 that is a cornerstone of their early intervention treatment model.
Fox Valley United Way
The increase of participation of Latino families in the area through their Play.Learn.Connect and Family Math Initiative through targeted outreach, engagement, and staffing.
Friends of the Highwood Public Library
In support of the Highwood Library & Community Center's Camino a la Escuela program, an early literacy program for children ages 0-6 and their families. It will also provide access to free mental health services without the stigma typically associated with therapy through expressive play therapy and art therapy for preschool to adolescent-aged children.
Home Of The Child/ El Hogar Del Niño
The increase ofmental health support with the hiring of a full-time bilingual Licensed Clinical Social Worker to provide comprehensive crisis intervention services to families and staff, coaching for Family Support Workers, and ongoing education and screenings available to all.
Mano a Mano Family Resource Center
In support of their Kindergarten Readiness Initiative, which builds skills of children ages 3–5, builds parents' capacity to be their child's first teacher and provides early identification and intervention of learning disabilities. Funding will also provide added ability to support the community's mental health needs.
National Museum of Mexican Art
To provide programming geared toward culturally relevant cognitive development opportunities for Latinx preschoolers and their families. Funding will also increase staff and institutional knowledge on accommodating and interacting with people with disabilities in Chicago's Mexican communities.
Northwest Side Housing Center
In support of their Parents as Mentors Program (PMP), which provides leadership development for Latinx parent mentors, and academic and socio-emotional support for early childhood Latinx learners.
Tuesday's Child
In support of their Behavioral Intervention program, their flagship 8-week bilingual program for families with children between the ages of 0–6. This program provides parents and their children with counseling and classroom intervention at the onsite Parent Training Room and Behavioral Classroom.
Centro De Trabajadores Unidos
To hire more organizers in the areas of immigration, labor, and economic justice to provide expansive, deep base-building, one-on-one support, and community mobilization for their Immigrant Workers Project.
Centro Sin Fronteras
In support of their immigration clinic which provides Know Your Rights workshops, DACA and citizenship workshops, and advice from volunteer immigration attorneys. Funding will also support youth leadership building by hiring young people from the community to provide community outreach, education, and engagement.
Chicago Workers Collaborative
To build the leadership capacity of their staff and strengthen pathways for Latinx community members to develop leadership, advocacy, and organizing skills in support of their Working Families Legal Clinic.
Corazon Community Services
To connect immigrants to legal aid services, facilitate pathways to legal residency and citizenship, and connect them to other vital human services, such as counseling, housing, and public benefits, as part of their Immigration Services. Funding will also support expanded mental and behavioral health care services, including in-house case management around safety and violence prevention issues.
Farmworker & Landscaper Advocacy Project
In support of a yearlong series of Latinx-led culturally competent outreach and community legal education workshops for low-income Latinx immigrant workers. Funding will also support recruiting Latinx immigrants living in Chicago as community navigators to provide education between formal FLAP visits and referring cases of workplace wrongdoing to FLAP staff for follow-up.
Immigrant Solidarity DuPage
To provide free immigration services, including legal aid, workshops, citizenship clinics, and seminars on immigration law as part of the Casa DuPage Immigration Law Clinic and Community Leadership Project.
Latin Union Inc.
To support the development of immigrant community leaders among the organization's day laborer and household worker populations.
Latin Women In Action/Mujeres Latinas en Acción
To help eligible community members sign-up and access paths for U.S. Citizenship and connect families with resources to address health disparities as part of their Community Engagement & Mobilization Program. Funding will also support hiring a Bilingual Advocacy Manager to increase capacity for organizing, coalition-building, and grassroots leaders.
Latino Policy Forum
In support of their extensive Immigration Services programming, particularly community engagement and advocacy. Funding will also support mental health and wellness activities, including community education, policy leadership, and advocacy for equitable funding and access to appropriate services.
Logan Square Neighborhood Association
To support place-keeping efforts, leadership development for staff, and legal assistance and mental health resources for immigrant community members.
NAMI Chicago
To acquire additional bilingual staff to provide school-based mental health and wellness training, answer mental health Helpline calls, and host peer-led Recovery Support groups and classes in Spanish and English.
Northern Illinois Justice For Our Neighbors
To hire a third attorney to provide free consultations and respond to immigration emergencies in support of legal immigration services and leadership development of senior staff.
Organized Communities Against Deportations
To provide mental health resources to individuals recently released from detention in collaboration with the Chicago Torture Justice Center (CTJC). Potential offerings include one-on-one therapy, monthly healing circles, a care package and zine in Spanish sharing tools and practices for well-being, and a train-the-trainer session for OCAD and CTJC staff to prepare to hold future healing circles.
P.A.S.O.- West Suburban Action Project
To offer services including Naturalization and Citizenship processing, Citizenship and ESL Classes, Permanent Residency, Adjustment of Status, Consular Processing, Family Petition, Re-entry Permits, U Visa, and DACA Renewals as part of their Immigration Legal Services Clinic.
Partners For Our Communities
To hire a staff to provide mentorship opportunities, skills training, and other professional development workshops for their front desk staff and college interns at their Community Resource Center.
PODER Learning Center
In support of job counseling and career pathway support services for Spanish-speaking adult immigrants, including financial literacy, digital literacy, civic engagement, career exploration and workforce preparation, work placement, 1-on-1 coaching, and referral services.
Southwest Suburban Immigrant Project
A continuation of COVID-19 relief efforts and health justice initiatives addressing medical debt relief for undocumented individuals, expansion of state Medicaid for qualifying immigrants, hospital accountability, and assuring equitable implementation of last year's victories at the Will County Health Department.
Spanish Community Center
To provide immigration programs, including legal assistance, representation, advocacy, and citizenship and ESL classes.
Telpochcalli Community Education Project
In support of leadership development for its staff to improve general operating practices such as allocating resources, prioritizing project/program delivery, and reporting on progress.
The National Museum of Puerto Rican Arts & Culture
To enhance immigrant and student experiences in collaboration with immigration organizations, schools, and universities to further integrate the Latino experience, its relevance to immigration issues, and the importance of education.
Youth And Family Center of McHenry County
To provide culturally competent services to assist Latinx families in accessing and navigating community resources to address their economic, educational, physical, and mental health needs. This funding will also support YFC's existing mental health programming for youth and adults.