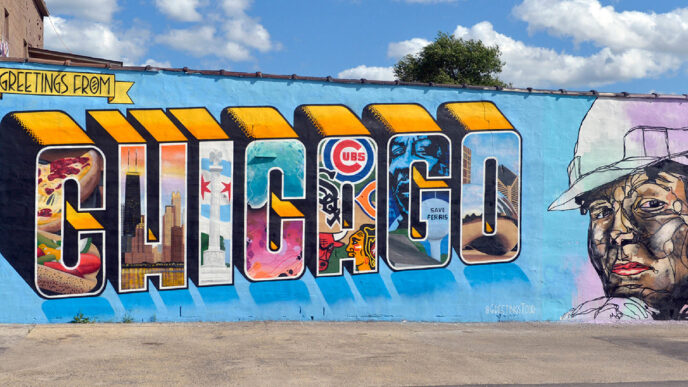 Trust Talks
A podcast by The Chicago Community Trust, each episode of Trust Talks highlights a different strand of the Trust's strategic priority to close the Chicago region's racial and ethnic wealth gap.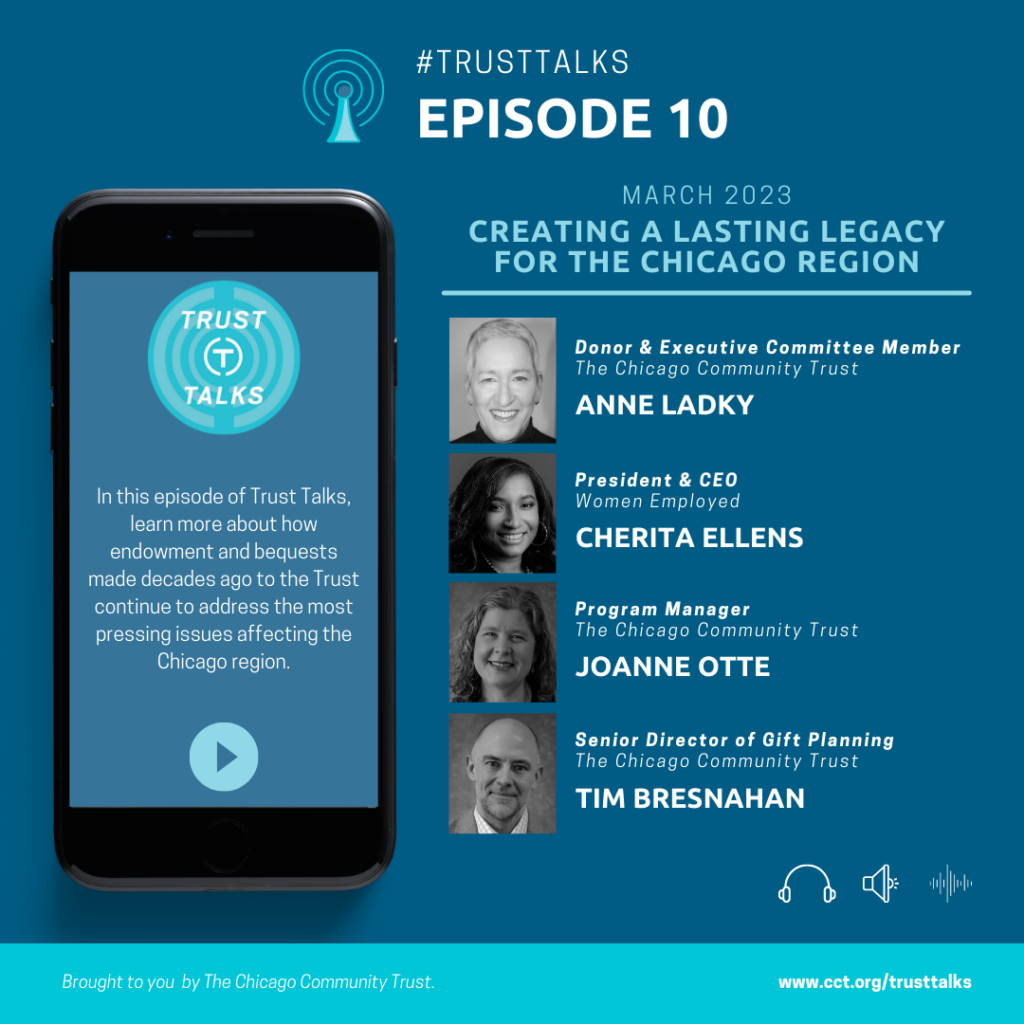 Episode 10: Creating a Lasting Legacy for the Chicago Region (March 2023)
In this episode of Trust Talks, we explore how the Trust's endowment and bequests made decades ago continue to address the most pressing issues affecting our region, including our strategic focus to close the wealth gap. This episode is hosted by Tim Bresnahan, senior director of gift planning, and features Joanne Otte, program manager for the Trust's Addressing Critical Needs team; Cherita Ellens, president and CEO of Women Employed; and Anne Ladky, Trust Executive Committee member and donor.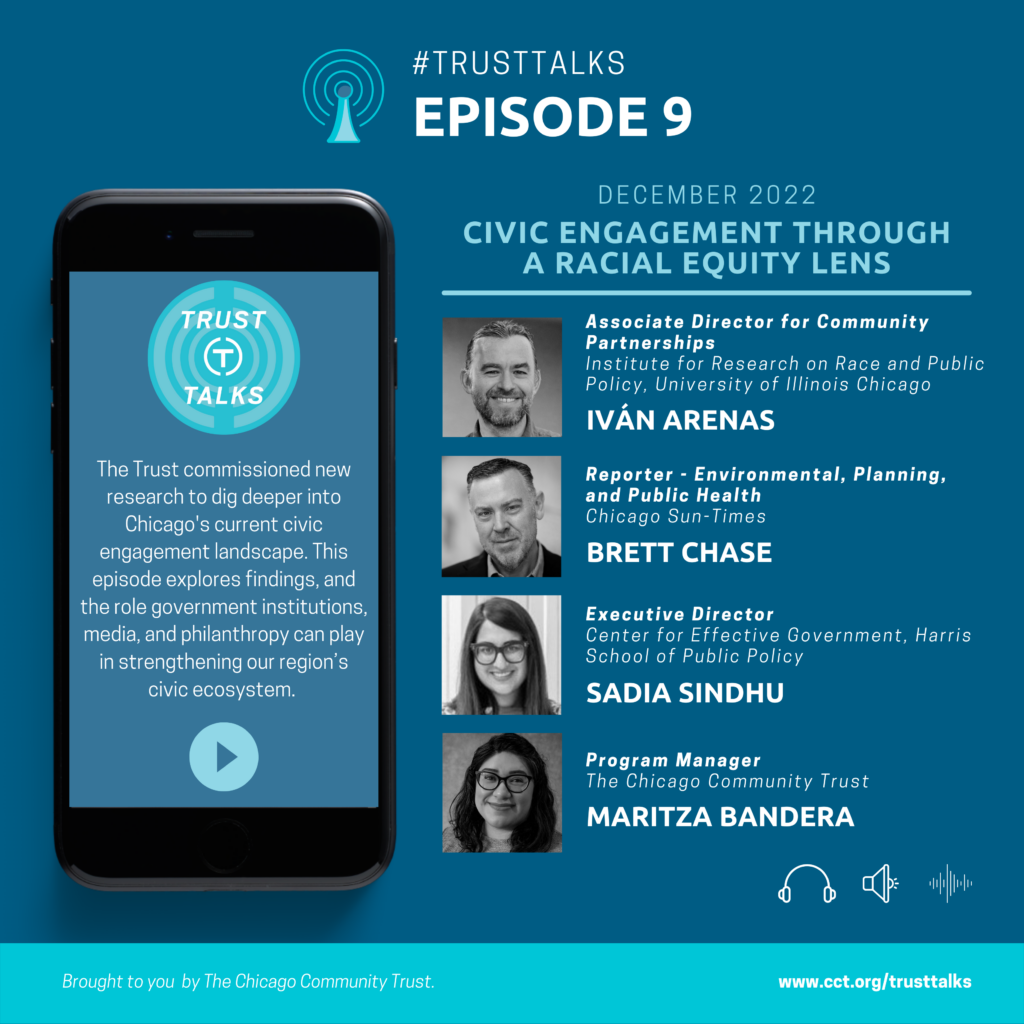 Episode 9: Civic Engagement Through a Racial Equity Lens (December 2022)
Under the Trust's Building Collective Power strategy, The Chicago Community Trust commissioned the Institute for Research on Race and Public Policy at the University of Illinois Chicago to dig deeper into the current civic engagement landscape in Chicago. In this episode, we explore findings from the report, and the role government institutions, media, and philanthropy can play in strengthening our region's civic ecosystem. Featuring Iván Arenas, Brett Chase, and Sadia Sindhu in conversation with the Trust's Maritza Bandera.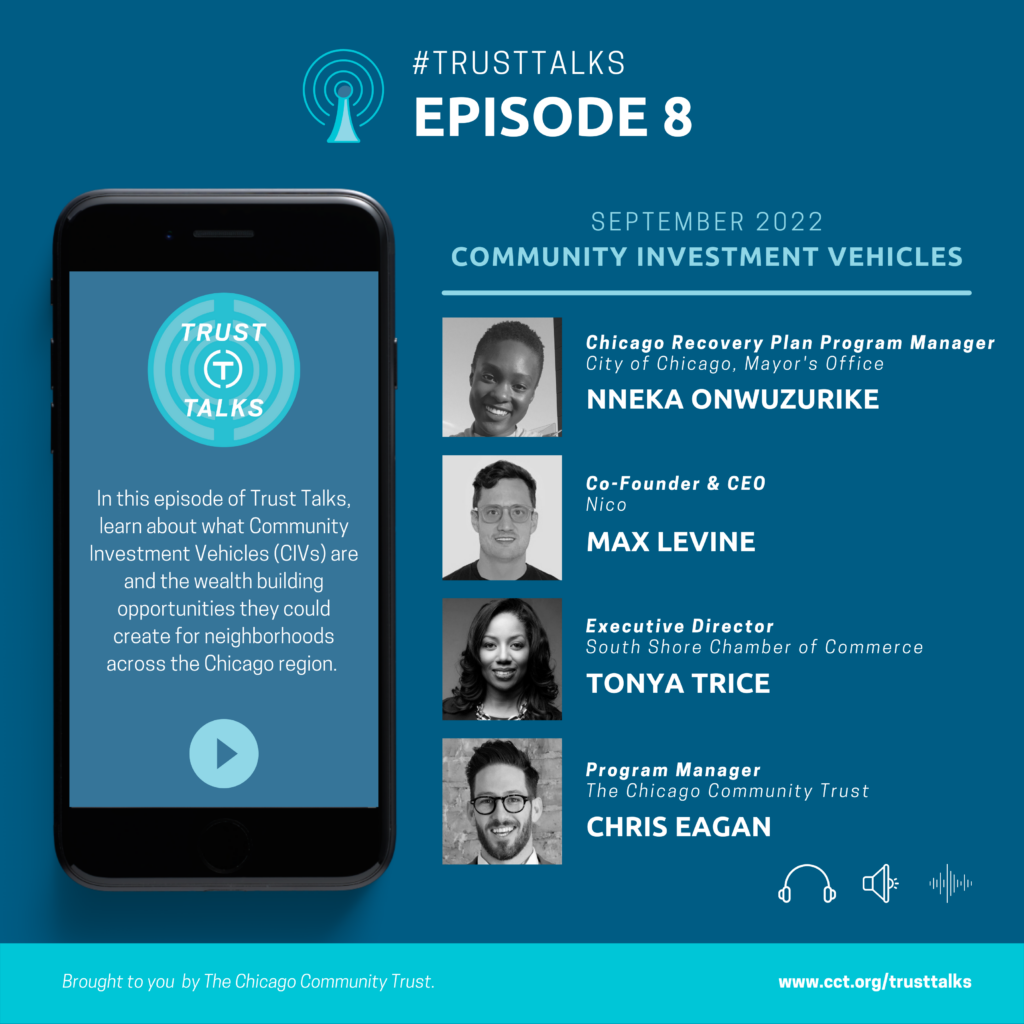 Episode 8: Building Neighborhood Wealth w/ Community Investment Vehicles (September 2022)
In this episode of Trust Talks, learn about what Community Investment Vehicles (CIVs) are and the wealth building opportunities they could create for neighborhoods across the Chicago region. Featuring Nneka Onwuzurike, Max Levine, and Tonya Trice in conversation with the Trust's Chris Eagan.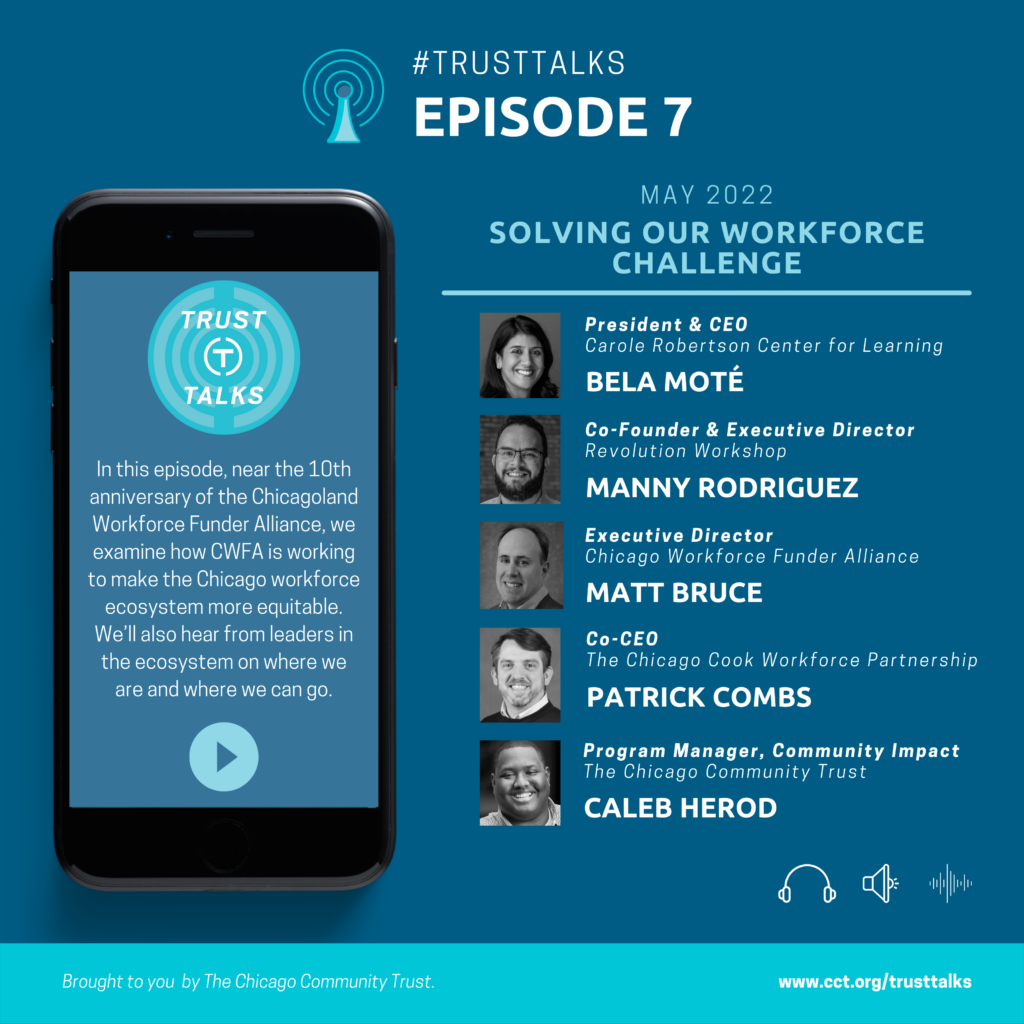 Episode 7: Solving Our Workforce Challenge (May 2022)
In this episode of Trust Talks, as we approach the tenth anniversary of the inception of the Chicagoland Workforce Funder Alliance, we examine how efforts such as CWFA are working to make the Chicago workforce ecosystem more equitable. Featuring Bela Moté, Manny Rodriguez, and Patrick Combs in conversation with CWFA's Matt Bruce and the Trust's Caleb Herod.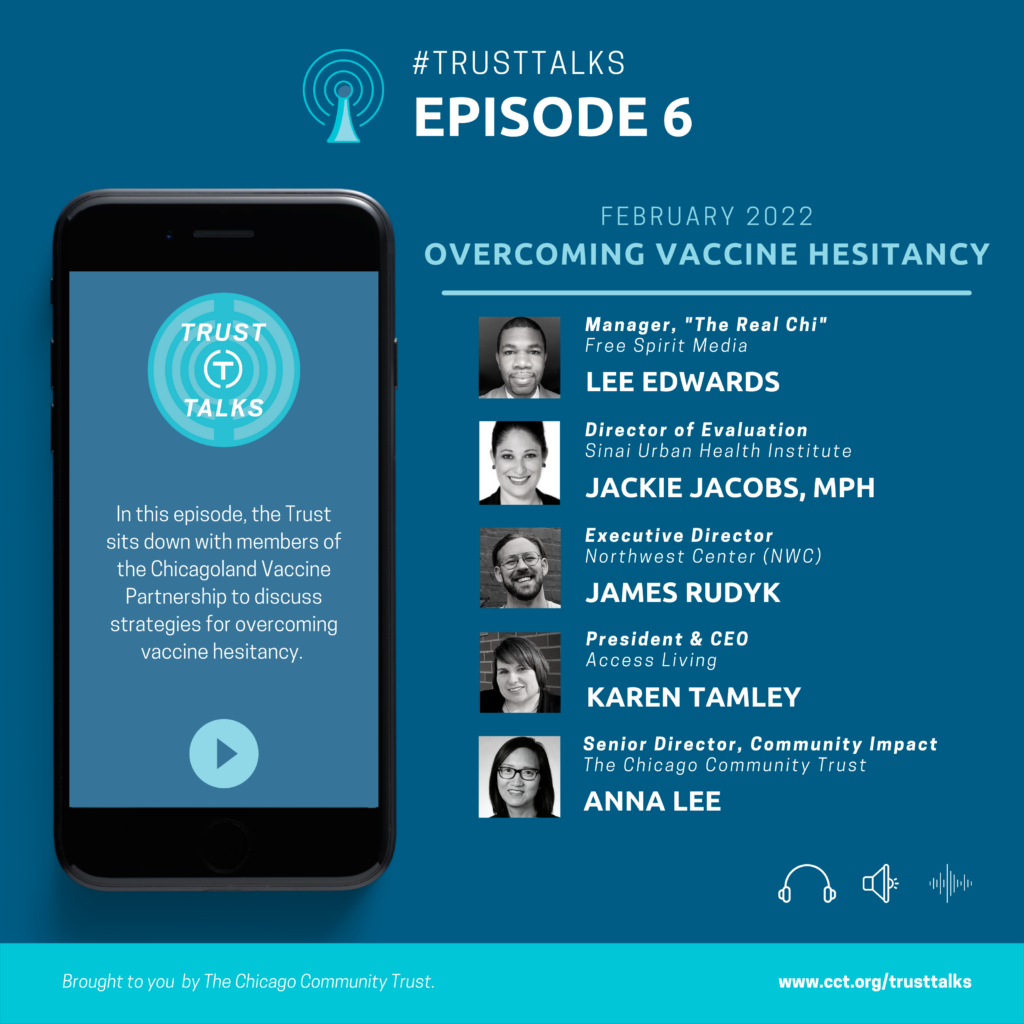 Episode 6: Overcoming Vaccine Hesitancy (February 2022)
In this episode of Trust Talks, Anna Lee, Senior Director of Community Impact, sits down with members of the Chicagoland Vaccine Partnership–Lee Edwards of Free Spirit Media, Jackie Jacobs of Sinai Urban Health Institute, James Rudyk of Northwest Center, and Karen Tamley of Access Living–to discuss strategies for overcoming vaccine hesitancy.
Episode 5: Making Philanthropy Your Own (November 2021)
In this episode of Trust Talks, Kristin Carlson Vogen, Senior Director of Philanthropic Services, explores how the Trust helps donors make philanthropy their own. She is joined by three donors who are engaging with the Trust in different ways: Sequane Lawrence, a member of African American Legacy and a new DAF holder who is challenging his friends and colleagues to open DAFs at the Trust; Lucy Baird, the historian and director of community impact for Baird & Warner, which has had a relationship with the Trust for decades; and Brian Barnes, a tech entrepreneur who has leveraged the DAF left to him by his mother for impact investing.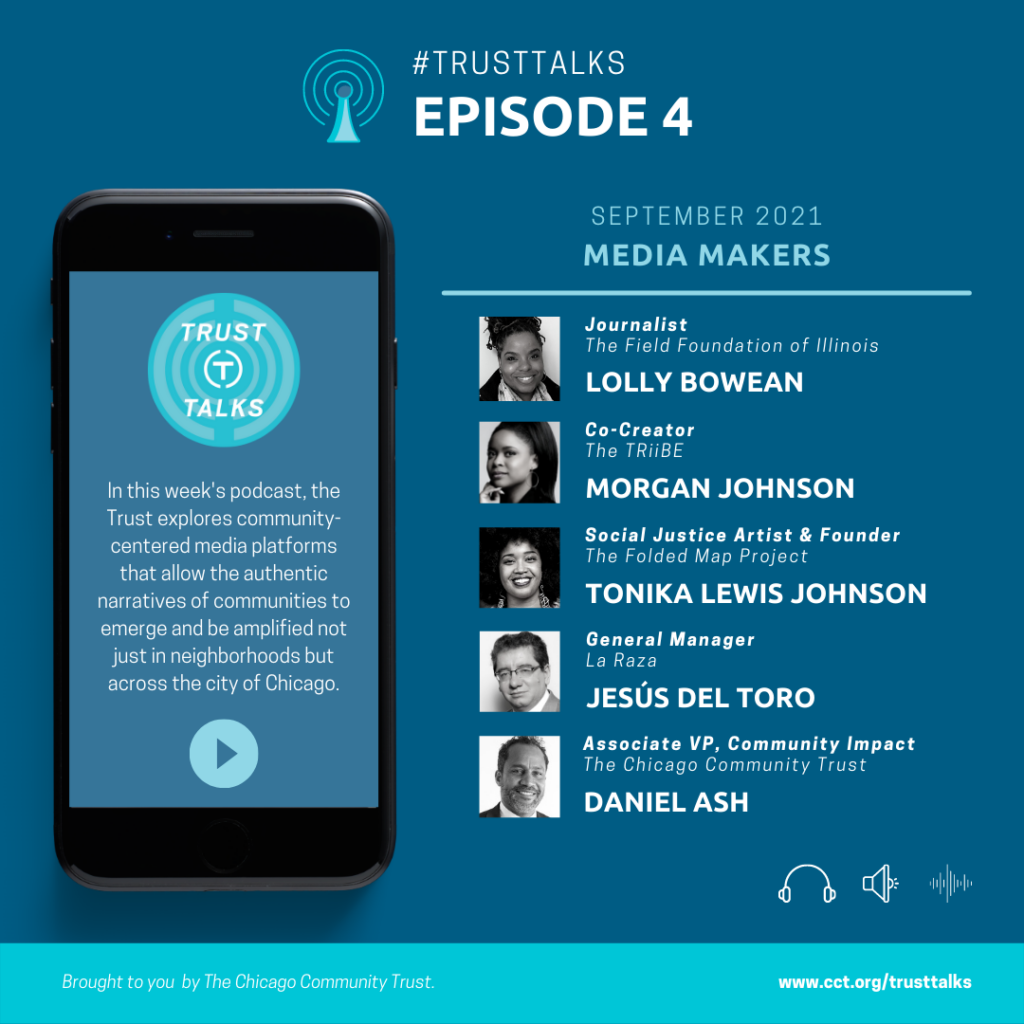 Episode 4: Media Makers (September 2021)
In three segments, this episode of Trust Talks explores the different ways the Trust is strengthening local media and storytelling platforms to amplify community narratives. It features Daniel Ash, Associate Vice President of Community Impact, who leads the Building Collective Power strategy; Lolly Bowean, journalist, who oversees the Field Foundation of Illinois' media and storytelling grant making; Morgan Johnson, co-creator of The Triibe, a digital media platform for Black Chicago; Jesus Del Toro, general manager of La Raza, the region's leading Spanish-language newspaper; and Tonika Lewis Johnson, a social justice artist and creator of the Folded Map Project.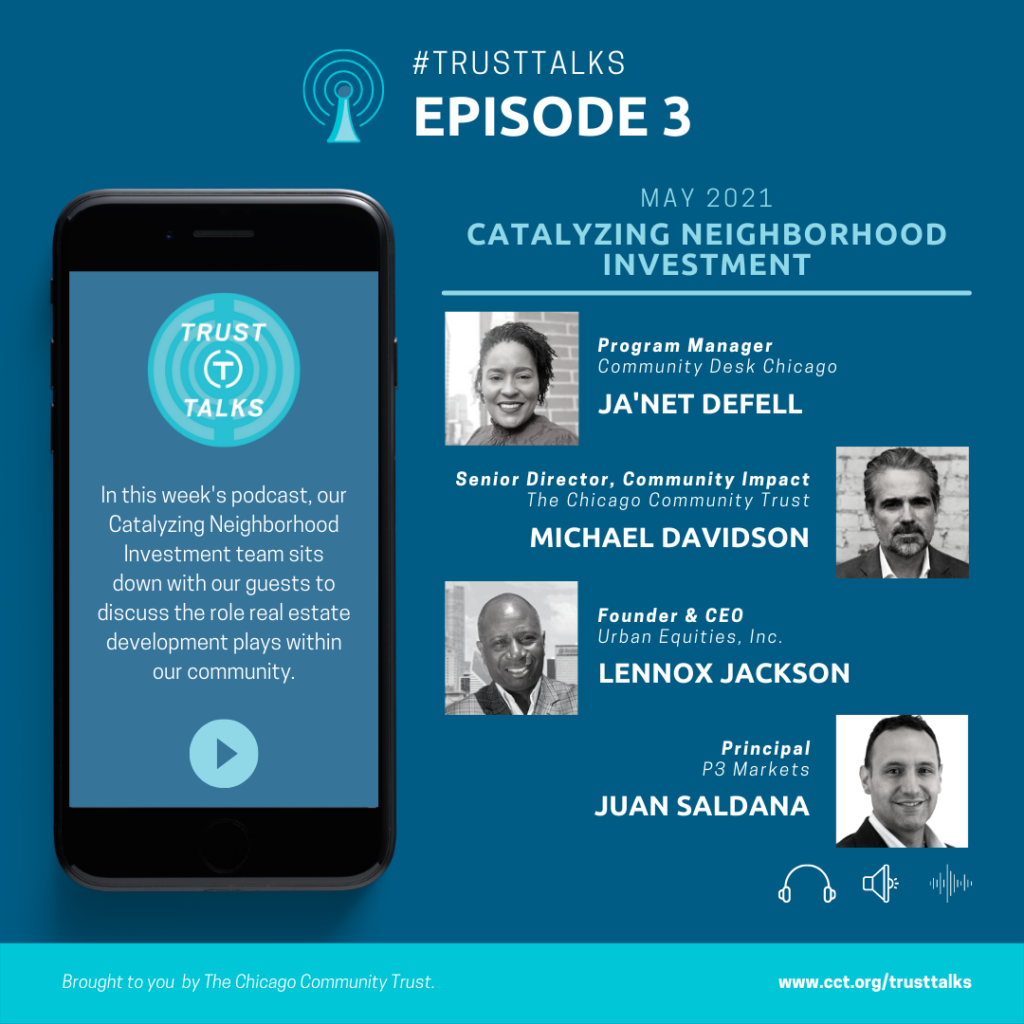 Episode 3: Catalyzing Neighborhood Investment (May 2021)
In this episode of Trust Talks, Michael Davidson, senior director of community impact leading the Trust's Catalyzing Neighborhood Investment portfolio, sits down with Lennox Jackson; founder and CEO of Urban Equities, Inc., Ja'Net DeFell, program manager of Community Desk Chicago; and Juan Saldana, principal at P3 Markets, to discuss the role real estate development plays in our communities.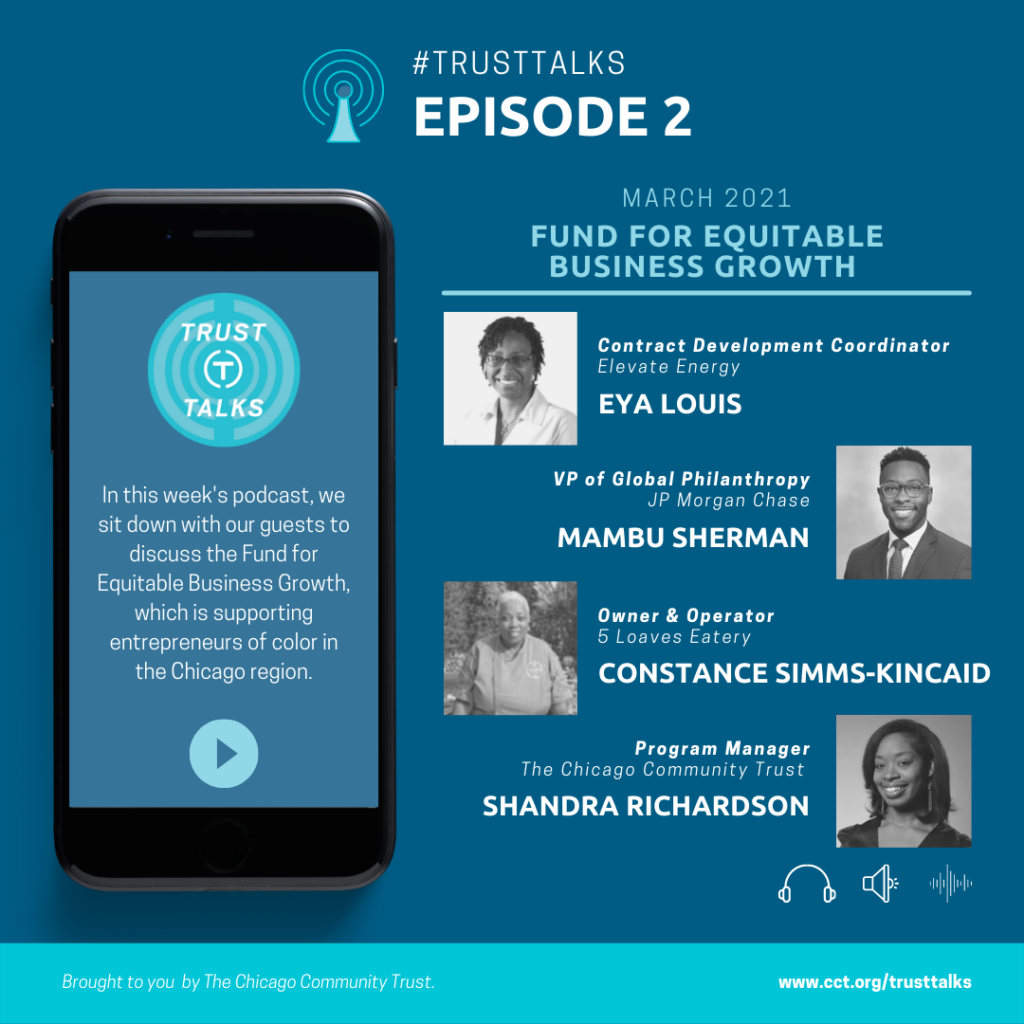 Episode 2: Fund for Equitable Business Growth (March 2021)
In this episode of Trust Talks, guests Mambu Sherman, vice president of global philanthropy at JP-Morgan Chase; Eya Louis, contract development coordinator at Elevate Energy; and Constance Simms-Kincaid, owner and operator of 5 Loaves Eatery, sit down with the Trust's Shandra Richardson, a program manager on the Growing Household Wealth team, to discuss how the Fund for Equitable Business Growth is supporting the small business ecosystem in Chicago.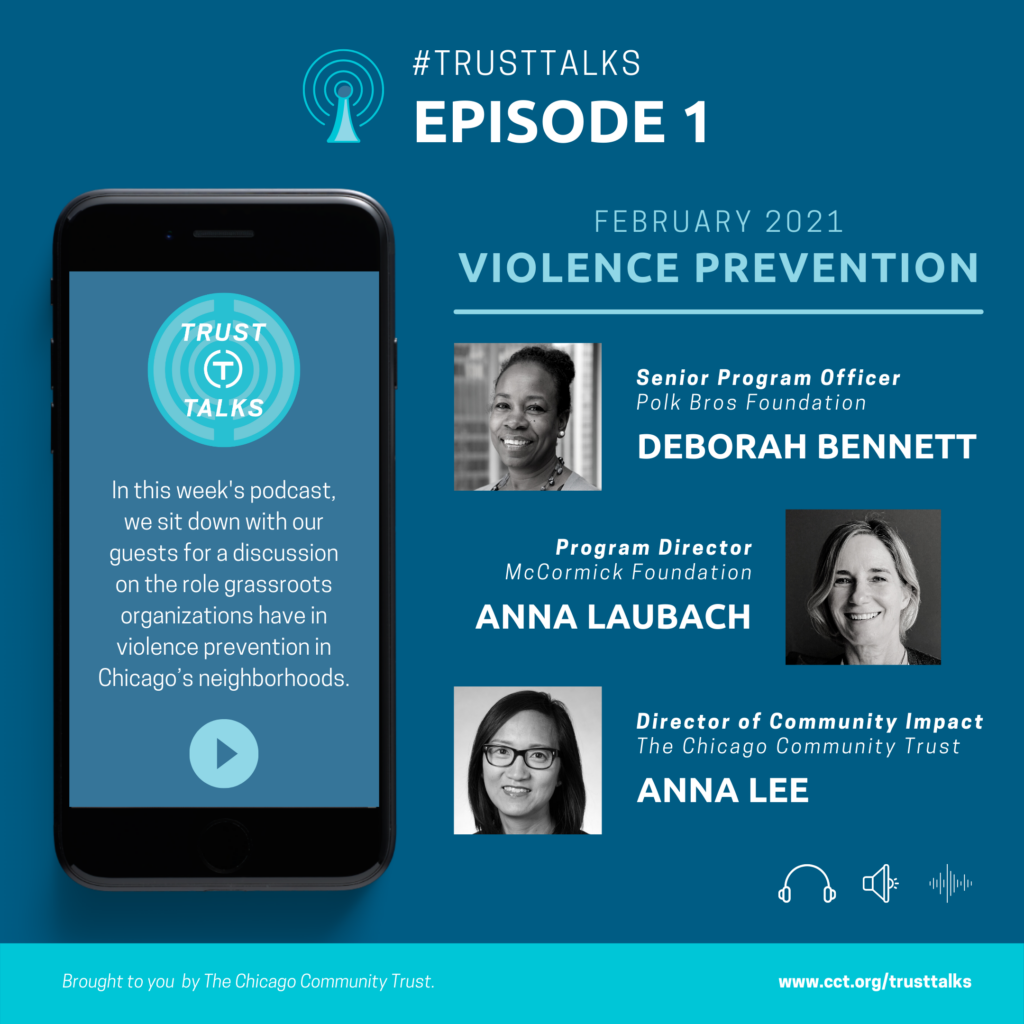 Episode 1: Violence Prevention in Chicago (February 2021)
In this inaugural episode of Trust Talks, we sat down with Anna LauBach, program director at the McCormick Foundation, Deborah Bennett, senior program officer at Polk Bros Foundation, and Anna Lee, director of community impact at The Chicago Community Trust for a discussion on the role grassroots organizations have in violence prevention in Chicago's neighborhoods.