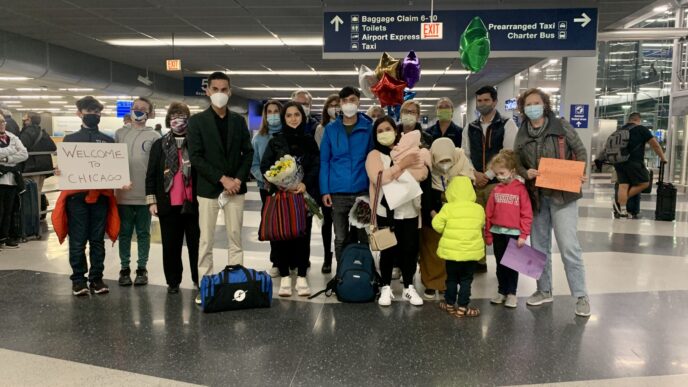 Recently I was in New York City on a family vacation. During this trip, my 10-year-old daughter's must-see list included the Statue of Liberty. Many a tourist has seen Lady Liberty, and we have heard the words of Emma Lazarus' poem, The New Colossus, written for her pedestal, '"Keep, ancient lands, your storied pomp!" cries she with silent lips. "Give me your tired, your poor, your huddled masses yearning to breathe free…" She is a national symbol of immigration and hope for our country. Despite our struggles and missteps, I think too of our local symbols and stories of immigration: the Chinatown Gate, Little Village Arch, or Sandra Cisneros' The House on Mango Street that powerfully shared vignettes of finding home and belonging for a young Mexican-American girl. The stories of our country and our great city of Chicago are filled with immigrants seeking justice, making a home, providing for their families, and building the local economy.
Over the last year, the end of the war in Afghanistan and the ongoing war in Ukraine have heightened our attention to the plight and crisis of immigrants and refugees around the world, particularly the many people who needed to immediately leave their homes, families, and livelihoods to seek safety.
As of March 2022, the U.S.A. has welcomed 76,000 Afghan refugees to the country. Beginning April 25, 2022, President Biden's Uniting for Ukraine program opened with a goal to accommodate 100,000 Ukrainians and others fleeing the war. These events, these images, have been a call to action for so many who want to support and welcome people who have suffered the trauma of war.
This massive influx of families in need is significant in Chicago, which has a long history of welcoming immigrants and refugees. We have a range of governmental and nonprofit organizations with expertise and systems in place to provide the necessary cultural competency and wraparound supports, from assistance with finding housing, employment, and education, to aid with understanding the legal process and advocacy for pathways to citizenship. Even with that long history and expertise, after several years of low admissions numbers and slashed budgets, organizations serving immigrants and refugees are needing to rebuild and create greater capacity. (In the last fiscal year, 2021, the United States had the lowest admissions, 11,411, since the Refugee Act of 1980.)
In response, this year, The Chicago Community Trust has made grants in the amount of $300,000 to 10 organizations working with immigrants and refugees as they prepare to welcome this influx of new neighbors. The Trust made the grants through its Unity Fund, which has mobilized millions of dollars from donors of all sizes during its 14-year history to provide essential lifelines for people who have been in crisis and need to restore stability. Protecting the rights of immigrants and providing a path to self-sufficiency enables these new Chicagoans to contribute to and participate more fully in the region's prosperity.
Based on a report of New Americans in Chicago, immigrants were 67.4 percent more likely to be entrepreneurs than U.S. born-counterparts and had higher rates of owning their own businesses. These new Americans spur an economic engine of new jobs and opportunities for increasing wealth. Organizations like RefugeeOne, the largest refugee resettlement organization in Chicago, and Arab American Family Services in South Suburban Chicago are paving the way for this latest wave of immigrants coming to the region. They're providing those beginning essential services that create the pathways to sustainability and ultimately change the Chicago region's story, history, and culture.
In The House on Mango Street, there's a poignant moment when three wise sisters say to Esperanza, "You will always be Esperanza. You will always be Mango Street." Our experiences, both those in the past and the ones we forge in new places, shape us into the people we are amidst struggle and change. The imprint of Chicago and these new neighbors will forever be intertwined.
Funded Organizations
Apna Ghar
Grant Amount: $25,000
Apna Ghar specializes in serving immigrant and refugee survivors of gender violence from more than 50 countries. Services are provided with a racial and gender equity lens and are based in an understanding of the individualized needs of adult and child survivors of gender violence. Intervention services (crisis and long term) at Apna Ghar are the focus of this proposal. They have a framework that brings together community-driven strategies and local partners to empower our program teams to intervene with those at the highest risk of experiencing violence while also working with the broader community to transform their understanding of gender-based violence. Work through this grant will continue increased efforts of pandemic response and ensure services to prevent violence, case management and counseling, access to legal services, street outreach, training, and technical assistance and shelter, and housing programs can continue to meet the needs of local communities.
Arab American Family Services
Grant Amount: $50,000
AAFS is a culturally grounded multi-service agency promoting access to a range of supports for Arab Americans and other immigrant low-income families in the southwestern suburbs. AAFS has been mobilized to provide services to the recent Afghan refugees arriving in the Chicago area. That is a new service line for AAFS, and these individuals and families require a tremendous amount of support, from the basic food, health, and shelter, to navigating U.S. education, health, legal, and employment systems, to the much more in-depth trauma counseling and overall support for integration.
Chicago Refugee Coalition
Grant Amount: $25,000
Chicago Refugee Coalition's mission is to alleviate human suffering for Chicagoland refugees through compassionate relief services and community empowerment. Since its inception, CRC has focused on food security as the starting point of its essential service provision portfolio. Thus far, vital food banking service has rendered over 75,000 nutritious meals to food-insecure refugee families in Chicago's Rogers Park community, thanks to a multi-year sponsorship from Imperfect Foods. This grant will enable CRC to double those served in the next year.
DePaul University
Grant Amount: $25,000
DePaul University, which has a long history of welcoming immigrants and those who otherwise might be excluded from higher education, sought philanthropic contributions to support 10 displaced female students whose lives and academic plans have been interrupted by conflict in Afghanistan. These students have urgent and significant financial needs, having been required to unexpectedly and quickly leave the region. In addition to scholarship support provided by the university, funding will be critical to providing necessary resources to enable these students to continue their education in Chicago, covering costs that include tuition, fees, room and board, books, supplies, transportation, technology, and personal items.
Forging Opportunities for Refugees in America
Grant Amount: $25,000
FORA provides educational scaffolding for refugee children to succeed at school and in life. That includes addressing the critical need for individualized, intensive after-school academic support for Chicago's newly arrived refugee children, who have had limited or interrupted formal education as a result of genocide, war, and persecution. By expanding the scope and scale of its programs and increasing refugee parent participation in their children's academic progress, FORA aims to empower Chicago's newest neighbors to reach their full potential — closing the significant achievement gap between refugee students and their peers, providing greater stability within refugee families, and preparing our students to become economically self-sufficient and robustly engaged in American civic life.
Mano a Mano Family Resource Center
Grant Amount: $25,000
Mano a Mano is a multi-faceted human service agency that collaborates with public and nonprofit service providers, creating a network for referrals that is a nexus of information and support for the immigrant community. It is the only immigrant-serving agency in Lake and McHenry counties that provides a comprehensive range of linguistically and culturally competent services, including access to healthcare, education, and employment services.
Northeastern Illinois University
Grant Amount: $25,000
In response to the humanitarian crisis in Afghanistan that caused the resettlement of nearly 3,000 Afghan refugees in the Chicago area, and consistent with NEIU's mission and values of access, diversity, and empowerment through learning, the Board of Trustees approved the Afghan Transition Program (ATP) on September 23, 2021. The program has offered up to 17 qualified Afghan evacuees with tuition and housing waivers, and other supports totaling over $455,000. NEIU had 13 enrolled for the spring 2022 semester, with the additional four expected to start this fall. In addition to their studies and housing, the core work of the ATP is to ensure that participating students have access to non-academic resources such as food, adequate healthcare and mental health services, and practical supplies.
RefugeeOne
Grant Amount: $50,000
RefugeeOne's Strengthening Families program helps refugee families achieve self-reliance and is critical to the successful resettlement of refugee families. It encompasses the efforts of RefugeeOne's Youth, Women's, and Wellness programs. In particular, this combined initiative helps minimize risk factors among refugees and their children, which, if left unaddressed, can hinder the entire family's resettlement and stability. Without RefugeeOne, these families would be left alone to overcome hardship, trauma, and extreme poverty. Refugee families are resilient, yet they need help to navigate Chicago's school system for their children, find social networks when women feel isolated at home, and access the culturally and linguistically appropriate mental healthcare that Strengthening Families brings.
Upwardly Global
Grant Amount: $25,000
Upwardly Global empowers a community of unemployed and underemployed immigrant and refugee job seekers with the skills, networks, and credentials needed to rebuild their lives and careers in the U.S., contributing to a thriving and more inclusive Chicago workforce and economy. Those served will emerge from the program having secured gainful, "thriving-wage" professional employment in sustainable industries like tech and healthcare, earning an average starting salary of $55,000 and experiencing an average income increase of $45,000. As a result, Upwardly Global will put mobility within reach and contribute to a reduction in income inequality among Chicago's immigrant families.
World Relief
Grant Amount: $25,000
The Trust grant will help provide vital trauma-informed services in family case management, mental health, and youth programming to Afghan evacuees and other refugees rebuilding their lives in the United States after trauma and displacement. Additionally, the grant will support growth in staff diversity to increase the effectiveness of World Relief Chicagoland's programs and the organization's delivery of equitable and culturally informed services to immigrant and refugee communities throughout Chicagoland.
Strategy Area
Addressing Critical Needs
Supporting essential service organizations that are addressing the most basic and immediate needs of individuals and families across our region.