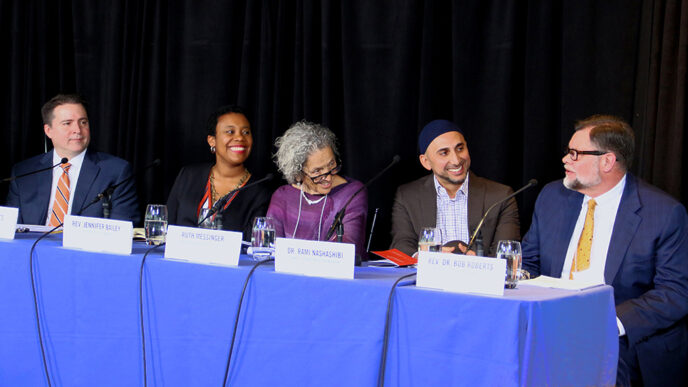 Feb 15 2018
The State of Religious Diversity in America
Note: This article was posted prior to the Trust's current strategy.
Take a look at Our Work to learn more about what the Trust is focused on today.
Where We Are Now
"Judeo-Christian America did us well for the last 75 years. What's next?"
With that provocative question, keynote speaker Dr. Eboo Patel of Interfaith Youth Core opened This American Moment: Bridging Religious Divides, a half-day symposium on the state of religious diversity in America.
Presented by the Conrad N. Hilton Foundation, Council on Foundations, Interfaith Youth Core and the Religious Freedom Center, and with a closing keynote by columnist David Brooks, the symposium acknowledged the current climate of polarization and explored the role philanthropy can play in building unity.
As Patel reminded the audience, "This is not a new story. It's a chapter in an old story called, 'How do you build a healthy, religiously diverse democracy?' The American need right now is that we build relationships between those diverse people."
Patel cited a favorite saying of his mother: "Just because the ingredients were in the kitchen, doesn't mean they jumped into the pot. Someone has to cook the meal."
"And likewise, just because diversity is present, doesn't mean the bridges get built," Patel said. "We are heirs to great interfaith movements. It means bearing great responsibility."
Watch the opening remarks and keynote:

Panel Discussion: Engaging the new face of religious diversity in America
For religious scholars like Dr. Robert Jones of the Public Religion Research Institute, this American moment is one of "diversity and decline." Specifically, a decline in the predominance of white Christians, who for the first time in American history now comprise less than half the country. While two-thirds of senior citizens identify as white Christians, only one-quarter of Americans under age 30 do, marking a huge generational shift—"the decline of a group that had its hands on power, and that really did identify itself with America."
Our increasing religious diversity isn't just a coastal or urban phenomenon, but is reflected in survey data from every state in America. And still, Jones said, "We don't know a lot about multi-faith America."
To provide that insight into multi-faith America, Jones was joined by a panel of leaders and activists.
"Just because the ingredients were in the kitchen, doesn't mean they jumped into the pot. Someone has to cook the meal. And likewise, just because diversity is present, doesn't mean the bridges get built."
Ruth Messinger, American Jewish World Service's global ambassador and former CEO, explained that their work for justice in the global south is rooted in "the essence of Judaism: the obligation to be there for each other, and to be of service."
But while leading the faith-based organization, Messinger learned that making a genuine impact—whether building an emergency earthquake shelter in Turkey, or influencing America's international aid policy—requires the efforts of allies across the religious spectrum.
"It makes a difference to the people who are helped to see an interfaith model, and it makes a difference to those women and men up on the Hill," Messinger said. "There is a model set every time we work across faith lines. We are both doing the work, and modeling what a piece of that new America looks like."
Inner-City Muslim Action Network executive director Dr. Rami Nashashibi described how their work to address the needs of Muslim communities in Chicago built on the efforts of rabbinical groups, Pentecostal churches and Catholic orders.
Faith-based organizations are "critically contingent to really powerful outcomes in the issues that we care about," Nashashibi said. "I would challenge us to look back at 25 years of funding that have produced significant outcomes—in health, in education—and try to extract the work of faith communities."
Rev. Dr. Bob Roberts, senior pastor at NorthWood Church in Keller, Texas, has spent decades leading service missions around the globe, discussing faith with leaders from Vietnam to Afghanistan. Roberts now runs interfaith retreats, where Christian, Jewish and Muslim clerics connect on a human level: an experience many describe as "transformative." While pastors often arrive full of questions about the Muslim faith, they don't walk out with their questions answered by the imams they've met. Instead, they walk out as friends.
"It's hard to hate people that you're friends with," Roberts said. "We're taking the most unlikely people and bringing them together."
Each participant commits to continuing interfaith action after the retreat: going to one another's home to share a meal; leading their congregations in a joint service project. This kind of lasting cooperation is what Roberts calls "interfaith 2.0. How many church members do I get going down to the mosque, to the synagogue? How do we engage? What results do we see?"
Founder and executive director of the Faith Matters Network, Rev. Jennifer Bailey describes herself as "a preacher in the black church tradition," as well as a member of the millennial generation, and a Christian faith leader married to a Jewish husband—all of which gives her a profound personal insight into America's current moment of religious diversity.
Bailey suggested that instead of bridge-building, we envision working across faith lines as "border crossing." While building a bridge requires resources, which not everyone has, crossing a border requires a personal journey. "Borders are places you have to physically go to. You have to go through the water."
"Rather than bridge-building, we need to go to the border, to encounter one another again."
Watch the panel discussion:

Panel Discussion: The role of philanthropy in this American moment
National religion correspondent for The New York Times Laurie Goodstein led foundation professionals in the day's second panel conversation, about "what role philanthropy can play in building civic cohesion."
Goodstein was joined by Dr. Nancy Cable, president of the Arthur Vining Davis Foundations; Kashif Shaikh, co-founder and executive director of the Pillars Fund, dedicated to amplifying the leadership, narratives and talents of American Muslims; and Hilary Pennington, executive vice president of the Ford Foundation.
Cable described how the Arthur Vining Davis Foundations' recent strategic planning process mindfully reaffirmed a longstanding commitment to "interfaith leadership and religious literacy" as one of five funding program areas.
"We stay grounded in the fact that religious diversity and pluralism is growing across the globe," Cable said. "There is a changing status around what it means to be educated that involves your understanding of, and respect for, all religious traditions—including the 'nones.' Those who fail to accommodate that will fall short."
The funders reflected on their shared challenge of how to most effectively deploy finite resources in this moment of polarization. Is it more important to concentrate resources on shoring up those organizations and communities under siege by bigotry—or to focus on reaching out across the divide, hoping to change hearts and minds?
For Shaikh, "I do think that we need to not preach to the choir. Talking to people who believe what we believe is not going to get us anywhere."
Shaikh acknowledged the privilege inherent in being able to step back and ponder such strategic questions. "How do you rebuild trust in a group that has been very traumatized?" he asked. "One of the luxuries that we have as funders is to be able to take a bird's-eye view, and think about ways to gain and rebuild that trust."
Pennington was also mindful of the privilege that comes with philanthropic capital. "Grantees don't want to rock the boat," she said. "I recognize that there's a power differential, but don't underestimate the power that you hold. The work that foundations do—we can't do it without you. Our work is meaningless without you."
Watch the panel discussion:

Closing Keynote: David Brooks
The symposium closed with David Brooks, best-selling author and columnist for The New York Times, sharing his own reflections on "this American moment."
Brooks looked back across modern American history to define three "moral ecologies." The first, spanning from the 1930s to the 1960s, was characterized by a collective spirit, with organizations and communities—from labor unions to close-knit neighborhoods the military—provided a stabilizing sense of cooperation.
"The key phrase could have been, 'We're in this together,'" Brooks said. But the reverse side of this cohesion was exclusion or even demonization of anyone outside the group's embrace. In response, a new ecology arose: one in which individuals rejected the constraints of that orthodoxy.
For this era, "the key phrase could have been, 'I'm free to be myself.'" Liberation from social strictures also meant liberation from institutionalized injustice: the roots of Silicon Valley's innovator culture were planted here, but so too were the civil rights movement, the feminist movement, the peace movement.
Today, Brooks feels the historic pendulum swing again. "We've had a little too much individualism over a long period of time," he said, citing crises borne of "the excesses of individualism" that engulf us today: a crisis of isolation and chronic loneliness; a crisis of faith in institutions; a crisis of meaning and purpose.
We can create an ethos that says, 'I commit to you.' Commitment is falling in love with people, and then creating a series of laws for when that love falters."
But amid our crisis, our isolation, fragmentation, Brooks sees a hopeful path forward.
All around the country, Americans are mobilizing to repair our social fabric; restore civil dialogue and connection; rebuild participation in a democracy accountable to the people. "Our first task is to take all these different avenues of social cohesion, and to bring them together," Brooks said. "So they can say, 'We're part of the same thing, and we can learn from each other."
He advised the audience to identify the bright spots: social entrepreneurs; grassroots community servants; leaders making change in their own backyards. If we can recognize and celebrate these sparks, we can add the fuel to ignite a national movement.
And finally, Brooks called on us all to embrace "an ethos of commitment. We can create an ethos that says, 'I commit to you.' Commitment is falling in love with people, and then creating a series of laws for when that love falters."
"Tribalism needs an 'other.' It's built on mistrust," Brooks explained. "But commitment-making comes from love. You make a promise from love, without expecting a return."
Watch Brooks' keynote address:
https://www.youtube.com/watch?v=hbvPa6yDYeg