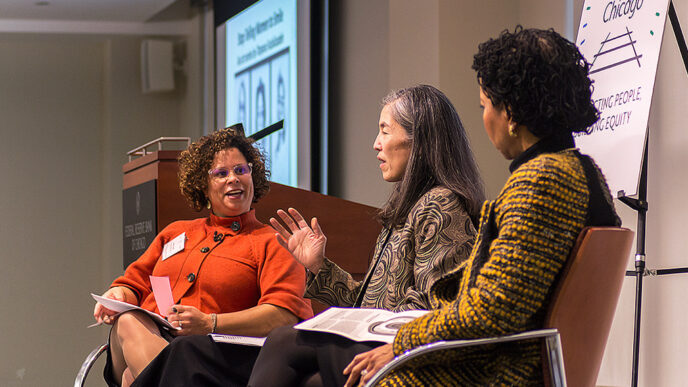 Feb 7 2018
The Pediatricians at the Forefront of Health Equity in Chicago
Note: This article was posted prior to the Trust's current strategy.
Take a look at Our Work to learn more about what the Trust is focused on today.
Where We Are Now
At a December symposium on equitable transit-oriented development, presenters explored how a collaborative of nonprofit, public and private organizations came together to apply for—and win—funding from the Strong, Prosperous and Resilient Communities Challenge (SPARCC).
With that award, Elevated Chicago was formed. Now the collaborative is working to transform the 1⁄2-mile area around Chicago's transit stations into racially equitable hubs for building climate resiliency, public art and health.
For a deep dive into community health, the symposium's keynote event featured a conversation between two of the Elevated collaborative partners: Dr. Julie Morita, commissioner of the Chicago Department of Public Health, and Dr. Helene Gayle, The Chicago Community Trust's president and CEO.
The two share more than Chicago civic leadership in common: both began their careers as pediatricians, before moving into the field of public health. Conversation moderator Joanna Trotter, the Trust's senior program officer for economic and community development, asked Drs. Gayle and Morita about that transition.
Dr. Gayle: Pediatrics is a very prevention-oriented specialty. In order to take care of children, you also have to think about the context in which children live their lives. As pediatricians, you get much more into communities and families—into the social fabric—than you do if you're a cardiac surgeon, for example.
I then went into public health at the CDC, in the same way that Commissioner Morita did, which opened up this interface between equity, social justice and health. And from then on, I kept looking at the underlying causes that really determine these issues of health equity. That led me into the broader area of social and economic inequity, domestically as well as globally, and continuing to search for ways to address those underlying causes that lead to health inequity.
Dr. Morita: That is what public health is about. It's not about treating disease, it's really about preventing it. So I think it was a very natural progression to go from pediatrics into public health. My experience at the CDC opened up my eyes to the potential impact I could have on large populations. Instead of just focusing on an individual child that I was treating, I could actually think about communities, think about the city, think about the nation.
Chicago is my home. I was born and I was raised here, and I left for about 10 years for training, then I came back. I've had a wonderful life here. What I want is for everyone in the city of Chicago to have these same opportunities.
Trotter: As a follow-up to that, can you talk a little bit about Healthy Chicago 2.0, and about working on health policy at a community level?
Morita: Healthy Chicago 2.0 launched in April of 2016. But that was the end of a huge planning effort. It took us 18 months to develop that plan, including efforts at real, authentic community engagement. The plan really focused on addressing health equity—ensuring that all people have the opportunity to live healthy lives.
The three core tenets of that plan focus on data, partnership and addressing root causes. And the timing was wonderful: the report was released and the next month, the Elevated Chicago group came knocking at our door, and invited the Department of Public Health to the table to plan the application for this funding.
Trotter: You've been a core partner to Elevated Chicago, someone whose tremendous leadership really helped us to make connections. Many of the original members of Elevated Chicago are urban planners or work more in the built environment—until we brought in and partnered with CDPH, which helped bring a health lens to this work.
Morita: We actually have now the opportunity to put what we wrote in this report into action. To work together to really address health equity.
Gayle: That's why Elevated Chicago to me is such a landmark: because it looks at how to integrate the things that we know really impact people's lives and the ability to live long healthy, productive lives. You don't do that in sectors. You don't do that in boxes. You don't do that in verticals. It's by putting those things together that you have an impact.
Trotter: We've talked a lot today about equity. Are there lessons from your previous work that inform how you think about health conditions and health disparities, and the key issues facing us in Chicago today?
Gayle: Much of the time that I was in CDC, and then at the Gates Foundation, I was focused on HIV initiatives. One of the things we say a lot is 'Anybody can get HIV. Obviously that is true, but like so many health conditions, it's not truly randomly distributed.' And so much of what drives health inequity is not randomly distributed, but very linked to longstanding, systemic, structural issues that lead to inequities in the distribution of resources and assets.
To try to address health inequity only by focusing on individual behavior is not going to get anywhere. Yes, there's a lot that can be done by helping to improve individuals' understanding of what makes them healthy, what keeps them healthy. But so much is determined by structural factors and power dynamics. Unless you're talking about how you'd address those issues, and unless communities are engaged in that honest and open dialogue, it's not going to be beneficial.
To me, that would be the message over and over again: How are we having those authentic discussions? And how are we making sure that those actually guide our solutions and what we put in place, while recognizing that we also have to rely on the policy side to address the structural barriers?
"Place has an enormous impact on people: how long they live, how well they live." Hear more from the symposium, and from the community residents helping to guide Elevated Chicago's work in four areas of Chicago's south and west sides: How Transit-Oriented Development is Building More Equitable Neighborhoods
Trotter: So, Elevated Chicago is about the built environment, and I don't think a lot of people think about the health implications of how we structure our built environment, particularly around transit. I'd love for you to reflect on your experience of how transit connects with health.
Morita: I grew up in Edgewater, on the far northeast side of the city. My parents chose to live in that neighborhood because it is close to the Red Line so we would have easy access to downtown, to the north and south, all over the place. When I moved back to the city after my education and training, my husband and I chose the same community we were raised in because the Red Line was there.
I have spent so much time on public transportation throughout the course of my life that I really know the value of it. To me, it's a critical reason we live where we live.
And it's a critical reason that we live healthy lives. Numerous studies have shown that by using public transportation, people are more physically active—because you have to walk someplace to get to public transportation. Mental health improves when you're using public transportation, as well. And then in addition, we're improving the air quality and the environment that we live in.
To me, the relationship with health is so incredibly clear, and we need to do as much as we can to help these kinds of transit-oriented developments be successful.
Trotter: So, this collaboration is important work, it's rewarding work—but it is hard work, and it's slow work. Why is large-scale collaboration so hard? And why aren't we seeing more of it?
Gayle: I think we under-resource collaboration. We act as if it's something that we can do in your spare time. And it's not. It's like building any relationship. You've got to get to know each other. You've got build trust. You have to learn how to speak each other's language. We need to understand each other's drivers and incentives. Those may be different across the different sectors.
I think a best practice is being very clear about the outcomes, and being realistic about what could get accomplished. People get collaboration fatigue because you start out with some grand design of how you're going to change the world by bringing everybody together. And if you're not realistic—have real milestones, give people some quick wins, figure out how you're going to actually get from point A to point B in a very deliberate way—collaborations fail. It takes even more deliberate attention to goals, actions, steps, milestones, etc., than just a single-sector activity.
Morita: I would agree with Helene completely—but also, there is rarely funding to support these kinds of multi-sector collaborations. You can talk about it, but it won't happen unless there's funding. So Elevated is a great example. If it hadn't been for Elevated we would not engage so well with the Trust, with the other partners. This really helped bring us all together. And it also then helped us to engage communities themselves. The dedicated funding to do this was a great example of how funding makes a difference in moving us all forward.