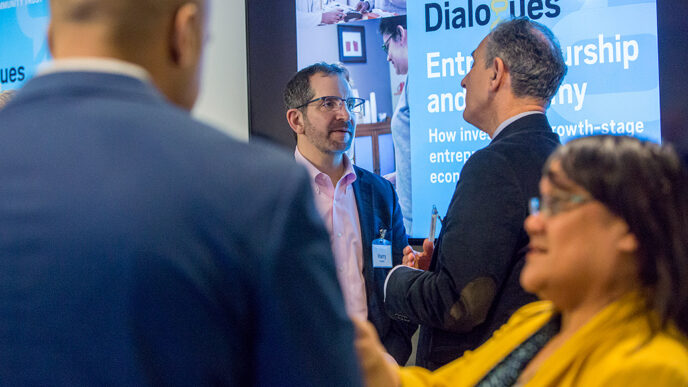 May 21 2019
The Lab That's Incubating Entrepreneurship for Chicago Neighborhoods
Note: This article was posted prior to the Trust's current strategy.
Take a look at Our Work to learn more about what the Trust is focused on today.
Where We Are Now
Chicago's small business sector provides a supportive environment for growth, with year-over-year increase in nearly all types of financing.
But a recent market assessment found significant disparities along racial, ethnic, gender and geographic lines. As a result, many entrepreneurs—and entire neighborhoods—can find themselves locked out of access to these critical resources and opportunities.
Fortunately, Chicago also hosts organizations like Accion Chicago and Small Business Majority, working to fill in those gaps. And a joint project between Accion and The Chicago Community Trust's donors, known as the Neighborhood Entrepreneurship Lab, is helping to accelerate growth for entrepreneurs that, in turn, can help spark growth for disinvested communities.
This spring, Trust donors and advisors gathered over a delicious lunch by Nicole Jordan Catering—one of the businesses accelerated by Accion Chicago—to share their personal experience and enthusiasm for entrepreneurship.
The change makers around the table included:
Bob Crawford, founder of the Neighborhood Entrepreneurship Lab
"I started a company called Brook Furniture Rental from scratch and took it up to about a thousand people. I sold it four years ago—and I said, 'I want to dig in and see where I may be a little bit of some help with some of the work the Trust is doing.'"
"This led to us working together in identifying one entrepreneur as a test. We were able to get her $40,000, which my donor advised fund invested, and some mentoring. She was able to expand to a couple of employees. She was flourishing. Her business had expanded by about four-fold. We said, "The test works. How can we expand this?'"
"With the help of people at the Trust, we identified Accion as an extraordinary partner because they could identify entrepreneurs that would need money and need coaching. It was really about two things: an equity-like investing that came through our donor advised funds, and the mentoree."
"Well, we were up and running. We did one court. We had five entrepreneurs in a variety of fields: small construction, nail polishing places. We found five investors/mentors, and we went to work."
"We came through that first test group with extraordinary enthusiasm, and then we said, 'Okay, let's open up another group.' We've now impacted 11 people with investment in coaching. We're still learning each time."
Rowan Richards, director of business coaching and connections, Accion Chicago
"What we've created is a nine-month program that invites five entrepreneurs to work together alongside the mentors and advisors to develop a new product or service. Each of the entrepreneurs is paired with a mentor, and they are given a deadline every month for a deliverable that would then lead to that finished product."
"These are Accion clients that are then invited into the program. So we already have a relationship with them, we know them personally, but we also know their financials, we know the structure of their business, we know their customers. We've been customers for many of them. So we have that deep relationship and understanding about the participants already."
"We look for business owners that have been in place for three years, that are $150,000 or higher in revenue. Then we know that we can get them to that next level, that quarter-of-a-million or half-a-million-dollar range—through the capital that we provide, which then gets used as their budget for launching this new product or service; through the intense coaching and advice that they're receiving; and then finally through the new relationships."
"Accion provides the three things that entrepreneurs have long told us that they lack: capital, coaching and, arguably most importantly, connections."
"We'll serve about 3,500 or so entrepreneurs this year in Illinois and Indiana, with a very strong concentration on the South and West sides of Chicago. About three-quarters of our clients are operating either as a minority-owned entrepreneur or a women-owned entrepreneur."
"The capital we provide is primarily in the form of a very simple small-dollar term loan, a microloan. We will lend between $500 up to $100,000, to entrepreneurs who can't even qualify for a credit card, let alone go through a full underwriting process from a traditional bank. What we're seeking to do is to put money in prudently to entrepreneurs who can use that capital very carefully and effectively."
"Then we complement all of that with free coaching to make sure that capital is used as effectively as possible, to meet the ends that the entrepreneur is seeking."
"Then finally, the connections. We can't do it all, not even close. So what we try to do is curate a group of really smart, connected people who are willing to open up a door to an entrepreneur who needs it. So it might be that somebody's looking to sell to that next, larger potential customer. Or maybe they need a much more efficient distribution mechanism behind them. Whatever it might be, we try very hard to make those connections for an entrepreneur who is potentially isolated in their normal course of business."
"We very much see a need that is far greater than what we can provide on our own. That means that we need to work with as many partners as possible to try to continue to solve for the challenges that we see that our entrepreneurs are looking to solve with partnership."
Geri Aglipay, Midwest outreach manager & national women's entrepreneurship manager, Small Business Majority
"A lot of the business owners that we come across are women. They lack the wealth and the capital to go into businesses that tend to be low-capital based: professional services, childcare businesses. So when we talk about growing wealth and assets and income, they also are not very high-income businesses as well. That's the reality."
"Many of the business owners that we work with, and some of them are also Accion clients, are breadwinners of the family or single parents. They want more supportive policies that would help increase childcare or family care. Many of them are on Medicaid."
"Some were high-degree business professionals with graduate degrees, who left to start their businesses because they wanted to give back. One heard stories from her grandfather about how wealthy the South and West Sides were, and thought, 'What is happening with my community that it's evolved into a neighborhood where there's disinvestment?' So she started her bakery business to give back to the community. Left a high-paying job at multinational firm to do that. But they struggle with affordable health care. It's one of the things that keep her up at night."
"They'd like to see more investments in their own neighborhoods in the South and West Sides of Chicago. As women who are also business owners and taxpayers, they would like to see the infrastructures supported—roads, services, so that they could have a viable business. We've had a couple of women business owners saying, 'I would actually like to move my offices here from downtown, but the street is full of potholes and it's not seen as an ideal place to do business. I want to go back to the community in which I live in—but it's difficult when the neighborhood is not conducive to it.'"
Tim Bresnahan, senior director of gift planning, The Chicago Community Trust
"We have a memorandum of understanding that we engage the entrepreneurs with, essentially a good-faith agreement to give back to the program if they do well. That could be in the form of an investment to support another entrepreneur, or it could be through mentoring and through referral networks. We want them to give back to the program in a way that fits within their own growth and their own expertise as a business owner."
"As the Trust is thinking about its own strategic plan, our goal to reduce the racial wealth gap, we see the potential and the power of entrepreneurship to be a driving force to wealth creation, income creation and access to resources and networks for communities that have not traditionally had access."
Donor Dialogues explore pressing issues in our region and our world, forming learning communities by connecting practitioners and experts with donors who have the passion and leadership to make systemic change. Please contact your relationship manager for more information about upcoming Donor Dialogues. Or, if you are interested in becoming a donor with The Chicago Community Trust, contact Tim Bresnahan for information about the giving solutions we offer.