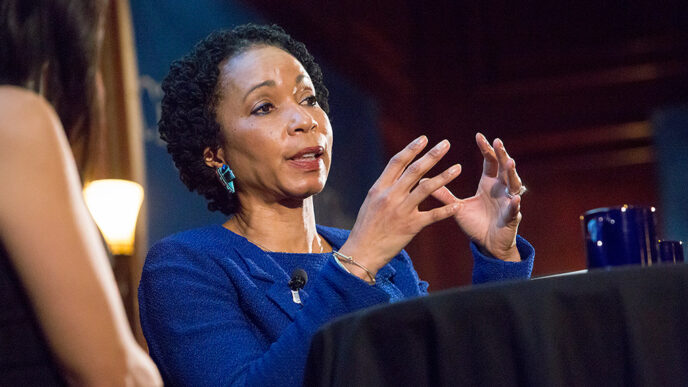 Apr 13 2018
The First Six Months: Listening, Learning and Leading
Note: This article was posted prior to the Trust's current strategy.
Take a look at Our Work to learn more about what the Trust is focused on today.
Where We Are Now
On April 3, Dr. Helene Gayle made her first appearance as the featured guest of the City Club of Chicago.
In a lively conversation with ABC 7 anchor Judy Hsu, Dr. Gayle shared insights from her first six months as president & CEO of The Chicago Community Trust.
Hsu invited Dr. Gayle to introduce herself with a reflection on her career trajectory—beginning in pediatrics, she was drawn toward public health, and a shift in focus from health determinants at the individual level to the population level. As president & CEO of CARE USA, and then as inaugural CEO of the McKinsey Social Initiative, Gayle applied her analytical lens on root causes to problem-solving on a global scale.
Watch the complete event here, or enjoy highlights from their conversation below.
Judy Hsu: For a long time, you traveled the world, and now you're here in Chicago. What drew you to one of the largest and oldest foundations in the country?
Dr. Helene Gayle: I guess everybody's life has some sort of arc. In retrospect, sometimes it seems like it's well-planned and makes a lot of sense, but usually it's some mix of opportunity, timeliness, readiness and those sort of things…
When I had this opportunity to think about coming to a city like Chicago that has real entrenched challenges, but also one of the most engaged civic communities that I've ever seen—an incredible love of this city, an incredible sense of goodwill—I thought there was a potential for doing some really important things.
Having spent so much of my career globally, these last few years have also shaken me a lot. I think that we're at risk as a nation of losing the role that America has played in the world. If we don't get our own house straight, I think we're going to have some real challenges for our place in the world, and the important place that America plays for the rest of the world. So I think by getting our own house in order, we're not only doing it for ourselves, but I think we're doing it for the world.
I think the moral authority that America has always had has to be rebuilt. And some of that is around, how do we address some of these seemingly intractable inequities that exist here and in other places around the country?
Long answer.
Hsu: No, that's okay. We're not on television, so I don't get the wrath from my producer in my ear! But you mentioned the challenges that our city faces. You've been here for about six months now, on a listening tour. What are you hearing about the challenges that we are facing as a city?
Gayle: What I didn't want to do, as somebody who was coming into a new city and a new organization, was come in with my own agenda. I wanted that to be informed by the people who were closest to the issues, the people who really know communities.
So I have been listening and learning. I want to really see people who are living the experiences on a day-to-day basis of grinding poverty, of lack of resources, of inadequate education. What are they saying about it? What are their concerns?
It's widely known that if you go five miles in any direction from the Loop, you can find a 15- to 20-year gap in life expectancy. In this city, ZIP code is destiny. And if you want to have an impact on the health gap, it's not going to be just because you get people in to see doctors more often. It's going to be because you have grocery stores that sell a high quality of food, it's going to be that you have access to education, transportation that allows you to get to a job.
Any issue that we take on means that we'll have to enter it in a variety of different ways, because we don't live our lives in sectors.
Dr. Gayle on making this her home: "Chicago has been the most welcoming city that I have ever come to. The best advice I got was 'Buy a warm coat'—I did. 'Live close to your office'—I do."
Hsu: You've also had experience to tour some of the nonprofits that you have granted funds out to. Anything that stands out in your mind right now?
Gayle: Because I was just there, two that stand out in my mind are actually from a project called Benefit Chicago. It's a new way that we're doing work: impact investing. So we're actually giving loans, not grants, to organizations who might be a bit higher-risk, who might not be able to qualify for traditional capital. We're giving loans of $500,000 and above to businesses that are able to show that they've got a good and strong business plan, and also a social mission.
We went to one called Sweet Beginnings. A wonderful organization that is teaching people who have been in the criminal justice system how to grow bees, and then to make honey, and then also to use honey in beauty products. The program is part of a broader program, the North Lawndale Employment Network, where they're able to take people who are re-entering and give them skills. Where recidivism is about 55% in Illinois, they have a less than 4% recidivism rate because of these programs.
When you talk to somebody who has the dignity that having a job does for them, and they can then go to a Mariano's and see their produce on the shelf: it doesn't get much better than that.
The other one was Garfield Produce. An incredible story of a couple very dedicated to doing what they could in the Garfield area: getting jobs, oftentimes for people who are hard to employ because of criminal backgrounds. They decided to do urban farming. The loan that we were able to give them was used to upgrade their facility—and they're now going to be producing something like 100 pounds of micro greens a week, something on the order of a quarter million dollars of sales. A really thriving business, again, employing people who would have otherwise been close to unemployable.
Hsu: You have clearly a wonderful working relationship with your existing, long-time major donors. As you look forward to the next generation, inspiring them for civic engagement and philanthropy, how do we make that work?
Gayle: It's a great question, because the next generation of philanthropists are not necessarily the same as today's generation. We do a lot with young professional advisors, for instance, who are working with younger clients.
One of the best examples is our collaboration with the Searle family. That family was, and still is, one of the most important contributors and donors to the Trust. We've now worked with multiple generations of that family. It's a wonderful collaboration—and it's the way in which I think we want to do more of our philanthropy. This is not, "Here's money, this is what we want to do with it." Let's talk about this together. Let's co-create programs.
Dr. Gayle on civic collaboration: "I think we need government, we need the nonprofit sector, we need business, we need everybody working together in a way that brings what they have to the table. How do we get people who bring different pieces of the puzzle together, to come up with a really comprehensive solution?"
Part of the reason we're so excited about impact investing is that a lot more young people are really interested, first in impact, but they're also interested in not just giving grants and keeping people in this grant cycle, but how you actually help people build businesses that then lead to a more sustainable business model where you're not having to constantly write grants. It adds a different dignity, when you're talking about creating jobs as well.
Hsu: That brings us to On the Table—something I hope all of you participate in. How have those conversations changed what the Trust is going to do?
Gayle: I'm going to participate in my first On the Table this year. This is the fifth year, and I'm really looking forward to it.
What I hear from people is that this day allows people to have conversations that they might not have had otherwise. And it gives communities that had not necessarily interacted with each other the opportunity to interact, and open up subjects that are difficult.
This year, we really want to put a big focus on action, on doing: trying to support people in their efforts to actually come out with tangible, concrete actions, and hopefully be able to come out of that with a set of some maybe really creative, innovative ways in which people can practice social change in their communities.
Dr. Gayle on Chicago's importance to the country: "Part of why I was so excited about coming and working at the local level in a community, in a city, is that I think that a lot of innovation is going to come from our cities. What are the kernels of social change that can actually make a difference, that can be a ripple effect for the whole nation?"
Hsu: We mentioned in the introduction that Dr. Gayle was named by Forbes magazine as one of the 100 Most Powerful Women. In the Trust's 102-year history, she is also now the first woman to lead the Trust.
Did that factor at all into your decision to come here to take this job? What did you think when you knew that you were going to be the first woman to lead in this position?
Gayle: I look forward to the day when being a woman, or being African-American, is not that unusual—that it is not a first. That said, I take it very seriously. I think that I am a product of who I am, and how the world has interacted with me, and I think that it is important that I bring my whole self to the job. Part of that is being a woman.
I think it's also important for young women and little girls that they can look up and see somebody that looks like them, and that gives them more hope, and courage, and sense of what the possible is.