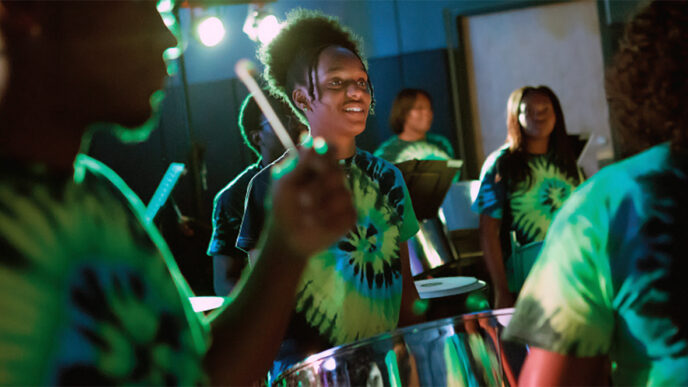 Mar 2 2018
The "Craft Beer of Philanthropy" Turns 20
Note: This article was posted prior to the Trust's current strategy.
Take a look at Our Work to learn more about what the Trust is focused on today.
Where We Are Now
Select, meticulously curated grants. A hands-on, labor-intensive process to make sure organizations develop just right.
That unique approach explains why members call Springboard Foundation "the craft beer of philanthropy: small barrel grantmaking, thoughtfully crafted."
Founded in 1998, the Springboard Foundation is dedicated to funding after-school and supplemental education programs in under-resourced neighborhoods across Chicago. Springboard seeks out emerging, community-based organizations for support that would otherwise have difficulty obtaining grants.
[pullquote]"The craft beer of #philanthropy: small barrel grantmaking, thoughtfully crafted" Springboard Foundation celebrates 20 years of support + mentoring to #Chicago after-school programs[/pullquote]
"The research on the importance of after-school programs is unequivocal," executive director Sejal Shah-Myers explained. "We know that violent crime committed by youth peaks between 3:00 and 7:00 p.m.—so after-school programs keep students safer. More than that, 90% of participating students exhibit improved social skills and self-confidence."
Last year, this supporting organization of The Chicago Community Trust celebrated its 20th anniversary. Since its inception in 1998, Springboard has supported more than 100 startup nonprofits with over $5.6 million in total funding.
"As programs grow, they serve more students—creating a virtuous cycle Springboard believes is the answer to some of Chicago's most pressing concerns," Shah-Myers said.
The highlight of each year's annual reception is the Springboard Award, given to a grant recipient who has shown extraordinary progress in serving students and building a stronger, more sustainable organization. In 2017, Chef Latrice McArthur won the award for her impact as the founder of Bella Cuisine Kids Cooking Club.
Bella Cuisine aims to put an end to childhood obesity, by making healthy eating part of young people's daily lives. Local chefs volunteer their time to lead cooking classes, guiding children step-by-step through recipes while teaching the basics of kitchen safety. Students also tend community gardens, harvesting produce that they can bring home to their families.
"In terms of what Springboard looks for—a good idea, engaged students and a determined leader—Latrice's program was a slam dunk," in the words of one member.
"Invest in good people. Similar to buying a good stock. It's the people. Some of the best people I've met in my life were Springboard grantees."
But as McArthur explained while accepting the award, "When I was first introduced to Springboard, we had just six reliable students. I was on the verge of giving up."
"It has been a formidable challenge and one that we have not won outright," McArthur said. "But we have reached so many youth, and had a positive influence on their health and familial relationships. We have also provided access to trusted adults that they would not have had otherwise—and have now grown to over 725 students in 3 states."
Bella Cuisine's growth has also included an innovative partnership with the Chicago Police Department that brings kids and police officers together in the kitchen, building up trust as they learn and cook together. The program was awarded a $25,000 Peace Grant from the Emerson Collective, founded by late Apple CEO Steve Jobs' wife Laurene Powell Jobs.
Springboard's founder, Doug Mabie, was inspired by his work with the Trust's Young Leaders Fund, which provides young professionals with a hands-on experience of philanthropy.
"I was exposed to a lot of things and saw emerging programs through that," Mabie said. "I enjoyed the hands-on experience and meeting kids and grantees. I knew other people my age wanted to do the same thing."
As Springboard took shape, its donors realized that they had more to offer than money. Like expertise that could prove invaluable to helping small startup organizations, and access to the kind of personal and professional networks that entrepreneurial neighborhood-based leaders often lack.
As a result, Springboard takes a hands-on, full-service approach to each nonprofit it supports. Members go on site visits to meet nonprofit leaders and see their programs in action, then maintain contact and marshal all of the resources at their disposal—time and treasure, knowledge and network—to ensure they grow into sustainable organizations.
The goal is to nurture each organization to a point of growth and success that their support is no longer necessary. With each success, Springboard moves on to support a new organization the same way.
"Just as we build stronger, more resilient students through after-school programs, Springboard is building the capacity of our grantees to create stronger, more resilient afterschool programs," Shah-Myers said. "Springboard has helped numerous programs become self-sustaining so that they can continue to provide Chicago public school students with out-of-school activities that are so critical to success."
When Springboard members first met Imran Khan, he was a teacher at Harper High School—often labeled one of the most dangerous schools in America.
Khan had started taking his students on field trips to experience art and culture that were lacking in their neighborhood. Inspired by the results, he'd founded his nonprofit organization Embarc, providing a three-year program of community-driven, experienced-based learning opportunities to inspire and prepare low-income high school students for college and career success.
In 2012, Embarc had a budget of $98,000 and nearly 100 students. To Springboard members, it was clear from their first meeting that Khan had passion, a vision and a plan to execute. Their grant provided not just money, but credibility that Embarc could leverage to attract support from other funders.
By 2016, Embarc had a budget of $1.2 million, serving more than 700 students across 9 high schools in some of the most under-resourced neighborhoods in Chicago.
Accepting that year's Springboard Award, Khan reflected on how it all started: "I had a crazy idea."
Just a few weeks after accepting his Springboard Award, Khan was announced as one of 14 fellows by the Ashoka Foundation, the oldest and largest network of social entrepreneurs in the world. This fellowship allows Khan to work alongside a cohort of change-makers, and gain access to resources and connections for Embarc nationwide.
So perhaps it's no surprise that, when asked what he's learned in 20 years with Springboard, founder Doug Mabie had one piece of advice: "Invest in good people. Similar to buying a good stock. It's the people. Our greatest success stories are run by really good leaders."
"Some of the best people I've met in my life were Springboard grantees," Mabie said.
To learn more about Springboard's grant making or to support their work, visit springboardfoundation.org. If you are interested in learning more about what it takes to become a Springboard member, contact us by email at info@cct.org.