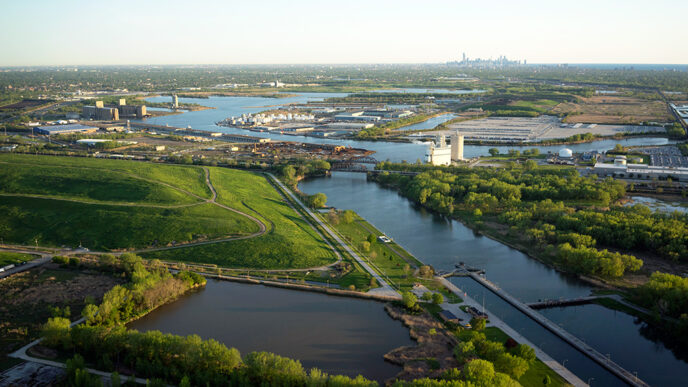 Feb 17 2019
Sustainable Development Grants – February 2019
Note: This article was posted prior to the Trust's current strategy.
Take a look at Our Work to learn more about what the Trust is focused on today.
Where We Are Now
At its February 2019 meeting, the Trust's Executive Committee approved 18 competitive grants to local nonprofit organizations for projects in sustainable development, totaling $2,037,000.
Responsive Grants: $675,000
Responsive grants support specific programs and projects that serve a community need, or seize an opportunity for impact.
Great Rivers Chicago Grants: $150,000
A function of the Great Rivers Chicago initiative, these grants support neighborhood-based projects helping to unlock the potential of Chicago's river system, transforming it from industrial relic to modern asset.
Metropolitan Planning Council, to staff the Great Rivers Chicago initiative and provide technical assistance to community groups with projects that align with the Our Great Rivers Vision. (R) $150,000
Food:Land:Opportunity Grants: $1,212,000
Funded through the Searle Funds at The Chicago Community Trust, Food:Land:Opportunity is a collaboration between Kinship Foundation and The Chicago Community Trust. This multi-year initiative aims to create a resilient local food economy that protects and conserves land and other natural resources while promoting market innovation and building wealth and assets in the Chicago region's communities.
(R): indicates renewal of grant support
The Trust also supported sustainable development in the region through its GO Grants. As the GO Grant multi-year pilot program concludes, these longtime partner organizations are receiving exit grants to support their work through the transition.
In addition to sustainable development, the Executive Committee also approved grants in civic & cultural vitality; education & economic development; health, housing & human services; and grants from the Unity Fund—for a total of $12,400,511 in grants awarded in February.
The Trust is currently defining the grant priorities for its next phase of work, which will focus on helping Chicago achieve the goal of closing our racial wealth gap. New opportunities to apply for grants will become available after this planning is complete. If you are a Chicago-area nonprofit, the best way to stay informed is to create an account in GrantCentral, where you can sign up to receive notifications as grant opportunities become available.