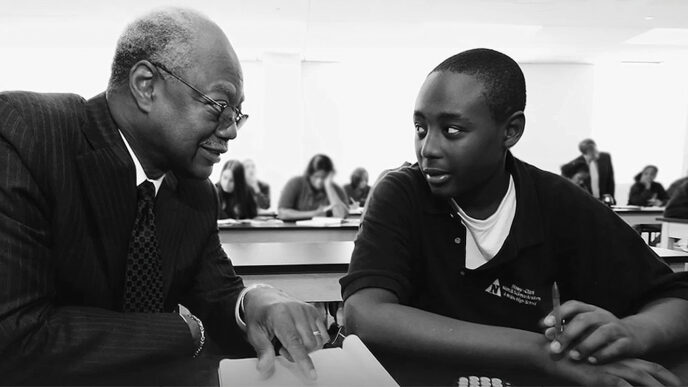 Sep 3 2019
Our Brothers' Keepers: Why Frank Clark Reaches Out and Gives Back
Note: This article was posted prior to the Trust's current strategy.
Take a look at Our Work to learn more about what the Trust is focused on today.
Where We Are Now
In celebration of Black Philanthropy Month, the Trust is featuring a series of conversations with Black philanthropists making their impact across the Chicago region. This article is the fourth in our series—be sure to enjoy our previous interviews with Liz Thompson, John Rogers, Jr. and Nate Sutton.
---
Frank Clark is a business executive and philanthropist, with an illustrious career that spanned over 40 years. He has served on a number of nonprofit and civic boards, including Metropolitan Family Services, past board chair of the Adler Planetarium, Museum of Science and Industry and DePaul University. He also served on the Executive Committee of The Chicago Community Trust from 2006 to 2016 and chaired the committee from 2011 to 2016. As a philanthropist, he is passionate about giving to organizations that address systemic inequities.
Clark recently sat down with Clothilde Ewing, vice president of strategic communications at the Trust, to discuss his start in philanthropy, his involvement in the founding of African American Legacy and his advice for the next generation of philanthropists. Some questions and answers have been condensed and edited for clarity.
Clo Ewing: Is there someone or an area of interest that spurred your philanthropy?
Frank Clark: There are several areas of interest that have been important to me during most of my adult and professional life and they center around the family, and organizations that are impacting the family. I've had a particular interest on issues involving African-American families.
In my case, any sense of giving back to the community originated in my home, from my mother. We were not wealthy. In fact, we were poor. The ability to give was relatively limited. The willingness and the spirit of giving was always there. In addition to that, when I married my wife over 50 years ago, she had a much higher social conscience, and really, really worried about our community, the people of our community, whether our kids were getting educated properly and the trouble with all the discrimination and lack of social and economic equity.
So that was started in my home and reinforced by my wife. As I became a part of the Chicago business community and rose in rank at ComEd and developed more influence, I was able to do more. It has always been a very strong belief of mine that people need to get involved. You can't change things unless you're willing to get involved. That takes many forms. That means supporting philanthropic boards, ultimately doing things that impact your community.
CE: Are there particular organizations that you have supported because of this interest in helping to support and strengthen Black families?
FC: Besides my involvement with the Trust, two organizations that I've spent decades with are Hull House, when it existed, and Metropolitan Family Services.
CE: Two great organizations. Tell me about how your relationship with the Trust first started. How were you first introduced?
FC: I heard about the Trust for decades. As I became more involved and became a ranking senior officer at ComEd, I interacted with a lot of the leaders in the community and many of them were involved or had been involved with the Trust. The one individual that got me really engaged with the Trust was Cordell Reed. He was the ranking executive in charge of ComEd's nuclear fleet and the first African American to have that kind of responsibility. Cordell came to me in the mid- to late 1990s and asked me to get involved with forming what turned out to be the African American Legacy Fund. The Fund, or AAL, became a multimillion-dollar fund focused on issues uniquely troubling the African-American community and at the time of its formation, I don't know if it's true today, it was the largest such fund in the U.S.
It all boils down to something very simple for me: I believe we need to reach out and help people. Everyone needs to do that and everyone can do it at some level. You don't have to be wealthy, you just need to care. I believe that we are our brothers' keepers and I believe that people who are successful, people who do well in the world, have a greater responsibility to reach back and help others.
CE: Tell me about AAL in those early years.
FC: The first couple of years were just raising money to make the fund functional. We went around and we met with leaders in the Chicago community and all the prominent African-American leaders of that day: the Johnsons, Jacoby Dickens, the owner of Seaway Bank, and other wealthy African Americans. I got support from them and the Trust also made a substantial contribution and eventually we raised enough money for the fund to become functional.
CE: It seems like you grew up around family and community that had a giving spirit and that you and your wife were inclined that way anyway. But I'm wondering if your experience at ComEd, and that experience of climbing up the ladder, in any way informed how you looked at your own civic involvement.
FC: I mentioned Cordell Reed is the one that really got me actively involved with the Trust. He was a ComEd senior executive. In addition to Cordell Reed, James J. O'Connor, who was the CEO of ComEd during most of my career, was involved with everything in the city of Chicago, absolutely everything. Any organization that you can name, Jim O'Connor was involved with it. That astounded me, but it also impressed me. Looking back over my career, I too found that I was willing to reach out and join many organizations as long as I thought that it ultimately would have a positive impact on Chicago and primarily some impact in the African-American community.
CE: With limited time, how do you decide where to focus your time and resources?
FC: There are probably three basic areas of acute interest to me. First, any organization that focuses on family structure and moving people from poverty to jobs. The second is education. I do believe that if you receive an education, no matter what you encounter in life, good or bad, fair or unfair, discriminatory or not, you still have that education as a foundation. Depending upon your ability to overcome adversity, you can just keep going. It's hard to stop people who educate themselves and believe in themselves. So education is huge to me. And the third is health. What's not commonly understood is the unbelievable disparity of health in the Black community versus any other ethnicity. It is absolutely astounding. Every issue that you can think of: longevity, high blood pressure, heart issues, any chronic disease you can think of, Black males tend to be in the worst condition.
It all boils down to something very simple for me: I believe we need to reach out and help people. Everyone needs to do that and everyone can do it at some level. You don't have to be wealthy, you just need to care. I believe that we are our brothers' keepers and I believe that people who are successful, people who do well in the world, have a greater responsibility to reach back and help others. That cuts across everything.
CE: Do you consider yourself a philanthropist?
FC: I consider myself influential. I consider the fact that I've been able to make money so I can have the capability of using those dollars in a constructive way, which is why I join organizations and why I've been on a variety of different boards. I think those contributions ultimately make a difference.
CE: What piece of advice do you have for people at the beginning of their giving journey, who may be intimidated by the idea of getting started or intimidated by all of the need that's out there?
FC: I try very hard to talk to young people and encourage them to find a nonprofit and to get involved with it at whatever level they can. There are literally hundreds of nonprofits, almost all of which are looking for board members. Communicating that information to our young men and women is something that older people like myself should make a part of what we do, part of our responsibility. I've tried to do that. I have an organization that I'm involved with called the Business Leadership Council. Our name is indicative of what it is. It's African-American men and women, but they're either entrepreneurs or they're executives or managers. They're moving up through the ranks. A third of the population are very young and I tell them all the time, "Here's some of the organizations you need to be involved with. Don't focus on trying to get on a big corporate board. You're too early in your career. It's not practical, but what you can do is find a nonprofit that you care about and start getting involved there. You help your own community."
CE: Anything else you want to add about your own philosophy on giving or just observations that you've had over your decades of civic involvement and philanthropy?
FC: The bottom line is people like myself need to reach back to the community, try to educate and try to encourage our young people. They are the future. I think that pretty much sums up everything I want to say.