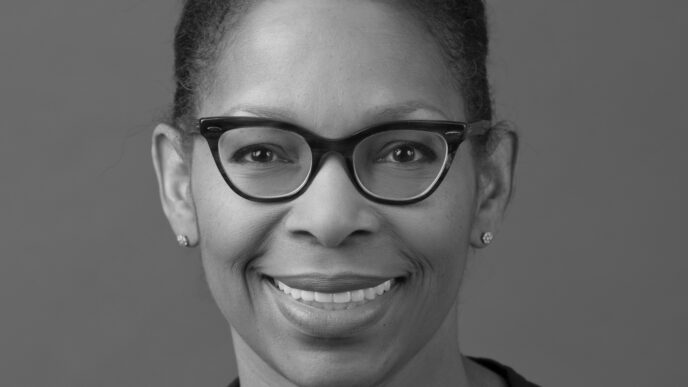 Donor Profile Aug 24 2020
Mary B. Richardson-Lowry on Rising to the Moment Through Philanthropy
In celebration of Black Philanthropy Month, the Trust is featuring a series of conversations with Black philanthropists making their impact across the Chicago region. This article is the third in our series—be sure to enjoy our previous interviews with Danielle Fregia and Darryl Rodgers.
______________________________
"There is nothing but power in the collective wisdom associated with foundations, nonprofits, governments, businesses and the banking community working to bring meaningful change to systemic race and wealth gap issues. It is the path to both meaningful and sustainable change as we harness the resources to execute on that collective wisdom."
Mary B. Richardson-Lowry, Executive Committee Chair for The Chicago Community Trust, recently sat down with Nina Alcacio, director of public relations at the Trust, to discuss how each of us must find a way large or small to bring about transformative, positive change in our community. Some questions and answers have been condensed and edited for clarity.
Nina Alcacio: Tell me about your philanthropic journey.
Mary B. Richardson-Lowry: My grandmother was a missionary as well as a social worker, so the seed to give back was planted when I was a child. She would travel the community in service to the indigenous Indians, Latinx, African American and poor whites in Arizona making sure they had access to social and emotional support, as well as attempted to create avenues to economic opportunity. I witnessed that as a child, as I traveled with her for instance on the reservations, to meet the people she worked to assist. Alongside her would be my grandfather a linguist, although we didn't call it that at the time. He could speak the tribal languages of the people living on the reservations, as well as Spanish. Witnessing that interaction and support, planted an early seed and formed my understanding of the sense of community and philanthropy. I witnessed on numerous occasions my grandparents establishing networks, giving of their own assets and advocating on behalf of these communities. My belief in "each one, teach one, help to lift one" derived from my grandparents.
NA: As board chair of the Executive Committee, you and the other members of the Executive Committee are responsible for providing the strategic vision that guides our leadership role within the community. What does it mean to you that we are taking on the challenge of closing the racial and ethnic wealth gap during this unprecedented time?
MRL: While we understood the importance of this subject matter, thought it was an obligation that had long gone under-addressed and certainly hadn't been addressed as a dominant focus for strategic planning purposes by The Chicago Community Trust, the timing is interesting. We decided that it was the right next stage after 100+ years of existence of the Trust. Then life's events, current events, national events confirmed our decision. The disparities that we have seen, the inequities that we have seen, the misuse of power and privilege that we have witnessed, all affirm that the strategic path that we chose collectively was the right thing to do…and the timing was now. And while it is true that the Executive Committee engaged in and embraced that direction, I view it as a collective from the leadership of the organization, the staff, the Executive Committee, our Trustees. We, in our entirety, agreed now is the time. This is the subject, and if not us, then who.
NA: Could you talk to me about the importance of having Black voices in philanthropy at this time?
MRL: Diversity, equity and inclusion are business imperatives and philanthropy can be no exception to that rule. You can't fully inform a process in the absence of having lived that process. It is virtually impossible to end up in the right place when you try and speak to an issue in isolation that you have never lived, that you have not been exposed to or that you are just awakening to. The Black voice is a voice of the lived experience; experiences derived from pain, from rising in spite of barriers, from speaking in a manner that ensures you are heard and moving beyond prejudice. It is a voice accustomed to finding creative solutions, particularly for those problems perceived as intractable. It is a voice that has formed and informed the fabric of this country. Woven together with the voices of others it can bring about extraordinary results. It has lifted the civil rights that everyone enjoys. Voting rights that everyone enjoys are derived from that Black voice. Education rights are derived of the Black voice. Medical advances are derived of the Black voice. Philanthropic engagement must include the Black voice. While the Black voice is not a monolith it is critical. It is an informed experience from living in a skin and all that comes with that. To not have voices of color at the philanthropic table and taking some ownership in that table is to convey a lack of seriousness about addressing the very issues philanthropy is generally intended to address. There is both power and opportunity in the togetherness of those who have lived experiences with those who have not but are willing to work together to find solutions.
NA: Let's take a step back to discuss your philanthropic giving. Could you talk a little bit about what contribution or a philanthropic achievement you're most proud of?
MRL: First let me note all forms of philanthropy can have impact and merit. In communities of color, philanthropy is sometimes less formalized, less structured. It can manifest itself in the form of taking people into your home that have no place to go. It can manifest itself in the form of feeding seniors in your community without acknowledgment. It can manifest itself in the form of allocating dollars or resources large and small for others. I want to make sure that I don't discount the value of that kind of philanthropy, that is less structured.
You inquired about a philanthropic achievement I am proud of. Early on, I was volunteering on a different board and I came to know of a school in Chicago for pregnant teenagers. As I visited the school, I was struck by the fact that there were no social or medical support services and that the students behaved as if their sense of self-worth had been diminished. I feared they were not being properly prepared educationally, emotionally, socially and their children would suffer as well. The girls would walk around with book bags in front of their very pregnant bellies. They did not look at you in the eyes when they spoke. They often had low attendance because they would stay home when they were experiencing morning sickness, not knowing what to do. The education rigor was mostly absent. It was not my place to judge them, but I knew I could find a way to be helpful. I approached Rush University Medical Center to embed nurses at the school. Rush one-upped me and built out a school-based health center to help the girls stay on track as they navigate pregnancy and raising a child. I was able to facilitate the build-out of a nursery at the school. The school underwent a leadership change and education rigor was restored. I assisted students with scholarships for books through a fund I later established at the Trust for some students that sought to continue their education at the university level. Students continue to stay in touch with me today, with a couple going on to law school. Many of the former students have returned to the school to council or speak supportively to existing students as an expression of giving back. That was a philanthropic opportunity that was transformative to the lives of the young women, their children and continues to transform the lives of those that attend the school. It was born of my voluntary service and philanthropic engagement which facilitated the philanthropic engagement of others.
NA: Could you share how you decide where you focus your time and resources?
MRL: Over the years, I have gotten better about focusing both my time and resources. I used to be of the mindset that if I could make a difference, I would and took a broad-based approach with involvement in innumerous things. I have become a little more discerning about how I apply my time, talent and treasure. I try to focus on that which is most meaningful, impactful and systemically transformative. The idea of impact giving for me has complete resonance because, as noted earlier, that's what I was born into.
NA: We've seen a flood of generosity this year as a result of COVID-19 and the social justice issues that have come to the forefront. Have these events shifted your giving? What do you think is the role of philanthropy at a time like this?
MRL: Both laid bare inequities. With COVID-19, we must not lose sight of the disproportionate impact on Black and Brown communities, and in certain parts of the country the indigenous communities. Well, the taking of the life of George Floyd and our having to bear witness to that murder has felt as if they were making us all accessories after the fact. And I was having none of it. We, great numbers of the citizenry of this country, predominately were having none of it. Around the nation, as people witnessed it, they understood what inequity looked like. They realized what abuse of power looked like. And that each of us must rise at this moment and contribute in some fashion—by raising our voice, contributing our time, working towards a change, focusing on diversity, equity and inclusion, as well as focusing on power, privilege, and why it can work to the detriment of society if it's unchecked. We must act, as all the recent events—the disproportionate impact of COVID-19 to the demands for social justice—are calling on us to act. Indeed, screaming to us to act. Woe be on those who fail to do so. We cannot fail. The importance of philanthropy at this time…sine qua non.