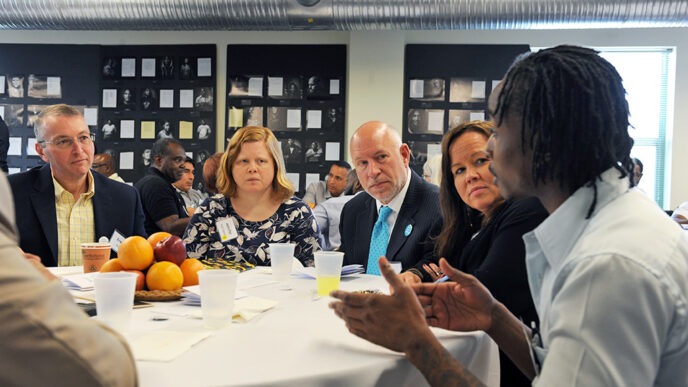 Jun 13 2017
Listening with Courage and Compassion: Lessons from On the Table
Note: This article was posted prior to the Trust's current strategy.
Take a look at Our Work to learn more about what the Trust is focused on today.
Where We Are Now
Columnist David Brooks frequently talks about the decline in social capital and social trust in our communities. In one column he asks the question, "What is the central challenge facing our era?" His answer: Social isolation—a reality especially true for communities down the income scale.
Brooks goes on to cite studies showing that the rise of distrust correlates with a decline in community bonds. Distrust also feeds self-reinforcing spirals: parents who experience distrust are less likely to teach their children about tolerance and respect for others.
Here in Chicago, our challenge is even greater because the visible and invisible barriers erected by the enduring legacy of segregation reinforce social isolation and block the formation of bonds of social capital that can only form when people are proximate to each other.
You know the data as well as I do. The disparities that have been measured and documented in virtually every facet of life—housing and safe communities; access to capital and small business loans; food security and health care; education attainment and employment; income and wealth; and, of course, unequal justice and mass incarceration.
Measuring the cost of inequity
Every few months or so, a new report comes out to remind us of these realities. Most recently, the UIC Institute for Research on Race and Public Policy released their report A Tale of Three Cities: The State of Racial Justice in Chicago that examines the disparities experienced by not just by African-American residents, but Latino residents as well.
And there's the really smart study produced by the Metropolitan Planning Council and Urban Institute on The Cost of Segregation. This study was funded by the Trust, as part of our broader strategy to address racial inequity.
What this study reveals is an incredible self-inflicted wound hindering our economic progress. The loss of $4 billion in income. $8 billion in regional gross domestic product. $6 billion in real estate value. 83,000 more people who most likely would have college degrees.
There's no one entity or solution. We have to come at this from all directions all at once. It is about residents and grassroots leaders seated side-by-side with those who hold the formal levers of power and influence. It's about proximity.
Respecting identity, affirming human dignity
One approach that the Trust has taken is rooted in the oldest of human traditions: breaking bread together and sharing a meal that invites, includes, honors, respects and listens to the diverse voices and identities of our fellow community members. When we respect another's identity, we affirm their basic human dignity.
We bring people together through On the Table to create empathy that leads to mutual trust and social cohesion. These things are foundational to bring about any of the changes that we desire.
Our shared conversations validate, honor and respect the basic dignity of each and every person at the table. Our discussions bind us together in a stronger community with common and shared interests. We transform cynicism into caring, disdain into compassion.
Transforming hopelessness into hope
I began May 16–On the Table Day—at a breakfast co-hosted by Sequane Lawrence of Chicago Center for Arts and Technology and Carrie Thomas of Chicago Jobs Council, who invited a diverse group of guests to their table to explore a specific topic: co-ops. In a co-operative business model, ownership is shared by a group of workers rather than one or a few individuals. Co-ops can mean a completely different experience for workers and communities—one of greater individual empowerment and prosperity more widely shared.
But in Chicago, co-operative business models are not widely understood or practiced. This On the Table conversation brought together a powerful set of minds—nonprofit leaders, a lawyer, an architect, a banker—to discuss how we might encourage the growth of co-ops locally in order to improve conditions and build more wealth for our residents and communities.
The thing about On the Table conversations is that they are inherently optimistic. During the course of a single meal you can observe the transformation from hopelessness to hopefulness. In the case of the CHICAT table, it was well summed by the statement: "We are participating in a movement to transform our economy." Now that's a big deal.
Repairing frayed social networks
Moving on to Englewood, I want to highlight the Southside Occupational Academy, one of Chicago's hidden gems. At this education and training center for young people with disabilities, the classrooms are actually simulated work sites—a grocery store, a retail shop, an office—where students learn job skills in a hands-on setting.
The school teamed up with Karen Tamley, Commissioner of the Mayor's Office for Persons with Disabilities, to host an On the Table that drew 20 businesses to the Academy for a tour and conversation. By using the On the Table platform, Southside Occupational Academy was able to widen its network and begin to build lasting relationships that can make a real difference in the lives of its students.
This is the work of repairing the fraying networks of social capital: one leader, one institution at a time.
He said to me, "The day I found out I got the job I did cry a little bit. It was happy tears… I was so proud I got the job at University of Chicago Medicine. Sometimes y'all see me working hard, I'm working hard so I do a good job, make my boss proud, and make my principal proud of me." Read more about the Southside Occupational Academy's On the Table: Chicago Business Leaders Do Lunch—With a Purpose
Speaking truth to power
I am especially pleased with how On the Table is contributing to solve one of the greatest problems facing our city. From the first day he was appointed, Police Superintendent Eddie Johnson recognized the challenge to restore trust between police officers and residents. Thanks to the tireless efforts of Robin Robinson and Vanessa Westley and dozens of CAPS officers, CPD has embraced On the Table as one way to do just that.
Over the past 12 months, the Chicago Police Department has been holding On the Table conversations as a way of building deeper connections and trust with the communities it serves. This year for May 16, Superintendent Johnson directed every district to host a conversation with a focus on race and equity.
The Trust partnered with CPD to ensure that every officer received facilitation training. As you can imagine, the prospect of hosting such a conversation was a daunting one. But the week after On the Table, we followed up with the officers to see how their conversations went. Even the ones who went into it with uncertain expectations said they found the experience to be profoundly meaningful and worthwhile.
This is how On the Table can be a powerful tool to build bridges and create new narratives, can provide an open forum for residents to speak truth to power.
As Winston Churchill once said: "Courage is what it takes to stand up and speak; courage is also what it takes to sit down and listen."
Listening with compassion
In Washington Park, Cecilia Butler organized a table of residents who are nervously anticipating the development of the Obama Center to the east, and the seemingly ever-present University of Chicago adjacent to them.
On the Table gives us a chance to really listen with sympathetic ears. During the course of such a conversation we can put ourselves in the shoes of Washington Park residents and hear what they are really feeling and experiencing.
Picture yourself as a 70-year-old resident renting an apartment in senior housing living off a very modest fixed income. You read about these big plans, and you have 30, 40, 50 years of experience with other grandiose plans that did not improve your situation one bit. You still have no cleaners, no grocery store, no restaurant. And today your neighborhood feels even more unsafe than years past.
As one resident stated, "We can't keep our kids here—it is too dangerous. I lost my niece."
In this reality you are not invited to the table. To find answers you must piece together the truth from fragments of incomplete information. Public meetings are called "Sham Summits" because your voice hasn't made a difference. You question, "What's the point of me coming out, because you won't listen to me anyway?"
What On the Table allows for is to glimpse the underlying anxiety, distrust and the pain of countless indignities.
This is not about wanting a say in the architectural design of the Obama Center or its programming. The real concern, as I heard it, is this: When the Obama Center is created and other investments are made by the University, rents will rise and land will become more valuable. The landlord will have an incentive to sell the senior housing units for upscale housing.
And you are a 70-year-old resident, living on fixed income in a neighborhood is where you have built your life. Where do you go? How do you even contemplate making a fresh start?
Healing broken lives, repairing broken communities
And let me share with you dialogue from the On the Table hosted at Saint Leonard's Ministries, whose mission is to help those returning from prison to turn their lives around and become contributing members of our community.
Everyone I talked to said the same thing: "How can I give back to the community that I helped to destroy?" "We want to give back to the community, but we don't know how."
This is what Saint Leonard's is about: repairing broken lives returning to broken communities. We all need Saint Leonard's to make our community whole, to heal our fellow community members, to reconnect them in a loving and dignified way.
Increasing the empathy quotient
Chicago's experience with social isolation, distrust and decline in social capital are also playing out in other communities around the country. How do we know? Well, one indicator is that 22 cities have adopted On the Table. This speaks to our deep-seated need to form communities that are inclusive, caring and work for everyone.
At a time when philanthropy is focused on metrics and measurable outcome, I am afraid that we dismiss things that matter, but are more difficult to measure: things like hopefulness, trust, dignity, caring.
Based on the experiences with On the Table, I am more and more convinced that civic engagement is a valuable outcome in and of itself. People coming together matters. People making their voices heard matters. The conversations that you shared together over lunch matter.
On the Table has become a civic institution in Chicago, our day to celebrate the practice of civic engagement. On this day, we schedule time to meet, and take time to listen. By coming together we come to understand each other and increase the empathy quotient in our city.
Conversations lead to commitments, and commitments lead to actions—actions benefiting each other and our common cause.
Excerpted from Terry Mazany's address to the City Club of Chicago on June 12, reflecting on lessons from four years of On the Table. You can read the complete transcript for his full remarks, or watch the video of his speech at the City Club website.