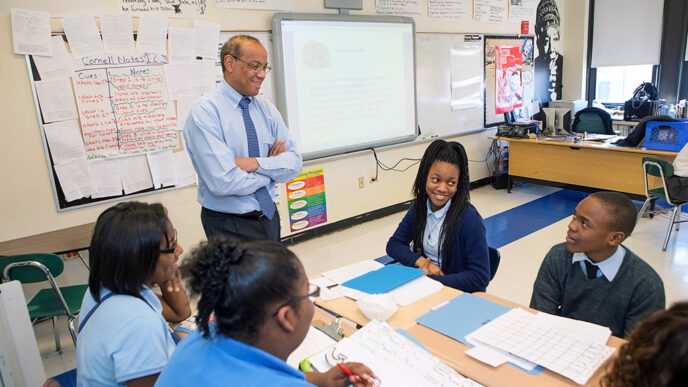 Aug 9 2019
John Rogers, Jr. Invests in a New Generation
Note: This article was posted prior to the Trust's current strategy.
Take a look at Our Work to learn more about what the Trust is focused on today.
Where We Are Now
In celebration of Black Philanthropy Month, the Trust is featuring a series of conversations with Black philanthropists making their impact across the Chicago region. This article is the second in our series—be sure to enjoy our other interviews with Liz Thompson, Nate Sutton and Frank Clark.
---
John W. Rogers, Jr. is an investor, philanthropist and founder of Ariel Investments, LLC, where he serves as the chairman, co-CEO and chief investment officer. Rogers' passion for investing began at age 12 when his father began buying him stocks as Christmas and birthday gifts. Besides running a successful investment business, he uses this passion to help young black adults learn financial literacy and seek careers in the financial and investment sector.
Rogers recently sat down with Clothilde Ewing, vice president of strategic communications at the Trust, to discuss who his philanthropic role models are, what inspires him to give and why it is important for black professionals to donate to organizations that fight for the interests of black people. Some questions and answers have been condensed and edited for clarity.
Clo Ewing: Who has most influenced your desire to give back?
John W. Rogers, Jr.: There've been a lot of folks who've helped me think about this issue or helped show me the way. Chicago is this great community where the business leadership is very philanthropic, very community-minded. And as my career was getting going, I got exposure to people like Pat Ryan, Andy McKenna and Lester Crown—people that were great role models for Chicago business leaders that were very engaged in the community from a philanthropic standpoint.
At the same time, I had great relationships with the African-American business leadership, people like George Johnson, who had created Johnson products; John Johnson, who of course, had built Ebony and JET. They were both very philanthropic, very engaged in the community. They were these extraordinary role models of people who gave back. They were inspirations for the way a corporate citizen should participate in Chicago if you love the city as much as I did.
CE: Did you ever have conversations with them about the need to give back or was it something that you saw in action and wanted to do as well?
JR: It's more the latter—watching what they were doing, and as I got older, I really started to appreciate the efforts and the leadership and how important it was. In particular, George Johnson: I was able to spend a lot of time with him, and you'd hear the stories about him being responsible for 70 tables at the Chicago Urban League dinner every year or organizing other business leaders to support Dr. Martin Luther King when he came to Chicago. You needed someone like George Johnson to help you navigate the new city both financially as well as from a leadership standpoint. As the years went on I had the opportunity to spend quality time with Mr. Johnson and hear the stories, and I always left inspired.
CE: Has your own philanthropic journey changed at all in terms of issues or areas of giving?
JR: Yes. From the very beginning, I've had a lot of interest in financial literacy and particularly financial literacy in the African-American community. And as time evolved, I've understood that not only is it important to teach young people of color about the stock market, investing and saving and the magic of compound interest, which we did by starting the Ariel Community Academy in Chicago Public Schools 22 years ago. But then I started to realize that the most impact you can have is by encouraging young, dynamic African-American up-and-coming people to think about financial services careers and get the exposure necessary to make the right choices for themselves. So much of our economy now is a professional services and services economy. So the program we started most recently at the University of Chicago helps minority students to get paid internships in the investment offices of major endowments and foundations in the United States.
CE: What is the driving force behind your philanthropy?
JR: To build real, true wealth in our community and closing this wealth gap that is so dramatic. I most recently testified on Capitol Hill to Congresswoman Joyce Beatty's subcommittee on diversity and inclusion. And in my opening five-minute testimony, I talked about the challenges that we face as African-American entrepreneurs and African-American business leaders. And I talked about the fact that we need to get rid of the term "supplier diversity" and have people of color included in everything that we do.
I think a really important part of moving our community ahead is to make sure that those of us in leadership roles are going to hold any organization accountable and that we're involved to create equal economic opportunity for everyone. The data that drove me to this is from Ray Boshara from the Federal Reserve in St. Louis. Between 1992 and 2016 he found data that showed that college-educated white Americans saw a 96% increase in wealth, while college-educated black Americans saw their wealth decline 10%. Up 96%, down 10%.
CE: I've seen that stat. It is disarming.
JR: Right. It really is—it's disarming.
CE: Do you find the landscape is the same as 20 years ago or different?
JR: It continues to deteriorate, to get worse.
CE: What about the reception to the conversations that you're having, in terms of encouraging a more comprehensive look at diversity and inclusion?
JR: There are people who care and want to do this the right way and so there are some positive stories out there. Exelon has done a great job working with minority-owned businesses and at the same time, forcing, pushing, putting pressure on their majority of professional services providers to have minority partners—whether it's an investment bank, law firm, accounting firm, whatever it happens to be. Bill Von Hoene has led that effort at Exelon; it's world-class. Northern Trust has a great group of African-American business leaders—the Connie Lindseys, the Lyle Logans, Shundrawn Thomas, Jason Tyler. There are more senior African Americans in that bank than any other place.
I would argue the University of Chicago has done the best job from a nonprofit standpoint. In 10 years, they have gone from having zero relationships to 90 relationships with minority-owned professional services firms and there's no other university in the same league when it comes to that commitment. You also have the University of Chicago President Bob Zimmer and the team there led by Assistant Vice President for Business Diversity Nadia Quarles, who have done a fantastic, fantastic job. And then there are others like Grosvenor Capital Management CEO Michael Sacks and his firm, who have been doing some terrific things. The Chicago Community Trust has had a good track record for using minority investment managers. Don Stewart was a terrific advocate and has continued through Terry Mazany and and now your new leader, Helene Gayle.
We need to get rid of the term "supplier diversity" and have people of color included in everything that we do. I think a really important part of moving our community ahead is to make sure that those of us in leadership roles are going to hold any organization accountable and that we're involved to create equal economic opportunity for everyone.
CE: So what advice would you give to people who are thinking about their own philanthropic journey and who may be intimidated by so many choices and not knowing where to start?
JR: I think you have to give to the areas that you're passionate about. I wish I had something "gee whiz" to say, but you want to be in a place where you can make a concrete difference. It's so cool to see graduates to the Ariel Community Academy now, who have finished college and started in financial services careers. We have two of them that work here at Ariel and I've known these kids since they were fifth or sixth grade. And it's really great to see.
CE: You had talked earlier about Mr. Johnson. I'd love to hear just what your thoughts are in terms of the spirit of giving in the African-American community.
JR: When I talk to young people today, I say, "I think we need to challenge ourselves to do more to support our civil rights organizations." So I think that is really, really, really important for not only today's society but for future generations. We need a stronger NAACP and Urban League and National Action Network and Rainbow PUSH Coalition and it's also so important that we support these organizations because then they can fight for us more effectively. If their coffers are filled from large, white corporations, then it's hard for them sometimes to push back too hard against the folks that are funding them. So it's a challenge. That's why it's so important for us to support our organizations.
CE: You've spent a lot of time on a number of boards including the Civic Committee and Economic Club of Chicago. Why was it important for you to fill those roles here in the city?
JR: I think it is part of the spirit of the city. I love the city so much and the city's been great to be a part of. And I think we just have this great history here of business leaders engaging with the city and engaging with the local cultural institutions and universities and nonprofits. So it was a natural thing to follow into the path that has already been well-established and I feel fortunate to be involved in those leadership roles. I try to make sure our voice is heard.
CE: What does the term philanthropy mean to you?
JR: Philanthropy really is giving financially, but also giving of your time. And so I think that's where you can really make a difference. You know, young people need role models and they need successful business leaders of color they can look up to. We're trying to build wealth in our communities, so it is important for us to be role models.
CE: Does a certain person fit the bill of a philanthropist? Or can anybody be one?
JR: Anyone can be one—but I think there are some people who do enjoy giving back and helping others.