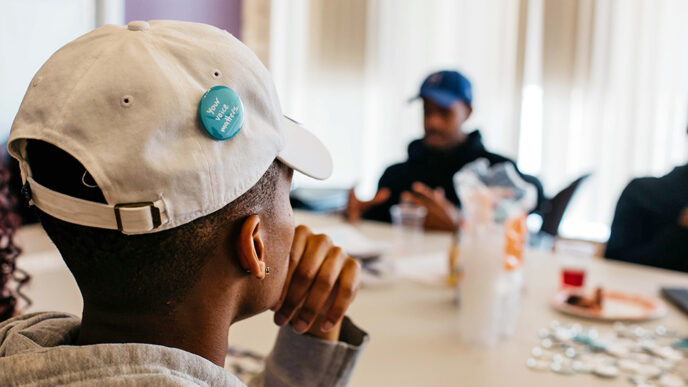 Jun 27 2018
Acting Up Awards Power 37 Bright Ideas for Stronger Communities
Note: This article was posted prior to the Trust's current strategy.
Take a look at Our Work to learn more about what the Trust is focused on today.
Where We Are Now
Today The Chicago Community Trust announced the recipients of this year's Acting Up awards. $150,500 was awarded to 37 projects that will support tangible activities to benefit neighborhoods and the public good.
These ideas were sparked through the Trust's fifth annual On the Table—where Chicago-area residents came together on May 8 in mealtime conversations to engage in meaningful dialogue, develop new relationships and inspire action to make a difference in our communities.
To encourage participants to move ideas discussed at the table into action, the Trust began its Acting Up award program in 2016. Working in partnership with Goodcity, the Trust has distributed nearly $350,000 in Acting Up awards to help 167 creative ideas from On the Table conversations come to fruition over the past three years. Acting Up projects big and small have made a real difference in communities across Chicagoland. Thanks to the generosity of our donors—the Bernick and Bluhm families, and Allstate—this year 37 more projects will make their impact.
$5,000 Winners
$2,500 Winners
$1,500 Winners
Back Alley Glitz – Prosperity House will clean alleys in their West Woodlawn neighborhood to make it a safer space to live and play.
Community Exchange Market at Oriole Park – The community-run market will connect people through an exchange of volunteers, ideas, music, skills-building opportunities and used items.
You can also watch all the winning submission videos in our 2018 Acting Up YouTube playlist.
Two hundred On the Table participants submitted their ideas online through brief two-minute videos, which were evaluated by a team of more than 20 judges representing a variety of backgrounds, neighborhoods, organizations and expertise. Winners were selected based on creativity of idea, level of community engagement and potential impact of the project.
Winners are from all across the Chicagoland region and are focused on a wide range of issues including education and youth development, community engagement, health and wellness, arts and culture, food access and more.
"We know that On the Table is a powerful platform to engage residents to do good—in fact, 95% of On the Table 2018 survey respondents said they were very or somewhat likely to take specific actions regarding an issue or solution discussed at their conversation," said Daniel Ash, chief marketing officer at The Chicago Community Trust.
"Acting Up was designed and implemented to support these ideas and actions, and we are looking forward to seeing these projects come to life in communities across the city," Ash said.