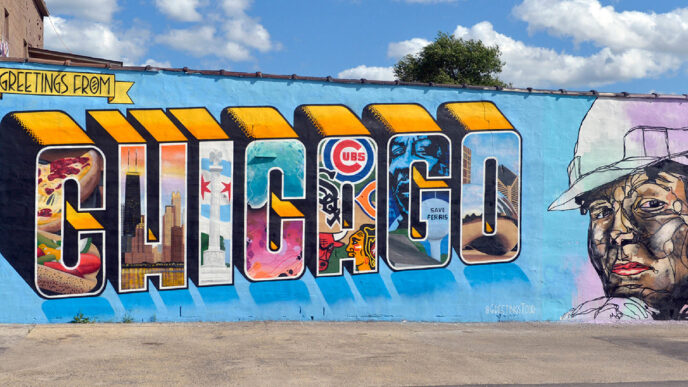 Grant Making Nov 10 2020
2020 Grant Making: The Chicago Community Trust
In Fiscal Year 2020, The Chicago Community Trust made 293 discretionary grants totaling $20,477,287. Following are some highlights of how this year's grant making embraced the Trust's aim to be a changemaker, addressed the pandemic, and advanced our strategic priorities to grow household wealth, catalyze neighborhood investment, build collective power, and address critical needs.
---
Growing Household Wealth
Two primary grant programs are advancing the Trust's Growing Household Wealth strategy—to increase Black and Latinx households' share in economic prosperity.
The Coalitions for Equitable Wealth Policy initiative provided $1.2 million to 11 coalitions working to address inequities in wealth creation that are holding back racial and ethnic populations. These groups are addressing three core areas: banking reform and consumer protections, asset and income policy, and equitable public sector fines and fees. In addition to driving policy change, the funding is also helping coalition members strengthen their collective muscle in areas such as leadership development, communications, research, organizing, legislative engagement, legal and policy expertise, and more.
Through the Trust's Protecting and Advancing Homeownership program, nine housing organizations received a total of $610,000 to provide services and dismantle barriers to improve stable homeownership among Black and Latinx people in the Chicago region. The work these organizations are doing is bolstering housing supply and affordability, promoting homeownership policies, tackling displacement and gentrification in the local market, promoting alternative mechanisms for homeownership financing, and finding creative ways to reach mortgage-ready renters.
In addition, the Trust has created several grant funds to support small businesses of color, including collaborative funding efforts with other foundations and private corporations, such as the Fund for Equitable Business Growth, which creates a marketplace of services for entrepreneurs of color. The fund was born out of a research effort to assess the Chicago-area small business ecosystem and provide recommendations on how to better serve businesses of color.
Catalyzing Neighborhood Investment
Three grant programs—one that is underway, another with a rolling application, and a third that is brand-new—support the Trust's strategy to revitalize disinvested Black and Latinx communities. All three represent a new way of thinking about foundation funding.
Through the Flexible Funding Program, we granted $1.2 million to 14 community-driven investment-focused organizations to decide how best to adapt in this pandemic era, continue to thrive, and attract financial capital to the Black and Latinx communities they serve.
The Trust launched a novel way to provide funds in this space—an open call for ideas that is exactly what it says it is: Anyone working on community investment may submit an idea to be considered for funding at any time. To date, two grants were made in 2020: one to the Delta Institute to analyze sustainable industry prospects at the Illinois International Port Authority and in surrounding South Side neighborhoods; and the other to the Center for Neighborhood Technology to launch the Transportation Equity Network, to push for equitable, community-driven transportation plans, policies and investments. This is a rolling application and the Open Call for Ideas remains open.
Our new Pre-Development Fund has allocated $1.5 million in grants to enable small and mid-size community-based developers of color to support the pre-development phase of projects, particularly in Cook County's disinvested neighborhoods. Typically, this phase of work is backed by loans that are historically more difficult for developers of color to get.
Also, to enable private sector pathways to bolstering neighborhood investment, the Trust supported the Corporate Coalition, companies working together and with communities to identify new ways to deploy capital and talent to reduce economic inequities in the region, and a grant to establish the Southland Development Authority, which will manage large-scale real estate development on behalf of south suburban municipalities struggling with disinvestment and economic segregation.
Building Collective Power
Two of our discretionary grant programs are advancing equitable, livable, resilient neighborhoods by assisting resident-led networks to collaborate, build collective power, and together drive local change; and by promoting community-centered news.
The Changemakers Network provided $1.5 million to 18 community organizations and grassroots leaders to collectively build capacity and practice mutual aid. They have established a community of practice—a sustained meeting of the minds, where participants are working together over the next two years to develop strategies that accelerate community-driven change. They have prioritized the following knowledge and skill building topics: building racial solidarity, digital organizing, narrative and storytelling, visual storytelling, and healing, self-care, and community care.
The Trust reentered the local media and storytelling space in 2020 to create conditions for fact-based information to flow into the community and to allow for authentic and accurate information to emerge from those communities. The Media Makers Network granted $750,000 to hyper-local, ethnic, and community-centered news organizations to partner with community members on creating editorial content that reflects what local residents care about.
Addressing Critical Needs
The Building Pathways to Stability program made $2 million in general operating grants to 40 nonprofit organizations—23 of which are new Trust grant recipients—to address critical human needs across the region. The awards are supporting work to address housing insecurity, provide emergency clothing and supplies, respond to food insecurity, and increase access to health care.
When the impacts of COVID-19 hit our region—with particularly devastating effects in our most vulnerable communities—within five days we created and launched the Chicago Community COVID-19 Respond Fund with United Way of Metro Chicago, in partnership with the City of Chicago. The fund raised nearly $35 million to support more than 400 frontline organizations.
As the pandemic and its consequences continue, we will continue to dedicate the majority of our Addressing Critical Needs portfolio—including applicable restricted funds—to COVID-19 response and a hopeful transition to recovery.
Beyond Grant Making
Finally, the Trust continues to advance its goal to become a changemaker by hosting opportunities for local and regional leaders to convene and share knowledge, as well as through research. For example, the Trust hosted the Shared Prosperity Roundtable in fall 2019, which brought together community leaders and experts from eight cities to explore policies and programs to boost incomes, build assets, and reduce debt. And we are spearheading a Color of Wealth study in the Chicago region, which will provide a critical tool to understand wealth disparity by race and ethnicity and the unique opportunities and needs facing our region toward closing the gap.
The Trust's fiscal year is October 1 to September 30.