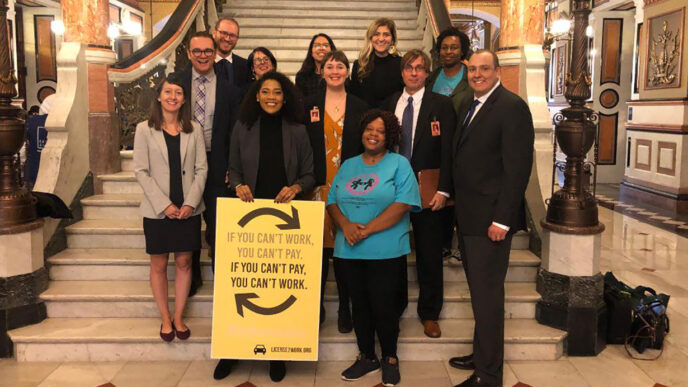 Grant Making Jul 10 2020
2020: Coalitions for Equity in Wealth Policy Leverages Efforts to Address Inequity
No matter how you view this moment in our history, what is undeniable is that it is a moment of change. The calls for action are louder, more consistent, and more inclusive of a range of voices that are demanding an end to the status quo. For The Chicago Community Trust, this is the moment to advance the kind of structural change that holds the potential to close our society's deep racial and economic inequalities.
From the early days of shaping the Trust's strategic plan to close the Chicago region's racial and ethnic wealth gap, we recognized that systems and policy change would be essential. Under one of the core pillars of our strategy, to grow household wealth, we determined we would be supporting and leveraging policy efforts that have been rooted in addressing structural inequality and ensuring residents with lived expertise were in the driver's seat. The COVID-19 crisis and civil uprisings for justice after the murders of George Floyd, Breonna Taylor and Ahmaud Arbery, not to mention countless others, are bringing a new kind of palpable need to innovate and move beyond our collective comfort zones.
The Trust is proud to work with and support 11 organizations that have advocated for years for the kinds of policy changes that can make a difference. We set out this year to support policy change to advance and protect corrective policies and systems reforms that address inequities in wealth creation for Black, Latinx, and other racial and ethnic populations that have been negatively impacted by discriminatory and racist policies and practices. Early on, we assumed we would be making discrete grants towards specific policy efforts, whether they be reforms to curb predatory lending practices or efforts to modernize the Earned Income Tax Credit. However, when we began to speak with organizations working on these issues, we learned quickly that our state and region benefits from an exemplary set of policy coalitions that have organized themselves around various aspects of wealth policy, including asset and income policy, banking reform and consumer protections, and equitable public sector fines and fees. As such, we shaped our Growing Household Wealth policy grant making to support the health and effectiveness of the coalitions themselves.
The Trust's Coalitions for Equity in Wealth Policy Request for Proposals was designed to recognize the various roles coalition members need to play towards contributing to healthy and effective policy advocacy, whether that be community organizing and leadership development, communications, research, legislative engagement, legal and policy expertise, and coalition leadership and staffing. The following organizations have been funded by the Trust. Each one is highly valued in the field and within the coalitions to which they belong.
COMMUNITY ORGANIZING AND FAMILY ISSUES (COFI): COFI exists to bring the voices of low-income parent leaders of color to decision-making tables to address policies parent leaders identify as priority equity issues that improve outcomes for their children and families. COFI is engaged in a range of policy coalitions working to advance equitable wealth policy. Through COFI, 5,000 low-income parents of color have been trained as civic leaders in communities and, with POWER-PAC IL, in policy advocacy at city, state, and federal levels. Closing the racial and ethnic wealth and income gaps are top priorities of POWER-PAC IL, which focuses on increasing wages and savings opportunities and reducing debt burdens – especially in light of the COVID-19 pandemic. With a general operating grant, COFI will engage and provide stipends for virtual ambassadors and parent leaders, hire staff and dedicate resources to support communications and narrative change work.
General Operating Grant: $125,000
Coalition Participation: Illinois Asset Builders Group; Transit Table; Fines, Fees, and Access Collaborative; Fighting for Affordable Utilities Coalition, and Cost of Living Refund Coalition
HOUSING ACTION ILLINOIS (HAI): For more than 30 years, HAI has led a statewide coalition to protect and expand the availability of quality, affordable, accessible housing throughout Illinois. It seeks to create an environment where all residents, including people with the lowest incomes, have a voice in housing policy and community development. HAI co-leads the CRA (Community Reinvestment Act) Coalition, which develops and advocates for public policies that increase the availability of credit to low and moderate-income communities. Project-based support to the CRA Coalition will enable it to gain additional feedback from and mobilize members and allies, listen to the needs of people in the communities most impacted by the challenges of community divestment, use research and data to determine and implement goals, educate and build relationships with elected officials, and engage the public and media.
Project-Specific Grant: $75,000
Coalition Participation: CRA (Community Reinvestment Act) Coalition
SHRIVER CENTER ON POVERTY LAW: The Shriver Center provides national leadership on advancing laws and policies that secure justice to improve the lives and opportunities of people living in poverty, and is engaged in meaningful work across multiple coalitions. The general operating grant will support the Center's work to leverage these networks as they strive to promote economic and racial justice, strengthen families and communities, and advance policies and reforms that address the racial and ethnic wealth gap. The Shriver Center often serves as the primary legal and policy experts within the coalitions.
General Operating Grant: $150,000
Coalition Participation: Transit Table, Cost of Living Refund Coalition, Housing Roundtable, and the Responsible Budget Coalition
ILLINOIS PUBLIC INTEREST RESEARCH GROUP EDUCATION FUND (IL PIRG): IL PIRG is dedicated to standing up for the public interest to protect consumers and their pocketbooks from special interests, strengthen public health protections, and promote reforms that ensure citizen voices are heard when public policy is debated. IL PIRG plays an important role in multiple consumer and wealth-building coalitions. The general operating grant will support IL PIRG's current priorities, which include modernizing the Earned Income Tax Credit to reward valuable non-wage work, stopping predatory lending, and fighting for affordable utilities.
General Operating Grant: $75,000
Coalition Participation: The Cost of Living Refund Coalition and Illinois Payday Lending Coalition. IL PIRG also provides leadership for the Consumer Advocates Table
WOODSTOCK INSTITUTE: Woodstock works to create a just financial system in which lower-wealth persons and communities and people and communities of color can achieve economic security and community prosperity. Woodstock leads the Illinois Payday Lending Coalition and co-leads the CRA Coalition, as well as participates in several other wealth policy coalitions. General operating support will resource Woodstock's role in coalitions to conduct applied research that helps stakeholders understand impediments to creating more equitable economic systems develop policy recommendations to address racial and economic disparities and advocate for policy changes in collaboration with community partners that encourage investment and protects consumers in racially and economically segregated neighborhoods in Chicago and beyond.
General Operating Grant: $125,000
Coalition Participation: CRA Coalition, Payday Lending Coalition, Illinois Asset Building Group, Transit Table, and Housing Policy Roundtable.
SMALL BUSINESS MAJORITY (SBM): SBM is a small business advocacy organization, founded and run by small business owners to focus on solving the biggest problems facing small businesses today. SBM actively engages small business owners across America to drive smart public policy and get entrepreneurs the resources they need to thrive. With general operating support, SBM will continue to provide the small business and self-employed gig economy perspective in several coalitions. SBM will collaborate on messaging, communications and policymaker education activities to promote policies that best support low- to moderate-income owners and workers with a focus on immediate relief from the COVID-19 pandemic. SBM will also build momentum around robust, long-term recovery policies that will center on rebuilding financial security and assets for small business owners and their employees—particularly in Chicago's most vulnerable communities.
General Operating Grant: $48,000
Coalition Participation: CRA Coalition, Illinois Asset Building Group, and Illinois Cost of Living Coalition
ROGER BALDWIN FOUNDATION OF ACLU INC: The ACLU of Illinois is concerned with unjust public revenue-generation practices that impose wealth-based punishment. Chicago and Illinois rely heavily on aggressive ticketing, steep fines and fees, and vehicle impoundment to close budget gaps. These practices punish low-income people with debts they cannot pay and the loss of their cars, which then spirals into challenges getting to employment. Due to the racial wealth gap and over-policing of Black and Brown communities, people of color suffer disproportionately. ACLU provides essential legal and policy expertise to the coalitions in which they serve.
General Operating Grant: $50,000
Coalition Participation: Transit Table and Fines and Fees Coalition
CHICAGO JOBS COUNCIL: The Jobs Council's policy advocacy seeks to advance policies that increase access to family-sustaining jobs and remove structural barriers to employment that disproportionately affect people of color. The Jobs Council staffs the Transit Table Coalition, a coalition of social service providers, advocates and other stakeholders working to eliminate transportation barriers that keep people out of work and in poverty. General operating support will increase CJC's capacity to engage and advance coalition work by hiring a communications person and expanding engagement for individuals with lived experience to engage in the coalition.
General Operating Grant: $125,000
Coalition Participation: Transit Table
ECONOMIC SECURITY FOR ILLINOIS (ESIL): ESIL, a project of the Metropolitan Planning Council, is leveraging the Illinois Cost-of-Living Refund Coalition and Illinois Cash Coalition to put more cash in the pockets of low- and middle-income Chicagoans. ESIL is building an economic empowerment and inclusion coalition to support economic security policies in Illinois, giving space to organizations to collaborate and innovate in order to increase economic stability in the wake of the rising cost of living, stagnant wages, and most recently, the COVID-19 pandemic. With these coalitions, ESIL will push for cash-based solutions to alleviate the economic insecurity caused by the immediate crisis and set the groundwork for cash-based policy over the long-term, with a focus on the Earned Income Tax Credit.
Project Grant: $150,000
Coalition Partnership: Illinois Cash Coalition and Illinois Cost of Living Refund Coalition
CHICAGO URBAN LEAGUE: The Chicago Urban League is committed to economic, educational and social progress for African Americans and promotes strong, sustainable communities through advocacy, collaboration and innovation. Through several policy coalitions, the League works to raise awareness and engage Black residents. This includes creating a community advisory committee to help shape coalition priorities, ground the work, and support implementation to ensure local communities and residents ultimately benefit.
General Operating Grant: $95,000
Coalition Partnership: Transit Table, Illinois Asset Building Group, Payday Lending, Housing Policy Roundtable, and CRA Coalition
HEARTLAND ALLIANCE FOR HUMAN NEEDS & HUMAN RIGHTS: Heartland Alliance strategically pairs high-impact direct services with research, policy and advocacy to improve health and wellness, economic opportunity, and safety and justice for the region's most vulnerable and marginalized to create equity and opportunity for all. Heartland's Research and Policy Division, which leads policy efforts to close the racial and ethnic wealth divide in Illinois, has long been a leader across all three of the Trust's core equitable wealth policy areas (asset and income policy, banking reform and consumer protections, and equitable public sector fines and fees). This has included spearheading retirement savings and child savings account programs, expanding income supports like the Earned Income Tax Credit, leading predatory lending and debt collection reforms, and limiting driver's license suspensions. Heartland chairs the Illinois Asset Building Group.
Project Grant: $150,000
Coalition Partnership: Illinois Asset Building Group and Illinois Cost-of-Living Refund Coalition
Strategy Area
Addressing Critical Needs
Supporting essential service organizations that are addressing the most basic and immediate needs of individuals and families across our region.
Strategy Area
Growing Household Wealth
Addressing the wealth gap at the household level by increasing incomes, building assets, and reducing debt.