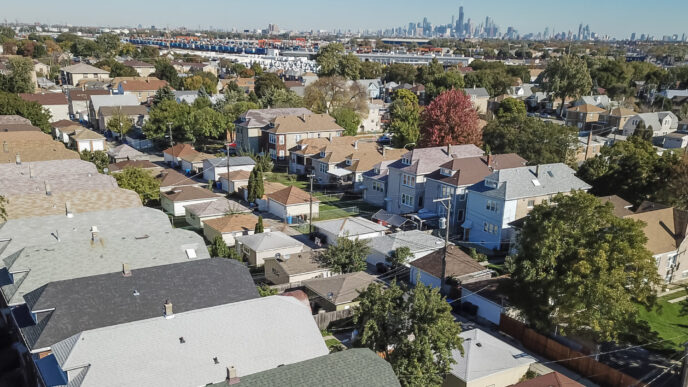 Financial Health Pulse® Chicago 2022 Report
A new report by Financial Health Network offers the first comprehensive picture of financial health disparities in Chicago and broader Cook County by examining how individuals spend, save, borrow, and plan.
Read the Report
Financial health reflects the ability to manage one's current needs, respond to unexpected expenses, and achieve longer-term financial security. Financial health is the foundation for wealth. Thus, understanding one's overall financial health can suggest areas for investment and opportunity that, over time, support wealth creation.
Financial Health Pulse®
Chicago 2022 Report
The Chicago Community Trust commissioned Financial Health Network to conduct a survey of Cook County residents to assess financial health using eight indicators of a respondent's capacity to spend, save, borrow, and plan. Understanding disparities in financial health can help to identify and shape strategic priorities to help people become more financially healthy over time, benefiting households and the region more broadly.
Key Findings
As the report reveals, financial health is not yet a reality for far too many families in the Chicago area, particularly families of color. Financial vulnerability translates into higher stress levels and economic hardships, with Black and Latinx residents delaying health care, having trouble paying rent, and often worrying they will not have enough money for food.
Key Finding
Only 13% of Black residents, 16% of Latinx residents, and 38% of Asian residents are considered Financially Healthy compared with 49% of white residents.
Key Finding
Black and Latinx residents in the region are more financially vulnerable than their national counterparts. In Cook County, 39% of Black residents are financially vulnerable versus 20% nationally and 30% of Latinx residents in Cook County are financially vulnerable compared to 21% nationally. Conversely, white residents are financially healthy at greater rates than seen nationally.
Key Finding
Just 40% of Black and 44% of Latinx residents with household incomes of $100,000 or more are considered Financially Healthy, compared with 69% of white residents and 62% of Asian residents in the same income bracket.
This gap in financial health persists across household income levels because of an interwoven story of systemic disadvantage and blocked opportunity. That is particularly true for homeownership, the largest asset for most Americans, inheritance, and other wealth-building tools.
Most white households (87%) have a pension or retirement account, compared to 49% of Black and 58% of Latinx households.

White households were four times more likely to have received an inheritance than Black and Latinx households (32% vs. 8%).
White households report having other savings or investments (such as stocks, mutual funds, or annuities) at nearly three times the rate of Black and Latinx households (64% compared with 22% and 24%, respectively).
Only 10% of Black homeowners received financial support from family or friends to buy their homes. More than twice as many white homeowners (23%) report having received financial support for the purchase of their homes.
The flip side of income and assets is debt, and Chicago's Black and Latinx families are disproportionately struggling.
More than twice as many Black and Latinx households as white households in Cook County report facing burdensome debt loads.
51% of Black residents and 46% of Latinx residents say their households have more debt than is manageable, compared with 22% of white residents.
Black and Latinx households reported holding student loan debt at nearly twice the rate of white households (42% and 34% respectively, compared to 22%).
Black residents more frequently provide financial support to family members, making it challenging to pay down debt, save, and pass down wealth. More than half of Black residents (56%) provide financial assistance to others, compared to 39% of white residents.
Recommendations
People need to be financially healthy before they can substantially build new wealth – and we can make progress towards closing the racial and ethnic wealth gap. The Chicago Pulse study indicates we have a long way to go to achieve that vision.
To address the enduring financial health and wealth gaps we see regardless of income in the Chicago region, systemic change is required. The Chicago Community Trust's focus is not just on individual solutions or shifting behaviors but on financial systems, housing markets, employment practices, income and tax policies, and the structures that enable families to be financially healthy and build and sustain wealth. The Trust is working to improve financial health and grow wealth for Black and Latinx residents by increasing assets and income while reducing debts. That includes:
Housing Interventions: Increasing access to affordable mortgage lending products; working with the appraisal industry to eliminate systemic bias; and enhancing affordable housing stock.
Place-Based Investments: Investing in businesses and initiatives that drive equitable economic recovery and increase investment in Black and Latinx communities that have experienced disinvestment; expanding shared ownership models.
Local, State, and Federal Policies: Supporting the implementation of the state Earned Income Tax Credit expansion and guaranteed income pilots in Chicago and Cook County; advocating for a state child tax credit and expanding the refundable federal child tax credit.
Workforce Solutions: Funding efforts to build post-secondary pathways to good jobs that pay living wages and sustain families; expanding workplace training to increase advancement opportunities.
Fair Lending Reforms: Supporting the implementation of the state and federal Community Reinvestment Act and the City of Chicago Lending Equity Ordinance.
Get Involved
To learn more about the Trust's Learning & Impact team or partner with us on future financial health and wealth gap research initiatives, please contact Jennifer Axelrod, Senior Director of Learning and Impact, at jaxelrod@cct.org.
Growing Household Wealth
Growing household wealth is about much more than income equality. It's about leveraging opportunities over the course of a lifetime—from paying for a college education to buying a house and saving for retirement—that allow individuals and families to build assets, have financial security, and pass wealth along to the next generation.
Learn More
Closing the Racial & Ethnic Wealth Gap
We've made a 10-year commitment to closing Chicago's racial and ethnic wealth gap. The work will not happen overnight, but in partnership with donors, nonprofits, community members, business leaders, and local government, it can be done.
Learn More