Chicago's Pullman neighborhood on the city's South Side is fast becoming a national model for revitalization, with new jobs, retail, housing and a recreational center complementing existing historic homes and architecture.
But less than 20 years ago, Pullman was all but written off, like so many post-industrial places. The closure of Ryerson Steel in 2006 punctuated decades of disinvestment and population loss that began when the community's namesake Pullman Car Company closed its local factory in 1955, abandoning the nation's first company town.
President Barack Obama's 2015 designation of the Pullman National Monument provided momentum for the turnaround. When the park's dedicated visitors center officially opens in 2021, an estimated 300,000 people will visit each year to learn about Pullman's unique role in American industry, labor rights, African American history, and urban planning. The 12-acre site and historic Pullman Clock Tower are in the final phases of being restored and transformed into the visitors center, thanks to $34 million in public and private contributions, including support from the Trust.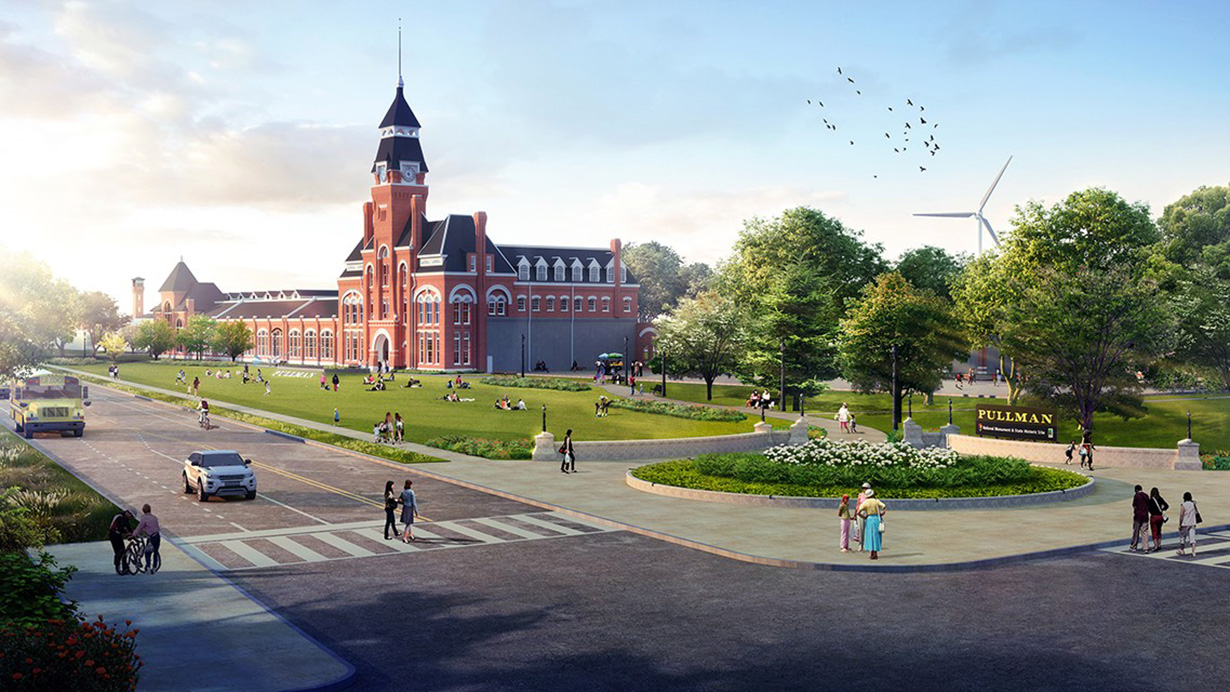 Pullman was on the rise prior to 2015, however, driven by local stakeholders who believed their community was worthy of reinvestment. The nonprofit community developer Chicago Neighborhood Initiatives (CNI) formed in Pullman in 2010 and, in partnership with Ninth Ward Alderman Anthony Beale, began its work with a simple, but powerful act.
"Well before we put a plan together, we took a whole year and just listened to the community," said David Doig, CNI president. "We heard people's aspirations and learned about the things they needed."
Soon after the President designated the National Monument, a three-day workshop was held to knit the community's priorities into a community-based, holistic development plan for the neighborhood and park. Positioning Pullman and its update, Positioning Pullman 2.0, were funded by the Trust, Driehaus Foundation and Alphawood Foundation.
An organization that has received general operating support from the Trust, CNI has "quarterbacked" the plan, helping to guide the work of many actors. CNI also leads a number of Pullman reinvestment initiatives, including serving as master developer of a 180-acre mixed-use site in Pullman known as Pullman Park. Since 2011, this site alone has attracted $350 million in new investment and created 1,500 jobs. The first big success was wooing Walmart to anchor a retail center that broke ground in 2011 and opened in 2014—bringing groceries and some 400 jobs, and cementing CNI's credibility. "We said what we were going to do, and then we did it," said Doig. "Every year since we've been able to build off our plan."
A few examples:
• In 2013 the Method Home Products company opened a LEED-certified manufacturing and distribution facility in Pullman, including the world's largest commercial rooftop greenhouse, a Gotham Greens indoor farm that grows produce free from pesticides for local retailers and restaurants. (Gotham opened a second, even larger facility in Pullman in 2019.)
• In 2019, the Pullman Artspace Lofts opened, with 38 affordable live/work spaces for artists, funded in part by the Trust. It is the first new residential development in Pullman in 50 years.
• In 2018, the Pullman Community Center opened its doors, and in 2020, the Amateur Athletic Union and Chicago Sports Alliance made the Center its Midwest headquarters, which will include hosting year-round sporting tournaments, leagues, clinics and other programs.
Doig believes this approach can work—and is working—in places across the region.
"All of our communities have inherent assets, and those will be different in each place," he said. "But I think four principles for successful redevelopment remain constant: listening, and then taking a long-term, comprehensive, asset-based approach."
As the Trust works to close the racial and ethnic wealth gap, a core strategy is Catalyzing Neighborhood Investment. The focus is on ensuring Black and Latinx communities have quality jobs, transportation options, and amenities—factors that affect two major contributors to wealth, property values and access to economic opportunity. This strategy is paying off in Pullman, which has seen an increase in average household income and reduced unemployment.
"Pullman isn't just an economic development strategy or a housing strategy—it's a Neighborhood Investment strategy," said Michael Davidson, who heads the Trust's work on neighborhood investment. "Focused by the community's vision, a diverse portfolio of new investments have brought jobs, fresh food, housing, recreation, and retail to Pullman, supported by both public and private capital. It's truly holistic revitalization and it's already improving the economic outlook for local residents."